A Home Bar's Essential Bottles, Glassware, and Tools
BY: Lisa Ladehoff |
Mar 13, 2014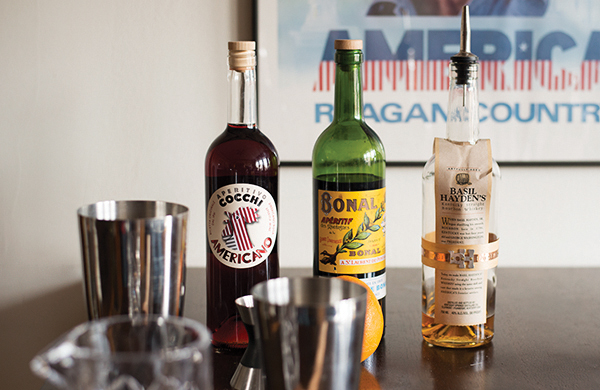 From left: Cocchi American's rose aperitif wine, Bonal (a French aperitif), and Basil Hayden's bourbon, which Putnam substituted for rye on this particular day.
The first time I met Seth Putnam, he was mixing drinks in a makeshift garage in the West Loop. The second time was in the yard of a pie shop, standing over a picnic table populated by small quilted Ball jars that he poured cocktails into.
Late last spring, I had vaguely heard about the pop-up, invite-only cocktail parties and was fortunate to be invited to one last summer and then another in September. Donned The Overserved Society, the roaming event featured a different cocktail (or two) each time and was never held at the same venue twice. I immediately fell in love with the concept—and the amount of exploration, experimentation, and drinking that went into it.
The third time I met Putnam was at his apartment in east Logan Square, where he spends the days he's in town writing—for his really cool new magazine, The Collective Quarterly—in a room that's also occupied by a small but impressive bar. I'm not sure how he gets anything done.
Unless you're willing (and able) to drop close to a grand at the liquor store, accumulating bottles at home is a slow, costly process. I spoke with Putnam about where to start, what to make when having people over, and some essential (and beautiful inessential) tools for crafting cocktails at home.
Putnam's impressive collection of bottles sits in and around a charming globe bar. And it rolls!
GROUPON: So you have a lot of bottles. What should you buy to start making cocktails at home, and what could you do to take it to the next level?
SETH PUTNAM: Death's Door gin is amazing, it's so good, and it's made up in Wisconsin. Right now, I'm buying New Amsterdam gin and Old Overholt, which is still a good whiskey but very cheap. In fact, it's the same recipe, same maker as Knob Creek; it's just not aged as long. If you want to get even more expensive for whiskey, Bulleit is good, the bourbon or the rye. But then you're into the $40 range. Hayman's Old Tom gin is really great; then you've got Ransom, which is a little more expensive but worth it. A decent tequila is good obviously—I bought some Espolón recently. Gotta have Angostura, that's a basic. And then like a Regan's orange bitters—some kind of orange bitters is a nice touch.
Vermouth, that actually is one thing I've definitely noticed you get what you pay for. … Dolin is a good brand, but if you want to step up—Cocchi Americano. The top end is Carpano Antica; it's like $40 a bottle or something like that. But Cocchi Americano is really good. Dolin is like $12–$13; Cocchi is in the $20s.
And Luxardo Maraschino, you can do a lot with that. The other thing that's key but difficult to keep on hand is fresh fruit, so limes and lemons and oranges and stuff. So many times I'll try to go make a drink and then need a peel for the garnish or the juice or whatever it is. So if you can commit to keeping that stuff on hand, you're set, you can make a lot of things.
G: Like what?
SP: Like manhattans—just a smooth stirred drink [that has] a really simple ratio—where you can swap in gin for whiskey or swap in dry for sweet vermouth. Especially with the manhattan, the martinez, the martini, and the negroni. You can make like six different drinks with gin, whiskey, sweet and dry vermouth.
G: And maybe eggs?
SP: And maybe eggs. You just get such a better drink if you use fresh ingredients. Do a real sour with an egg if you're starting your bar, and you've got your basic three drinks: manhattan, old fashioned, martini. As an addendum, get a little more creative and do a sour because it's a very classic drink, but it's a little bit more adventurous.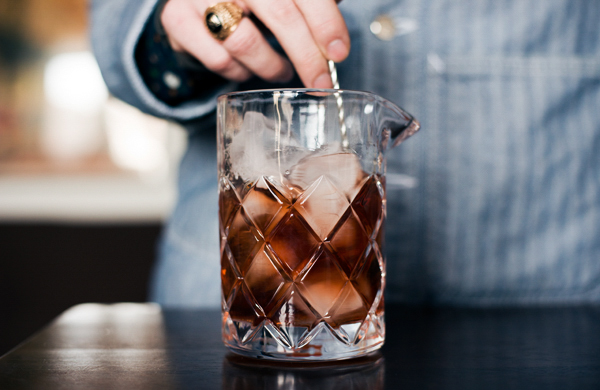 Stirring the Boulevardier in his Yarai mixing glass
G: So for bar tools—if there was one thing that you have to have in your bar aside from a shaker, what would it be?
SP: This [Yarai mixing glass] is completely unnecessary, but it's really pretty, so you don't need one of these [laughing]. You obviously have to have a tin, but I would say a good muddler. You don't think of that, and it's not so basic that it's obvious, but I would say as far as a specialty product it's almost more important than a spoon because you can stir with a chopstick if you want to. Plus you can do all sorts of things with it—you can use it for an old fashioned to press the oil out of the citrus. Whiskey smashes require a muddler—you've got to mash up the mint and lemon peel at the bottom of the glass. And you can use it for crushing ice.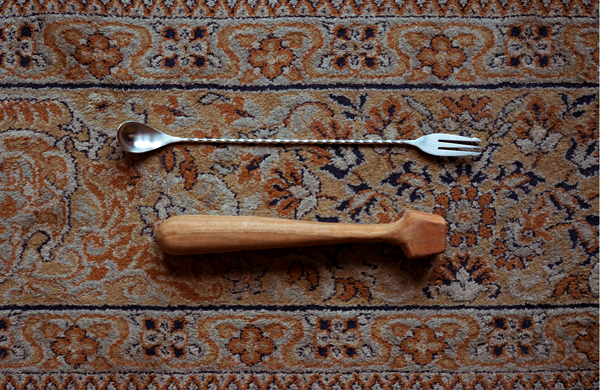 A custom muddler carved by Seth's friend, John Stoffer, and a metal bar spoon
G: What about glassware?
SP: Old fashioned glasses, gotta have that. Coupes are cool, but not necessary. You can drink anything out of an old fashioned glass. And then obviously everyone's obsessed with Mason jars.
G: What about syrups, do you ever find yourself making syrups?
SP: Simple syrup is supereasy to make, it's just a 1-to-1 or a 2-to-1. Just put it in a squeeze bottle and shake it. And if you put a splash of vodka in it, it keeps much longer.
You could do a rosemary simple syrup by doing the exact same thing, but just simmering some rosemary leaves in there. You could probably do that with any herb.
G: What would you put rosemary simple syrup in?
SP: A rosemary gin fizz [see the recipe below].
G: What's a go-to drink that you would make for somebody if they asked you to surprise them?
SP: A surprise-me drink, for me, that would definitely be a martinez [see the recipe below] because it's so simple, but you might not have the ingredients since it's Old Tom gin. But I can't stop drinking Boulevardiers lately [see the recipe below].
[At this point in the interview, Putnam walks across the room to grab a large tome about the pope off the shelf.]
SP: Are you religious at all? Take a flip through that book. It's just a good read, y'know. Mostly.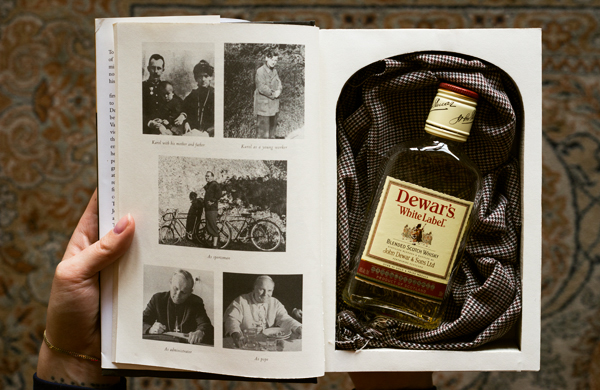 A flask of scotch hides inside a giant book about the Pope
[Lots of laughing and jokes ensued. No, he didn't make this cut-out pope-book whiskey stasher himself. Yes, you can probably buy something similar on Etsy.]
G: So you're drinking the boulevardier. Is there anything other cocktail that you come home and make yourself? Can you make me one right now?
SP: I drink a lot of gin old fashioneds. Which is maybe not what you think of when you think of an old fashioned. It's a little surprising, but it's still a classic, so it's not hard to make.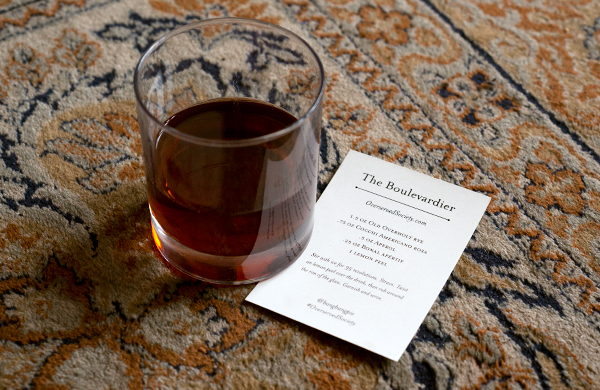 The boulevardier with a card from last fall's Overserved Society that featured the drink
The Boulevardier
Similar to a negroni, the sophisticated Boulevardier substitutes whiskey for gin. The rose aperitif wine used in this recipe gives it a beautiful, pinkish hue.

1 1/2 oz. Old Overholt Rye




3/4 oz. Cocchi Americano Rosa




1/2 oz. Aperol




1/4 oz. Bonal Aperitif




1 lemon peel



Stir with ice for 35 revolutions. Strain into a chilled rocks glass. Twist a lemon peel over the drink to release the oils, then rub around the rim of the glass. Garnish (optional) and serve.
The Martinez
A precursor to the martini, the martinez reimagines a martini's dry components to produce a smoother, sweeter result.

2 oz. Old Tom gin




1 oz. sweet vermouth




2 dashes bitters
Stir over ice, strain into a chilled cocktail or coupe glass, and garnish with a lemon twist. Try with a splash of maraschino liqueur and orange bitters for an easy variation.
The Ramos Gin Fizz
This ancient New Orleans cocktail is one you'll have to be prepared for, since it has some strange ingredients that can't be substituted. You can, and probably should, drink it for breakfast.

2 oz. Old Tom gin




1 oz. heavy cream (do not use half-and-half)




1 egg white




1/2 oz. fresh lemon juice




1/2 oz. fresh lime juice




2 teaspoons confectioners' sugar




2–3 drops orange flower water
Combine in a chilled cocktail shaker filled with cracked ice, shake vigorously for 1–2 minutes, and strain into a chilled collins glass. Top with cold seltzer or club soda.
The Rosemary Gin Fizz
It's fizzy, but it is by no means related to the classic cocktail seen above—aside from the gin and juice. Batch this cocktail for a party so you don't have to mix and entertain at the same time.

1 cup gin, chilled




1 cup rosemary simple syrup




1/4 cup fresh lemon juice




1 bottle prosecco, chilled




Rosemary sprigs
Stir all ingredients into a punch bowl, pitcher, or carafe. Garnish with rosemary sprigs. Serve in chilled coupe glasses.
Photos by Andrew Nawrocki, Groupon
BY: Lisa Ladehoff
Guide Staff Writer
A native of the city of big shoulders, Lisa is a small-shouldered books and booze enthusiast living on Chicago's Northwest side with a large cat, a tiny bar, and a medium-sized library.