A Jurassic-Looking Delicacy
BY: Katie Cortese |
Mar 25, 2013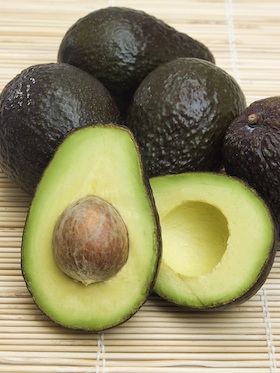 Avocados look like fossilized dinosaur eggs. Couple that with complaints of their bland taste or weird texture, and who would carve out space on their plate for one? Adan Moreno does. As the chef and owner of Los Nopales Authentic Mexican Restaurant in Lincoln Square, he uses avocados every day in his cooking. And although avocados can indeed be bland, Moreno says, the right one can solve all that. "Chula vista [avocados] from California—those are the good ones," he says. "They have a creamy flavor."
He uses those avocados while churning out 30 orders of housemade guacamole a day at his restaurant. Bypass any of the negatives with avocados by re-creating Moreno's simple guacamole recipe.
Simple Guacamole
What You Need
1 avocado
1 small jalapeño
1/4 tomato
2 tablespoons of cilantro
1/2 lime
What You Do
1. Cut avocado in half and remove pit. Dice the insides, toss into a bowl, and smash until creamy.
2. Dice jalapeño and tomato. Drop into bowl with avocado.
3. Add cilantro and squeeze the lime over the mixture little by little. Taste as you go, and add more lime juice as your taste buds see fit.
4. Stir entire mixture, which is now transformed into guacamole.
5. Serve with chips, fresh sliced jicama, or fresh celery.
Need a professional guacamole fix? Stop at this Lincoln Square joint for some delicious dip and settle in for fajitas, red-snapper dishes, and enchiladas covered in a latticework of cheese.