A Lesson in Contouring with Makeup Artist Hayley Kassel
BY: Amelia Buzzell |
Mar 17, 2016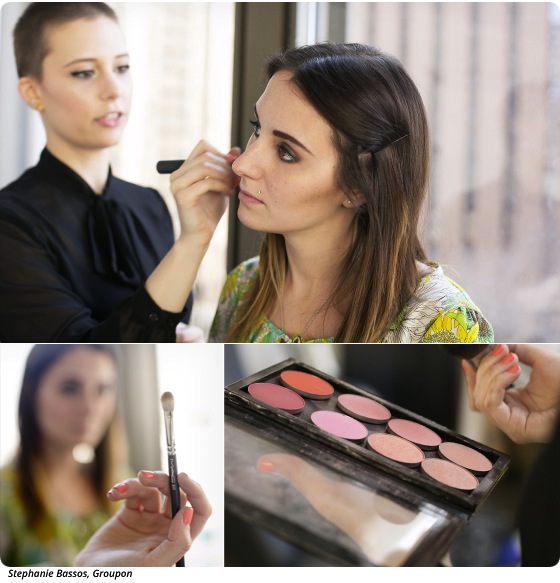 Makeup artist Hayley Kassel is used to working magic with a makeup brush, from perfecting complexions during editorial shoots for Akira to creating gory special effects for film. But when it comes to everyday beauty, she's no less of an illusionist. Here, she leads a lesson in creating perfectly contoured features using nothing more than a few simple bronzers and blushes.
Kassel uses a darker bronzer for contouring and a lighter bronzer to create "underglow." She recommends investing in bronzers without orange tones, as well as those without any shimmer. "It reflects off the face in the sunlight, which makes you look like you're sweating," she says. "And orange makes you look orange."
How to Contour
1. After applying foundation or another base, sweep a brush loaded with the dark-toned bronzer directly beneath the cheekbone, creating a straight line.
2. Sweep the brush back and forth to blend the color outward. "Make sure that the line is still there, but be sure to blend it out nicely so it doesn't look like you just have lines on your face," Kassel advises.
3. Sweep a new brush in the lighter bronzer, tap out the excess, and brush it around the edges of the face—beginning with the forehead––and end by sweeping it along and beneath the jawline.
4. With a fluffy brush, line the bridge of the nose in the lighter bronzer. Begin with straight lines, then blend outward. Finish by applying product on the tip of the nose.
5. Apply blush in soft tapping motions along and above the cheekbone-contouring lines from Steps 1 and 2.
6. If there's excess blush, lightly sweep the remainder on the forehead, nose, chin, and neck to create what Kassel describes as "a rosy glow."
7. Optional final step: highlight the bridge of the nose and the under-eye area with a foundation one to two shades lighter than the skin tone.
A final tip from Kassel: "If you realize that you have too much bronzer or too much blush, ... you can either use a clean foundation brush or a foundation brush [with] makeup on [it] and just clean up and soften the line [to] make it a lot more natural."
BY: Amelia Buzzell
Guide Staff Writer
Amelia is a Senior Writer who owns about 600 houses' worth of housewares. She daydreams about throwing parties and amassing more housewares.