A Makeup Artist Picks the Best Beauty Gifts at Sephora (and CVS)
BY: Mae Rice |
Dec 16, 2013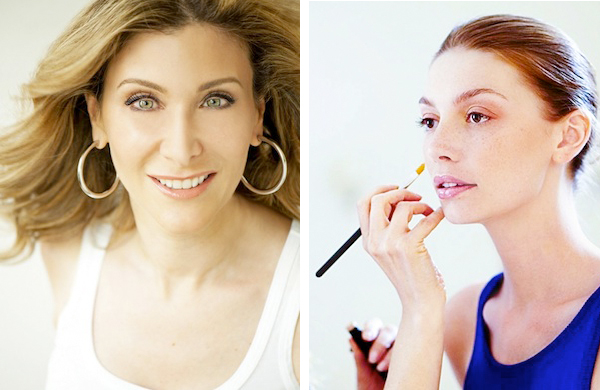 Dollface Beauty School founder Jenny Patinkin on the beauty gadget to get for Grandma and why you should be buying drugstore-brand mascara.
When
Jenny Patinkin
was starting out as a makeup artist, she had trouble finding good brushes. Instead of waiting for Santa to bring her better ones, she solved the problem by releasing
her own line
. The ultra-soft bristles mix synthetic fibers with natural ones—such as cruelty-free blue squirrel fur—to achieve the "bend and flex" she says is essential to properly blending makeup. "In my opinion, that's what makes a really natural look," Jenny says. "I don't want to see where anything stops and starts." During the holiday season, she also infuses her signature low-key looks with a little more glow. "Everybody's skin takes a beating [in winter]. I tend to move more toward dewier textures, [which put] a little more luminosity in the skin." Though Jenny describes her aesthetic as "lazy perfection," this makeup artist is about as busy as it gets. She currently splits her time between her brush line, editorial and special-event makeup, and her
Dollface Beauty School
makeup lessons. This time of year, she adds a fourth job to that roster: holiday shopping. Below, she shares her tips on where to find chic makeup for even the toughest-to-shop-for demographics. Like goths.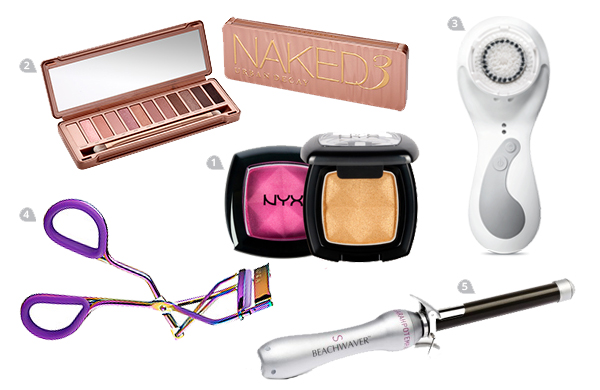 Where to Shop for...
Skincare that can endure a Chicago winter:
Kiehl's
(520 N. Michigan, 907 W. Armitage). "That's what I use in my kit," Jenny says. "[Their products are] good for all skin types, and they're not irritating."
Inexpensive trend makeup:
Jenny loves
NYX
 (#1), a high-quality yet affordable line available at Ulta, which she says is perfect "if you're looking to experiment with a trend, like a hot-pink eye shadow." NYX's other bold shadows include neon orange and cherry red (all $4.50).
The best mascara:
The drugstore. "A lot of the really big makeup companies own the designer brands," Jenny says, noting that she sees no difference between the formulas they develop for department-store brands and drugstore brands.
Makeup for locavores:
Arch Apothecary
(1359 N. Wells) is a beauty boutique that carries local brands such as By Terry, Eve Lom, and Jenny's eponymous brush line. Another local treasure trove:
space519
(900 N. Michigan), an upscale general store that stocks high-end makeup in its apothecary department.
Eye shadows that have achieved cult-favorite status:
Jenny raves about
Urban Decay
's Naked palettes ($52), which get their name from 12 nude shadows in a spectrum of shades and finishes. "The original Naked palette is all bronzy nudes," Jenny explains. "Naked2 is all taupe-y nudes, and Naked3 [#2] is all pinky, rosy nudes." When Naked3 came out online, "I ordered three of them," Jenny says. "I was so excited." The palettes are available locally at Sephora and Ulta.
What to Buy for...
Someone with aging skin:
Jenny suggests a Clarisonic facial brush (#3), which combats aging by "really deep [cleaning] your skin, so that your skincare products can work more effectively." Try the
Mia
($125), a single-speed starter brush, or the
PLUS
($225), a three-speed model that works for face and body.
The makeup minimalist:
According to Jenny, a bare-bones kit consists of concealer, an eyelash curler (#4), and "anything shiny on your lips. [Even] Aquaphor."
The goth:
Jenny recommends
Illamasqua
, a brand that "definitely has some edgier colors." Its
Paranormal
collection includes goth essentials such as highly pigmented black gel eyeliner ($29.21) and lipstick in ESP ($26.77), a dramatic shade of dark purple.
The glitter enthusiast:
MAC's
Pigments
($21), ultra-fine shimmer powders so rich in color that "you need just a teeny tiny bit." The product comes in more than 40 colors, from Pure White to Hi-Def Cyan, and can be used as eye shadow, face shimmer, or added to body lotion.
Someone who loves curly hair but hates curling irons:
 The
Beachwaver
 (#5) curling iron by Sarah Potempa ($199) has a rotating ceramic rod that "draws your hair into the curling iron for you, so you don't have to actually curl it," Jenny explains.
Determined to buy the best holiday gifts of their lives, Groupon's Style & Beauty writers sought shopping advice from local experts. Click here for guides to buying presents for the fitness lover, foodie, or coffee addict in your life.
Photo: courtesy of Jenny Patinkin