Holiday Gift Advice from our Guide to Style & Beauty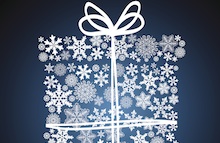 As the holidays descend upon us like a cozy quilt made of gingerbread, the pressure to find perfect gifts for your loved ones builds. Thankfully, our Style & Beauty Guide has compiled advice from local experts on how to buy presents that will please most any personality. Explore these tips to find out where to shop, what to look for, and how to top the thoughtfulness charts this winter.
For the fashionable: Sasha Hodges, owner of Kokorokoko, dishes on her favorite stylish gifts, from jewelry to jeans.
For getting fit: Fitness personality Andrea Metcalf details the gadgets and clothes that make it easier to stay in shape.
For coffee-shop fans: Indie coffee entrepreneur and design sage Phil Tadros shares suggestions for coffee connoisseurs and novices alike.
For foodies: Avanti Gourmet Catering chef Charles Webb gives the rundown on the best cookbooks, gadgets, and specialty ingredients to give to foodie friends.
For bookworms: Susan Takacs, owner of The Book Cellar, recounts her store's bestsellers and recommends stories for all ages and moods.
For vintage enthusiasts: Claire Tibbs uses the same curating expertise that stocks her vintage store, Humboldt House, to come up with retro gift ideas.
For record collectors: John Ciba of Logan Hardware tells us how he hunts for vinyl, then picks out albums for various audiophiles.
For kids: Sara Fisher, author of the parenting blog Self-Made Mom and cofounder of 2 Moms Media, rattles off toys that will delight babies, toddlers, and older children.
For proud geeks: Raphael Espinoza of Chicago Comics knows where to find nerd-friendly gear and which comic books are making waves.
For makeup: Professional makeup artist Jenny Patinkin scours upscale cosmetics shops and drugstores to find the best beauty products.
We'll be expanding the collection over the coming weeks, so check back for updates. And for even more ideas, head to our Gift Shop.