Taking a Page from a Bookseller's Holiday Gift List
BY: Kelly MacDowell |
Nov 27, 2013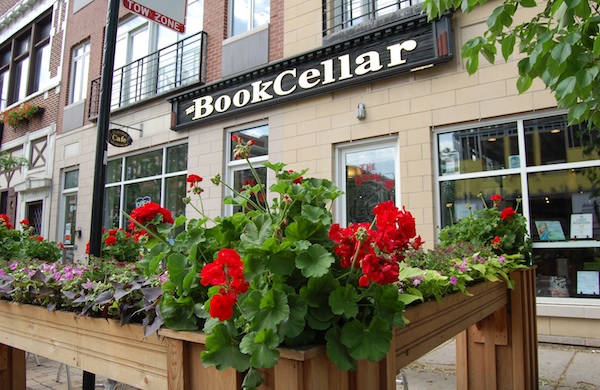 Determined to buy the best holiday gifts of their lives, Groupon's Style & Beauty writers sought shopping advice from local experts. Click here for guides to buying presents for the fitness lover, clotheshorse, or foodie in your life.
When Susan Takacs, owner of
The Book Cellar
(4736 N. Lincoln Ave.), was a child, Christmas was always an animated affair. Her favorite tradition? "The Charlie Brown Christmas movie," she says, her Sally Brown–blond hair tucked behind her ears. "They didn't have it recorded back then. It was a big deal to have to wait for it to come on. [My family] would all watch it together; my parents would make popcorn." Today, though, as the proprietor of one of Chicago's beloved independent bookstores, Susan's turned her holiday season into a literary event. The store hosts an annual Stories with Santa meet and greet, during which Mr. Claus himself reads to children and their families (scroll down for more info). The story lineup is often a surprise, but the evening always ends with a recital of "The Night Before Christmas." With this holiday celebration—and hordes of shoppers—just around the corner, Susan was brimming with gift suggestions for bookworms of all stripes.
What to Buy
For the kid who is suddenly a voracious reader:
Susan was quick to recommend box sets of popular young adult books, such as
The Hunger Games
. She is especially taken with
the newest Harry Potter set
: the spines of the seven books come together to create a Hogwarts mural illustrated by Kazu Kibuishi.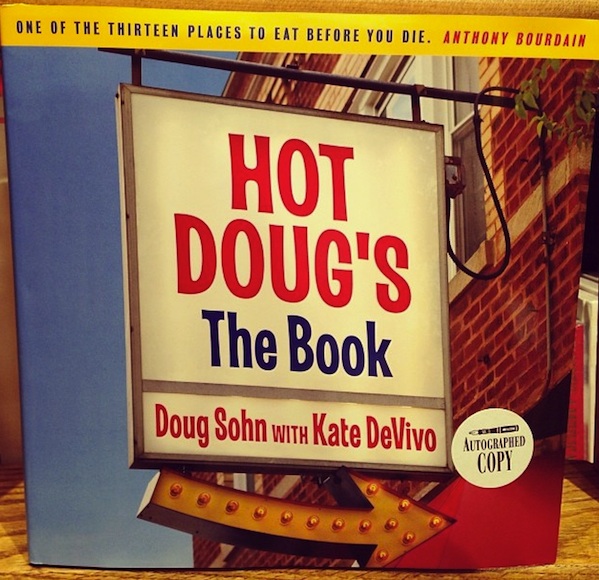 For the friend who's suddenly a voracious hot-dog eater:
Doug Sohn
, owner of the famous hot-dog stand Hot Doug's, released a book this year that chronicles his rise to sausagey fame. The Book Cellar even carries autographed copies. But if you're looking to steal his recipe for venison sausage, think again. "It's not really a cookbook," Susan warns. "It's more the story of how he started the restaurant."
For the friend who likes blogs and swearing:
Another popular title is local blogger Samantha Irby's collected short works,
Meaty
. Irby's essays tackle subjects from dating in the city to struggling with Crohn's disease, all the while mixing vulgar language with poignant thought. The Book Cellar has autographed copies of this one, too.
For the Chicago history buff:
As a Chicago business owner, Susan likes to stock the shelves with volumes on the city's past.
City of Scoundrels
chronicles a 12-day span in which Chicagoans saw everything from a fiery blimp crash to a race riot, and
Sin in the Second City
explores what was perhaps the most infamous brothel in early 20th-century America. Susan also confides that the fan base for the soon-to-be-movie
The Devil in the White City
is still growing. "You'd think everyone in Chicago has it by now," she says. "But I'm still selling copies of it all the time."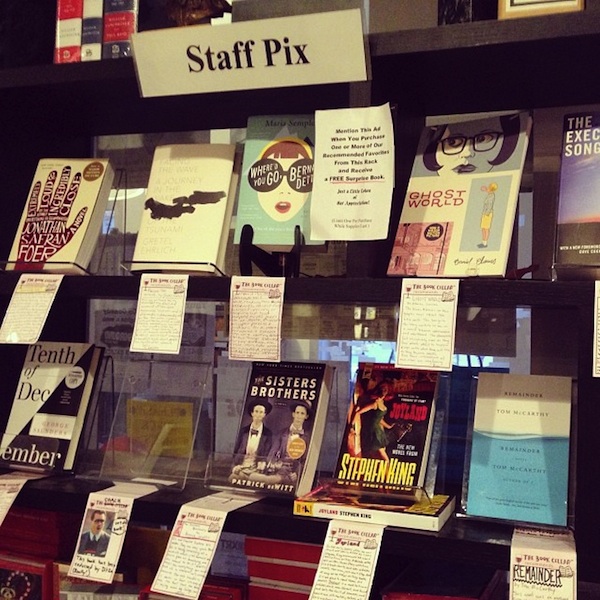 For those who are chronically late to the party:
Some of the top sellers in 2013 were
Where'd You Go, Bernadette?
,
Tenth of December
, and
Beautiful Ruins
.
For someone who wants the whole truth:
Susan has gotten wrapped up in two recent nonfiction titles about the justice system:
Letters to an Incarcerated Brother
, in which writer Hill Harper exchanges correspondence with young prison inmates, and
Long Way Home: A Young Man Lost in the System and the Two Women Who Found Him
, about a young Chicago man who was wrongly imprisoned for murder.
For people who think bookstores only sell books:
This year, Susan has stocked up on plenty of art that isn't the written word. She highlights art-print ornaments made from paintings by local artist Danilo Cuevas, who depicts recognizable Chicago spots such as the Art Institute of Chicago lions and the Lincoln Square gateway ($16-$25). There are also wine-cork candles that actually fit in empty bottles ($3; "They make a great hostess gift," Susan says), and Buddha Boards ($12), a zen garden–like drawing tablet that can be "painted" on with a wet, paintless brush. The image eventually disappears, allowing users to doodle themselves into a state of nirvana.
Stories with Santa takes place on Friday, December 6, at 6:30 p.m. at The Book Cellar. Families can also stop in to take photos with Santa on Saturday, December 7, at 11 a.m.
Photo: top courtesy of The Book Cellar; middle and bottom Kelly MacDowell, Groupon
BY: Kelly MacDowell
Kelly's first concert was Fleetwood Mac and her first career was in the beauty industry. Now a style and music writer, she loves Project Runway and her dog, Watson.