When Hot Doug Wants Hamburgers
BY: Aimee Algas Alker |
Sep 17, 2013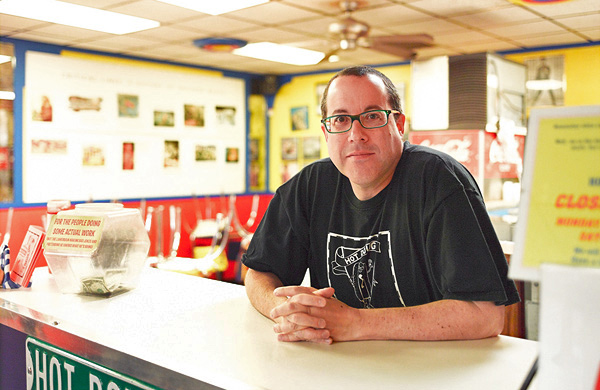 The success of
Hot Doug's
—or, if you'd like to use its formal name, Hot Doug's, The Sausage Superstore and Encased Meat Emporium (3324 N. California Ave.)—is often attributed to the inventive and humorously named sausages on the menu. But equally important is the presence of owner Doug Sohn, who to this day mans the counter, answers the phone, and has written a book about the experience,
Hot Doug's: The Book
. He's also a Chicago native, and of course, he doesn't just eat hot dogs.

GROUPON: Where do you go for hamburgers?
DOUG SOHN: I like to stay local:
The Orbit Room
on California (2959 N. California Ave.). It's about four or five blocks south of Hot Doug's. Great backyard patio. They have one called the Hangover burger, with egg and pico de gallo, and it's terrific.
G: Where do you like to go for pizza?
DS: I grew up in Chicago, so I'm a big fan of deep dish.
Pequod's
on Clybourn (2207 N. Clybourn Ave.), they're terrific. And I really like
Lou Malnati's
(958 W. Wrightwood Ave.). I just think they do a great classic Chicago-style pizza.
G: Do you prefer deep dish to thin crust?
DS: I like them both, but they're really different, so to me it's like ordering two totally different things. But, having grown up in Chicago, I do still really love deep dish. Not everyone does, but I'm a big fan.
G: Italian beef?
DS: To be blunt, I don't really have it all that often, and when I do, honestly, I usually make my own. A friend of mine makes a great
jus
. Because I work with a lot of meat purveyors, I tend to get really good beef.
G: Gyros?
DS: The classics. One of them is
Athenian Room
, on Webster and Halsted (807 W. Webster Ave.). And then I'm a big fan of
Barba Yianni
in Lincoln Square (4761 N. Lincoln Ave.). The tzatziki sauce at both places is really good, and I think that's actually the key to really good gyros. And they're really tender and juicy. I think when it falls apart is when [the meat's] been sitting on the spit too long or just overcooked, and it's dried out. Hot Doug's: The Book
is available at local bookstores, on the Hot Doug's website, at Hot Doug's, or on Amazon.
Photo courtesy of Doug Sohn