Andrea Metcalf's Eight Gift Ideas for Fitness Buffs
BY: Michelle Algeo |
Nov 21, 2013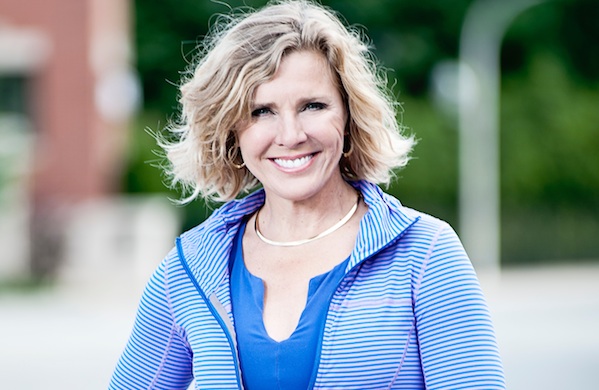 Determined to buy the best holiday gifts of their lives, Groupon's Style & Beauty writers sought shopping advice from local experts. Click here for guides to buying presents for the clotheshorse, foodie, or coffee addict in your life.
As a personal trainer, author, fitness DVD creator, and TV personality—you may have seen her on
Good Morning America
or
NBC Chicago
, where she appears regularly—Andrea Metcalf finds the holiday season to be extra-challenging for her clients. Heavy meals and a profusion of sweets conspire to thwart exercise efforts, and resisting temptation is nigh impossible for many. So how do you encourage fitness in a time of candy canes and delicious pine needles? With presents, of course. Fitness-related gifts can easily combine winter cheer with working up a sweat, and some of them don't even require you to leave the table. Andrea herself once received the
Knife and Fork Lift
, a cutlery set whose knife and fork are attached to 3-pound weights—a decidedly weird wellness tactic. "It would slow down my eating because the knife and fork were heavier … but I was kind of like, 'What makes people stop from eating with their hands?'" We asked Andrea for her own holiday shopping recommendations, as well as activities that can help families to stay fit in the face of snow and eggnog.
What to Buy
For the eager fitness-class student:
Gift certificates to group classes at
Chicago Athletic Clubs
or
The Bar Method
.
For a runner:
Fresh sneakers at
Universal Sole
 (3052 N. Lincoln Ave.) or
Fleet Feet
 (4762 N. Lincoln Ave.). Make sure you know their size!
For a dancer:
Gift certificates to classes at
Flirty Girl Fitness
 (2215 N. Halsted St.), where Andrea teaches Length Training. Other classes include pole dancing, yoga, Zumba, and boot camp.
For the stylish gym-goer:
New workout clothes from New Zealand's
Icebreaker
(coming soon to 44 E. Walton St.). "It's wool clothing, which sounds kind of strange for workouts, but it's antimicrobial and antibacterial. I always feel good in it," Andrea says. You can wait until the full-fledged retail location opens for business in early December or check out Fleet Feet and other retailers that carry Icebreaker apparel.
For the person who might be a werewolf:
Gift certificates to Animal Flow classes at
Equinox
. These graceful, freestyle routines incorporate crawls, jumps, stretches, and other primal movements.
For the person who does everything by the numbers:
A
Fitbit Force wristband
, which automatically syncs your activity and calories burned to your computer or smartphone—making it "completely idiot-proof," according to Andrea. You can order online or pick one up at
REI
 (1466 N. Halsted St.),
Target
, or
Dick's Sporting Goods
 (5601 Touhy Ave., Niles).
For the outdoor exerciser:
It's all about layering. "You're going to need a wicking fabric near the skin, an insulating fleece fabric in between, and then wind resistance on the outside." Andrea suggests this ensemble: a wicking shirt by Icebreaker beneath a
North Face
fleece and a
Columbia
windbreaker on top.
For fans of varied cardio workouts and the Electric Slide:
A slide board. "Cardio for me is mostly walking. That back-and-forth is something we don't get a lot of, so the lateral movement is something I want to add into my routine." Try the
Ultraslide
, which was invented in Evanston.
Healthy Holiday Activities
When you want to walk on, but not in, the snow:
Go snowshoeing! "Snowshoeing is such a fun activity. It's not those old tennis-racket things that you put on your feet any more," Andrea says. She recommends
Kahtoola
's snowshoes, which are so lightweight that you can almost
run
across the snow in them—though you might have to travel a bit outside the city limits to find enough space.
When the engine in your rollerblades won't start:
Try skating at the
McCormick Tribune Ice Rink
in Millennium Park (55 N. Michigan Ave.). Andrea visits the nearby rink at Daley Bicentennial Plaza at least once during the season, but that portion of Grant Park is under construction.
When it's too cold to go to the dog park:
Exercise with your pooch to Andrea's
Pawsilates
DVD. She devised the program with her bulldog after her kids outgrew Mommy and Me classes and says it's ideal for "anyone who loves their dog—because it's just fun to do."
When you want to splurge on a holiday feast:
Head to
Joe's Seafood, Prime Steak & Stone Crab
 (60 E. Grand Ave.) for some seasonal shellfish, Andrea suggests. "The stone crab is in season in November and December. So we always go there for a family dinner. That's a real treat for [my kids]."
For more ideas for sporty holiday gifts, head to the Groupon Gift Shop.
Photo: Courtesy of Andrea Metcalf
BY: Michelle Algeo
Guide Staff Writer
Michelle studied English at Penn State. She has run two half-marathons (very slowly) and plans to someday run/walk/crawl the Chicago Marathon.