The Owner of Kokorokoko Is Probably Not Getting You a Leotard for Christmas
BY: Mae Rice |
Nov 21, 2013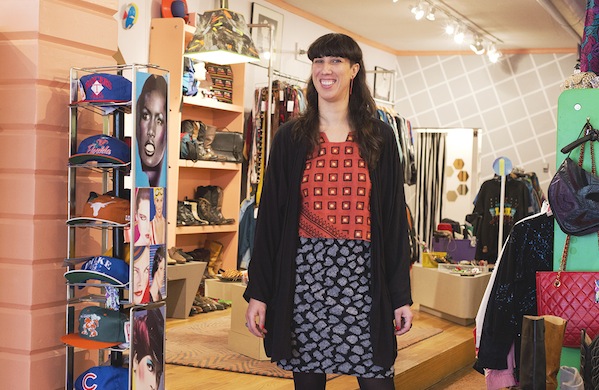 Determined to buy the best holiday gifts of their lives, Groupon's Style & Beauty writers sought shopping advice from local experts. Click here for guides to buying presents for the fitness lover, foodie, or coffee addict in your life.
At Wicker Park boutique
Kokorokoko
(1323 N. Milwaukee Ave.), I got a sneak preview of the shop's signature holiday look: weird vintage Christmas sweatshirts. Every year, owner Sasha Hodges devotes an entire rack to them, and even though I visited before its official debut, she showed me some samples. One, emblazoned with the words "US Postal Service: We Help Deliver Christmas," features a jolly round Santa—but he's not surrounded by elves. Instead, he's flocked by tiny, helpful mailboxes, all of which have eyes. "Someone made that,'" Sasha says. "Someone came up with that idea and drew it out and had it printed. I love it."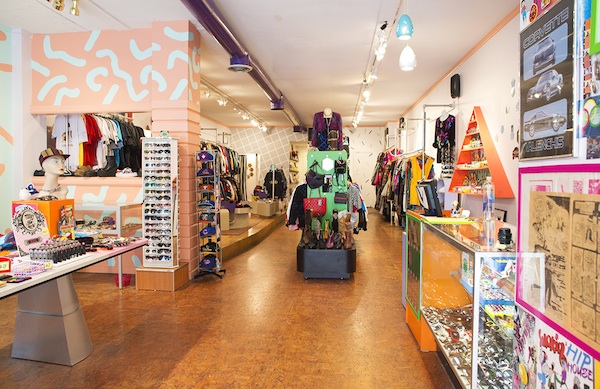 At Kokorokoko, what Sasha loves goes. She co-owns the boutique with Ross Kelly, and the two handpick all of the store's '80s and '90s gear. Their taste is quirky and impeccable; fashion bloggers such as
Isa Giallorenzo
and
Alanna Zaritz
call out the shop as one of the best in the city. (It certainly has one of the best names: "The funniest thing is listening to telemarketers try to say it," Sasha says. "Sometimes they are straight up laughing.") In honor of the holiday season, I asked Sasha for her insights on shopping for fashion-forward loved ones.
How to Shop 
Play it safe with fit:
Don't go for anything too tailored. "The best items to buy are T-shirts or loose-fitting tops, jewelry, scarves, watches [and] other accessories."
Or, if you know their size:
Go for unique cuts. When Sasha received a pair of high-waisted Judi Rosen jeans from
Eskell
(1509 N. Milwaukee Ave.) as a gift, they quickly became one of her favorite pair. "I really like that the cut is not boot cut and not straight leg," she says. "So it's not a skinny jean, which feels a little played out—it's just a really slim-fitting jean." The pants are also "very flattering to the booty."
Stay true to their style:
When it comes to fashion gifts, opt for a piece that's consistent with your friend's look. "Something where they're like, 'Oh, you actually like me, and you understand who I am,' even if it's not something you would like," Sasha explains. She knows the importance of this tip firsthand—for her 16th birthday, she got a makeup set for Christmas. "Most girls would've loved it, but I asked for a black leather biker jacket, so it was kind of a miss."
Gift cards aren't taboo, especially when it comes to clothing stores:
In fact, they free the gift giver from worrying about sizing and colors. Sasha especially recommends getting gift cards to local boutiques, instead of "buy[ing] them at the checkout in Jewel-Osco."
Where to Shop
For men:
Sasha suggests
Vividbraille
(2064 N. Damen Ave.) for its avant-garde yet wearable styles; she also likes
Sir & Madame
(938 N. Damen Ave.) for its citified preppy vibe and unisex appeal. "You could go in there with your boyfriend or girlfriend and both go shopping," she says.
For jewelry:
Sasha covets the pieces at
Robin Richman
(2108 N. Damen Ave.), as well as the more budget-friendly pieces at
Una Mae's
(1528 N. Milwaukee Ave.).
For the person in your life who's just jonesing for a dwarf statue:
Sasha finds the eccentricities at
Rudy's Roundup
(1410 N. Milwaukee Ave.) charming.
For a truly customized treasure:
Don't be afraid to DIY. "I give a lot of handmade calendars," Sasha says. "I usually make them with some found images or small drawings and then bind them at Kinkos with spirals. It's a great way to give something handmade that is also super useful."
For a Kokorokoko fan:
Sasha has a few holiday gift ideas from her own store. One-of-a-kind vinyl backpacks by local designer
Gnat
, adorned with bold patterns and translucent plastic pockets ($80+), are great for teenage girls. Rings ($16) and earrings ($28) from Brooklyn brand
Leroy's Place
feature tiny celebrity faces—one earring set pairs John Wayne with Lil Wayne.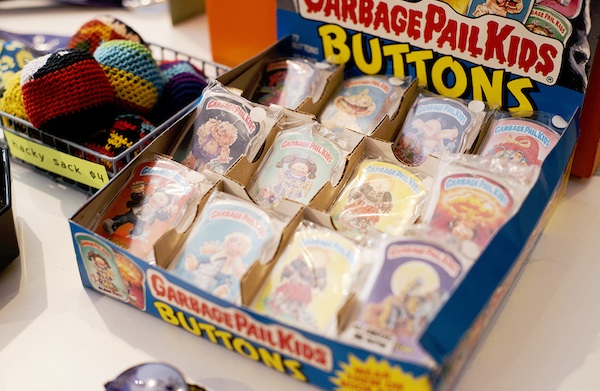 For stocking stuffers, the store also sells vintage trading cards ($2–$4) with old-school themes (e.g.
Dune
and the Garbage Pail Kids). "If you like vintage gum, even better," Sasha jokes. The packs often come with a free stick, though the gum kind of ages into chalk.
Photos: © Tim Burkhart, Groupon