What a Vintage-Store Owner Gives Her Friends for the Holidays
BY: Jasmine Feldmann |
Dec 2, 2013
Determined to buy the best holiday gifts of their lives, Groupon's Style & Beauty writers sought shopping advice from local experts. Click here for guides to buying presents for the fitness lover, clotheshorse, or foodie in your life.
Walking into Claire Tibbs's vintage store
Humboldt House
(1045 N. California Ave.), you immediately get a sense for her style. Warm orange hues and bold prints pop from every corner and shelf and even the pillows that usually hide the shop's resident sleeping dog. To be sure, her tastes are distinct, but even so, Claire knows firsthand that possessing a strong personal style doesn't necessarily make her easy to shop for. "I have a grandma that for years would always buy me new things, like things themed in blue from the Gap," she says. "It wasn't until a couple of years ago that she clued into that I was more into old things, so she gave me a really great quilt. That was definitely a turning point." Below, Claire shares some tips for shopping for those stylish yet hard-to-buy-for people on your list and suggests a few gifts sure to please anyone.
HOW AND WHERE TO SHOP
"Give yourself enough time to think about the people and to shop locally," Claire says. "As much as you're thinking of who you're buying for, think of who you're buying from." When hunting for gifts, Claire likes to frequent many of the other locally owned stores near her Humboldt Park shop. But she also likes to give experiences as well as physical gifts. So instead of picking out one item, she might buy a gift card to a store where she knows the recipient will find a piece they love and to one she knows they will enjoy browsing in. Claire often gives friends gift cards to
Barbara & Barbara
(2925 W. Diversey Ave.). There, she knows they'll get more than an expert haircut—they'll also enjoy spending an hour chatting with friendly stylists over a complimentary PBR. She also recommends 
Meadowlark
(1107 N. California Ave.) for vintage women's clothes and
Komoda
(2559 W. Chicago Ave.), where the eclectic mix of trinkets and accessories makes shopping feel a bit magical. For a multisensory shopping experience, Claire encourages friends to venture into her favorite shop,
Asrai Garden
(1935 W. North Ave.). Visiting the store, which is part haute flower shop, part vintage boutique, is like entering a whole different world, she says. "It's a small little shop, but it always smells so good with the flowers and candles." When friends venture in, they can use gift cards to pick up owl trinkets carved out of bone, tiny cameos of George Washington, and fancy dress jewelry.
HOMEY GIFT IDEAS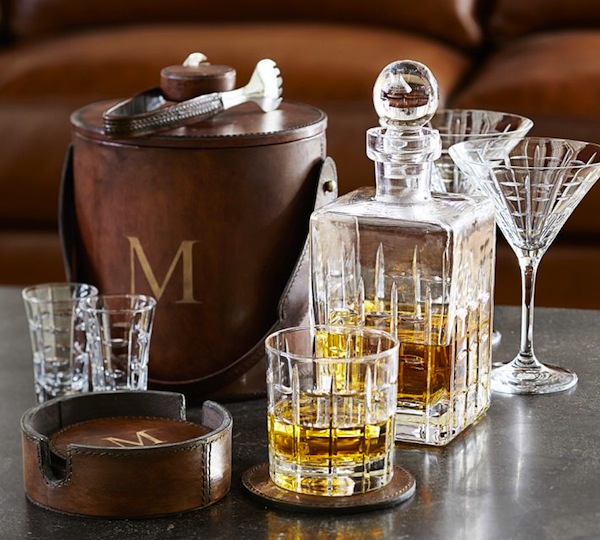 For the modern man:
These guys don't want regular dad-type gifts like ties or magazine subscriptions. To get a present that really stands out, Claire recommends gifts that will add a masculine charm to the recipient's home—things such as taxidermy, geodes, Staghorn barware, or this
collectible Jim Beam decanter
.
For the manly man:
Hardware doesn't exactly scream "holiday," unless you pick a tool that's as seasonal as it is useful: a
turkey-carving set
. Not only is it practical, but it will add a touch of style to the holiday table.
For the clotheshorse:
Well-fitting clothing is hard to pick out for others, so it's usually wise to stick to accessories. Claire recommends the stone- and gem-based jewelry from local designer
Elana Riback
or statement pieces such as giant cuff bracelets, which can become the focus of an entire outfit.
For the function-over-fashion woman:
If you're buying for a woman who values practicality over aesthetics, Claire suggests searching for something that is a little bit of both, such as these handmade ceramic plates and cups from
Dustin Yager
.
For the newly cohabiting couple:
When a couple first moves in together, they usually go through a frenzy of buying and decorating. That means most small presents might already be unnecessary. Instead, Claire endorses giving them gift cards to furniture stores, especially one where there's a good leather chair or a patterned rug they've been eyeing. She also recommends retro barware, such as
these Bakelite cups
, since it's something that they may not have splurged on for themselves and that will be put to good use when they host guests in their new home.
Photos courtesy of Claire Tibbs
BY: Jasmine Feldmann
Guide Staff Writer
Jasmine is a small-town Iowa girl makin' it in the biggish city. She loves thrifted dresses, pretending to be Mata Hari, Halloween, making her own extra-greasy lotions, sensible shoes, picnics in cemeteries, jet-setting around the world in coach class, and finding ways to incorporate more chilis into her life.