A Mixtape to Reacquaint You With Your Dark Side Before Goth Festival Convergence XX
BY: Emily Wachowiak |
Apr 4, 2014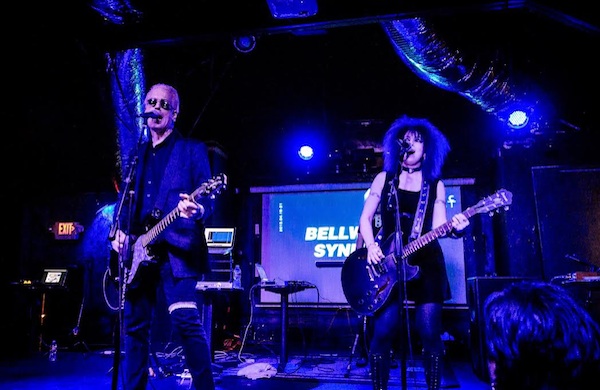 From its origins on a '90s internet forum, Convergence has blossomed into a full-scale goth festival. We asked an organizer to design a dark playlist for this surprisingly light-hearted gathering.
A dance floor packed with smiling, happy people isn't the first thing that comes to mind when picturing a goth party. But according to
Scary Lady Sarah
, a longtime DJ and veteran of the goth scene, that's exactly what you can expect at
Convergence XX
. Starting April 25, Sarah and several hundred of her peers will crowd into
Bottom Lounge
for three days of "socializing, booze, musical events, and sweet debauchery." Though the festival has traveled to Boston, Las Vegas, and even Cozumel, Convergence returns home to Chicago—the site of its very first gathering—to commemorate its 20th year. "It's kind of grounding to know that every 10 years, you and your friends can again meet up in a place with great memories from previous events," says Sarah, one of the main organizers of Convergence. "Chicago is also a city which has never stopped being a consistent and strong base for the goth subculture." Since many of of the festival's original attendees—who met on an internet forum in the early '90s—are too busy these days to attend many shows, Convergence promises a much-needed release. "One of the things I love about Convergence," Sarah says, "is that the older goths get a special weekend to delve back into a scene they might have been more immersed in before children, et cetera." But not everyone's an old-timer. "It's great to see several generations of people drawn to the same scene, just letting loose and having fun." Yes, goths
do
have fun. "There are all kinds of stereotypes and misconceptions about goths being obsessed with death, being depressed all the time," Sarah says. "People in [the actual goth subculture] tend to be much more compassionate, cerebral, polite, and humorous than mainstream media's portrayal of [them]." But while Convergence is a joyous reunion of friends, it's still mostly about the music. In addition to scores of DJs, the
lineup
features bands such as
Sunshine Blind
from San Francisco, UK imports
The March Violets
and
Pretentious, Moi?
, and Chicago's own
I:Scintilla
and
The Gothsicles
. In anticipation of a weekend of fishnets, friends, and freaky fashion, Sarah put together this playlist to reacquaint you with your dark side.
1. Pretentious, Moi? – "The Haunting"
"Pretentious, Moi? are my favorite contemporary goth-scene band doing pure goth music with a current sound. They capture the essence of the true ['90s] goth subculture, which is not a surprise as the band members are all part of the UK's goth scene. Bringing them to Chicago (their first US appearance) is especially exciting to me, as I've been championing them since their first demo tapes."
2. The March Violets – "Snake Dance"
"The March Violets are absolutely worthy of the term 'legendary' when speaking of the chronicles of goth, going back all the way to the '80s. This UK band was there for it all and continues to be a significant force in alternative music in general. With an exuberant new album and absolutely classic tunes like 'Snake Dance,' I expect their show at Convergence XX to go down in goth history."
3. Sunshine Blind – "Crescent and the Star"
"Featuring one of the most powerful vocalists to come from the goth subculture, Caroline Blind, Sunshine Blind were constantly touring the US in the '90s and making a name for themselves before the internet was even a thing. [They're] absolutely rocking and a staple in my DJ playlists spanning two decades. We're so happy to have them coming to Convergence for a special exclusive show!"
4. I:Scintilla – "The Bells"
"Each year, some of the bands chosen to play at Convergence are local to that year's host city. For Convergence XX, we have three: Arch Visceral Parlor, The Gothsicles, and internationally known I:Scintilla. Their music falls nearer the 'industrial/electronica' hybrid than goth, but it's all part of the same family."
5. The Gothsicles – "My Guy Died (Level 12 Human Sorcerer)"
"If you don't enjoy The Gothsicles live, you must not like fun. While not actually goth—despite the name—they are at home on any goth or industrial bill as long as the audience knows not to take themselves too seriously!"
6. The Bellwether Syndicate – "101 Go"
"If I didn't enjoy my own band's music, that would be a pretty sad state of affairs. So I know I'll be listening to our EP to rev myself up for such a busy weekend—and this song in particular, with its high energy and 'go for it' rock-and-roll message."
7. The Soft Moon – "Die Life"
"The one that got away! Even though our attempt to get them to play at Convergence didn't pan out, I will be listening to The Soft Moon whilst gearing up for the weekend-long party. They don't come from goth, but they're one of a handful of really great new bands putting out music that makes a sad old goth like me have some hope for a dark future."
Listen to the whole playlist on Spotify.
Convergence XX will be at Bottom Lounge (1375 W. Lake St.) from Friday, April 25, to Sunday, April 27. Click here to purchase tickets.
Photos: Becky Plexco of Enigma Arts Photography