Bottom Lounge: Chicago's Loudest Auto Garage
BY: Emily Wachowiak |
Mar 10, 2014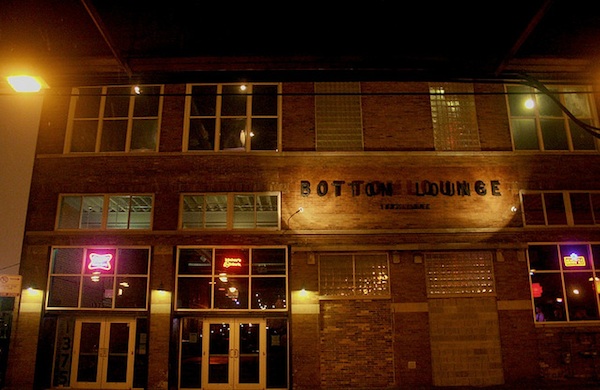 When Bottom Lounge fled Lakeview for the Near West Side, it took its all-ages shows with it—then added a killer beer list, a rooftop deck, and plenty of pinball.
---
Check Out Our Featured Article for Bottom Lounge:
Shlohmo Loves Drake (And He Doesn't Care Who Knows It)
Electronic musician Shlohmo thinks Drake "is the best thing that ever happened to rap music." To prove it, he's thrown down three killer remixes.

Shlohmo will be at Bottom Lounge on Friday, May 2. Buy tickets here.
---
Bottom Lounge
hasn't always had the same address, but it's always been tucked under the rumbling tracks of Chicago's L. The club's roots date back to 1991, when it was called the Lakeview Links and located just a stone's throw from the Belmont Brown Line. Today, Green and Pink Line trains thunder past the venue's Near West Side location, which opened a full two years after a CTA expansion forced the exodus from Lakeview in 2006. The new Bottom Lounge (1375 W. Lake St.) harnesses the audacious spirit of the original, opening its stage to up-and-coming acts and bringing the kids out to regular all-ages shows. This renovated 18,000-square-foot auto garage, however, retains few traces of the dive-bar atmosphere that defined the prior incarnation. In fact, it's easy to walk into Bottom Lounge and not notice that it's a concert venue at all. The main room almost resembles a sports bar with its flat-screen TVs, long picnic tables, and the irresistible smell of onion rings wafted about by an industrial ceiling fan. A large sign tacked to the brick wall even offers free rides to the United Center before every Blackhawks game. The black steel doors to the left of the bar hide Bottom Lounge's true main attraction: a venue big enough to hold 700 sweaty fans of whatever punk, indie, or hip-hop group happens to be passing through. The venue's size allows for bigger shows than at the
Empty Bottle
or
Subterranean
while maintaining a more intimate vibe than the gargantuan
Metro
. But for those who love nothing more than looking their favorite bassist in the eye, an upstairs lounge called the Volcano Room boasts a low, cozy stage, an impressive collection of
pinball machines
, and a rooftop patio with views of the downtown skyline. Regardless of who's playing on either stage, the bar's killer beer list is a draw unto itself. There's a surprisingly strong whiskey selection as well, which makes sense given the role Mike Miller—a longtime veteran of punk-rock whiskey bar
Delilah's
—played in the bar's rebirth. Coupled with reasonable drink prices, ticket costs that rarely exceed $16, and ample free parking on Lake Avenue, Bottom Lounge is a rare phoenix risen from the ashes of Chicago's dearly departed venues.
Find  deals on things to do in Chicago throughout all of Groupon.
Photo by Matthew Ginger