A Pedway Map for a Warm, Coat-Free Indoor Lunch
BY: Melanie Zanoza Bartelme |
Jan 28, 2014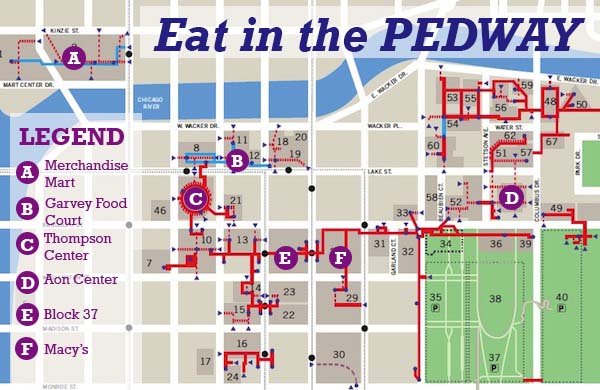 Literal underground dining goes beyond staples like Au Bon Pan with secret menus, celebrity chefs, and hundred-year-old institutions.
A) Merchandise Mart | 222 W. Merchandise Mart Plaza
With its immediate proximity to the El station, this food court serves as a convenient lunch spot between River North and the rest of the Loop. Along with staples like Arby's and Au Bon Pain, there's a surprising number of interesting options, as well as ample seating.
Habanero Baja Grill
provides heat with its tortilla soup and array of spicy salsas and uses only antibiotic- and hormone-free chicken in its burritos and tacos. A
Billy Goat
outpost serves burgers and beer (and chips, no fries), and
Foodstuffs Gourmet Sausages & Salads
puts a spin on the Chicago dog with its andouille-based Rajun Cajun and tzatziki-topped Greek dog
.
More health-conscious diners can choose from an endless combination of create-your-own-salads.
B) Garvey Food Court | 201 N. Clark St.
If we're being completely real here, there's only one reason to visit this food court:
Farmer's Fridge
, the first salad-vending machine in Chicago. Every morning, the reclaimed-wood fridge is stocked with scratch-made salads and dressings, and the previous day's unsold salads are donated to a local food pantry. Selections include the protein-packed Body Builder, the Detox salad with kale and blueberries, and the North Napa, which combines cabbage with avocados, grapes, and pistachios. Proteins such as chicken and tuna are sold separately, and everything comes in glass jars that can be recycled onsite.
C) Thompson Center | 100 W. Randolph St.
With nearly 20 restaurants, this food court takes up almost the entire ground floor of this 17-story building, arranged in a circle around plentiful seating.
Pinky's Gyros & Beef
, a Chicago-style joint, slings burgers, beef, and a range of breakfast items, while
M Burger
, a Lettuce Entertain You chain, features a
hidden menu
complete with secret shake flavors. Across the way, New Orleans Kitchen sears bourbon chicken and loads po'boys with shrimp or pulled pork. Other familiar food court options include Taco Bell, Sbarro, Subway, and KFC. As you dine, admire the 300-foot-tall skylight designed by Helmut Jahn, a steel-and-glass marvel that lets light pour into the building.
D) Aon Center | 200 E. Randolph St.
This skyscraper houses what seems to be a rarity among indoor dining options: a public cafeteria.
Market Thyme
serves breakfast and lunch, with stations that prepare everything from sushi, Mexican food, pizza, stir-fry, and sandwiches. Nearby in the pedway,
Sopraffina
creates salads, sandwiches, and Italian dishes, and Green Apple Cafe & Juice Bar tops baked potatoes with teriyaki chicken, mushrooms, and broccoli, in addition to the typical cheese and sour cream. Jimmy John's and Au Bon Pain stand at the ready to serve up sandwiches and soup.
E) Block 37 | 108 N. State St.
A variety of dining options await inside this multifloor shopping center. Pan-Asian spot
Simply Thalia
fills bento boxes with maki and nigiri or tops rice bowls with curry, peking duck, or teriyaki chicken. Dallas import
Which Wich
serves more than 50 customizable sandwiches, which customers create by marking their sandwich's bag with a Sharpie; the store encourages diners to doodle on the back on their bag when they're done eating and hang their art on the wall. For dessert,
Magnolia Bakery
—made famous on
Sex and the City
—tempts shoppers with almost 20 types of cupcakes, as well as cookies, pie, and brownies.
F) Macy's | 111 N. State St.
As the world's second-largest department store,
Macy's
—formerly Marshall Field's—spans 12 floors, so it makes sense that there'd be a range of food options here. In the basement, a room full of chocolates and candies, including Field's famed Frango Mints, helps boost blood sugar lost during epic shopping trips. Nearby, a food hall dishes out hot entrees, sides, and salads, and InField's prepares sports bar fare such as fish 'n' chips and burgers. The most special gems, though, lie upstairs on the seventh floor. The Walnut Room, which dates back to 1907, serves its famous chicken pot pie around an iconic 17-foot marble fountain. A hip food court alternative, 7 on State, showcases quick yet satisfying offerings from celebrity chefs such as Rick Bayless, Marcus Samuelsson, and Takashi Yagihashi.