A Portrait of the Artist in Residence: Metalsmith Meghann Sotille of Lillstreet Art Center
BY: Collin Brennan |
Jan 13, 2014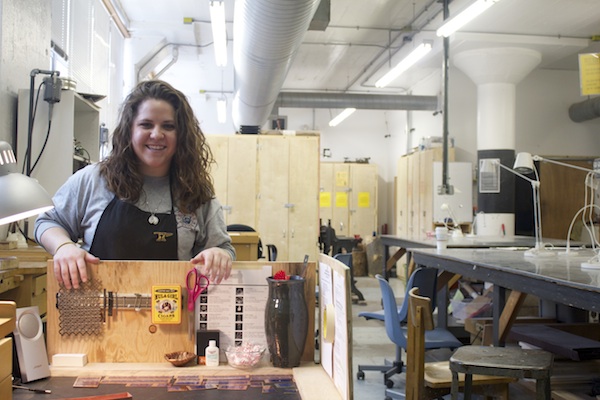 "I hope you're not allergic to dogs," Meghann Sotille turned to say as she led me into her studio at Lillstreet Art Center (4401 N. Ravenswood Ave.). Not knowing much of anything about metalsmithing, I wondered what she could mean by this. It seemed inconceivable that a dog would be welcome among the expected torches, sharp-edged tools, and anvils of a metal workshop. But the toy terrier that greeted us at the door looked perfectly at home. (I was disappointed to note that the little guy was wearing a sweater and not, as I had briefly hoped, a suit of plate armor.) In most other respects, the metal shop simply resembled a large art studio. The sole exception to this picture was a cramped corner desk, which held squares of copper ready for etching. Similarly, Meghann's appearance betrayed only one sign of her profession: a tiny anvil pinned to the front of her black apron. Not a speck of soot in sight. From the Canvas to the Forge After getting a sense of her background, it made sense that Meghann wouldn't fit the (largely fictional) stereotype of a smith. "I was originally into painting and drawing," she explains, "but when I went to study art at Arizona State University, I hadn't picked out a specific medium yet." One of her first instructors, a graduate student specializing in 3D sculpture, was quick to see her potential. "She said I was very anal-retentive," Meghann recalls with a laugh. "I was never very free when I worked. I would plan everything out and know ahead of time how I wanted things to be." Meghann's meticulous approach might have slowed her down as a painter, but it proved to be an asset when working with metal (a general rule: any time fire and hammers are involved, it's best to have a plan of action). When I asked what else attracted her to metals, Meghann cited the potential to explore narratives through found objects. "At first, I used a lot of family heirlooms in my work," she explains. "One of my older pieces, for instance, was the brass uniform button of a Chicago police officer." A midwesterner stranded in sunny Tempe, Meghann dealt with her homesickness by researching the history of Chicago and making artworks based on her findings.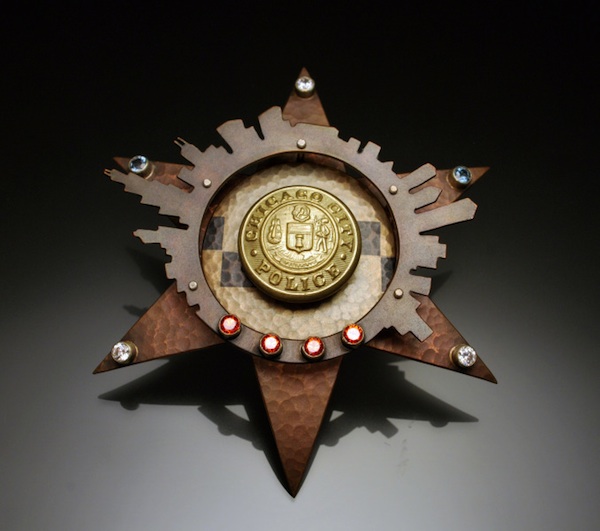 Making a Living as an Artist in Residence The opportunity to take up residency at Lillstreet has brought Meghann closer to the source of her inspiration. She learned about the program while attending a goldsmithing conference with some of her older peers in Phoenix. "I was very involved with the graduate students when I was an undergrad," she says. "They were further along than me, so I started attending conferences with them and just being exposed at an earlier stage to different people." One of these people happened to be from Lillstreet. She also happened to be in the market for a metalsmith. At the time, Meghann admits, "I didn't really know about artists in residence. I didn't know what they did or how to look for them, and at that time I had already missed most of the deadlines. Luckily, Lillstreet had a later one." Maybe it was fate that brought Meghann back to Illinois, but she has used the opportunity to explore Chicago for new objects to use in her work. Now that she has nearly run out of family heirlooms to turn into art, she routinely prowls the city's antique and thrift stores for materials. It helps that Lillstreet's residency program is fairly open-ended—aside from monitoring the studio for a few hours every week and teaching the occasional class, Meghann is free to practice her craft. This has led to some interesting experimentation. She showed me another of her more recent creations, a jewelry box topped with two dice that bob and turn as you crank a lever on the side. This piece, which Meghann entitled Game of Craps, is included in the portfolio that she sends out to galleries across the nation. She just got into three exhibitions in North Carolina, and more are sure to come. She'll even return to Arizona later this year to teach a workshop on the Navajo Nation with a former professor. "Lillstreet has a great community in helping you network and meet people and get things out there," Meghann says. This is one of the biggest benefits of doing a residency: connecting with fellow artists and gallery owners who will help you sell your work months and even years down the line.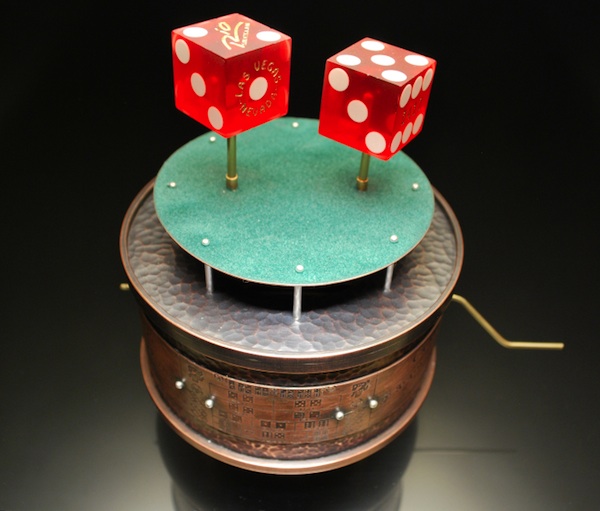 Where to Dip Your Toes Into the Furnace 1. Lillstreet Art Center (4401 N. Ravenswood Ave.) Lillstreet hosts jewelry and metalsmithing classes in its two large metal studios and one glass studio. Meghann will begin teaching classes of her own in the spring. 2. Benches on Division (2017 W. Division St.) This Wicker Park workshop invites newcomers in from the cold to "warm up with some torch work" during 5-week basic metalsmithing courses and comprehensive 10-week sessions. Evening and weekend classes fill up quickly. 3. Evanston Art Center (2603 Sheridan Rd., Evanston) Learn how to bend and shape steel in a short, informative workshop geared toward beginners. Evanston Art Center membership is not required to enroll in the class, but members receive a tuition discount. 4. The Art Center (1957 Sheridan Rd., Highland Park) In a 10-week workshop, new and intermediate students delve into the many techniques of metalworking, including sawing, soldering, texturing, and stone-setting. 5. Water Street Studios (160 S. Water St., Batavia) Located inside a historical limestone building in downtown Batavia, this art center features 28 studios, 3 classrooms, and 2 galleries. After completing a class, students can rent out one of the studios to bring their visions to life. Photo of Meghann: Collin Brennan Photos of Artwork: Victoria Altepeter
BY: Collin Brennan
Guide Staff Writer
Collin is a senior editor and a staff writer for Consequence of Sound. He self-publishes zines and moderates writing workshops for The Chicago Publishers Resource Center (CHI PRC).