A Tamale That Shucks the Cornhusk
BY: NATHALIE LAGERFELD | 7.24.2014 |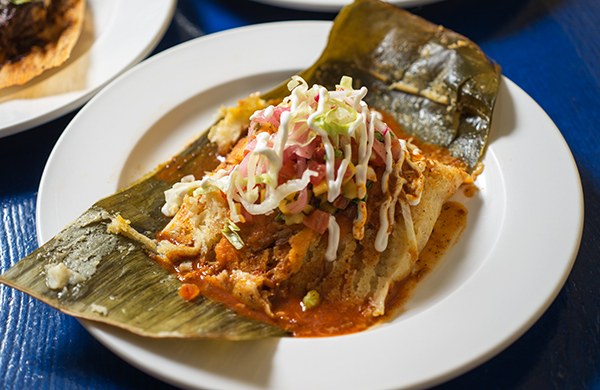 To most people, a tamale is one thing: a steamy bundle of corn masa wrapped in a cornhusk. But Jorge Miranda, chef at the Chicago Mexican restaurant Chilapan, knows better. "You can make a tamale out of almost anything," he said.
Growing up in Mexico City, Jorge learned to cook from his grandmothers, one of whom hailed from the southern state of Michoacán. She wrapped her tamales with the leaves of maguey, the same plant used to make tequila and mescal. Maguey gives the masa a minty, anise-like taste. "It's really good, but it's different," Jorge said.
Tamale shapes and fillings also vary. Another Michoacán specialty is the corunda—a cornhusk tamale in a triangle shape. In Guerrero, where Jorge's other grandmother is from, people still make tamales nejos—tamales stuffed with pure corn masa, without any meat filling or extra fat. The ancient Aztecs often ate this type of tamale while on long journeys.
Tamales used to be easier to find in his neighborhood, Jorge said. "When I came to the US in 1991, there were tamales all over the place. You'd just go outside your apartment and there was someone selling them," he said. Thirty years later, these tamale street vendors are much fewer and farther between—in swiftly gentrifying Logan Square at least.
Jorge has a solution to the local tamale drought: in August, he plans to start selling tamales at a takeout window in the mornings, alongside horchata, jamaica, and other snacks. In keeping with his restaurant's eclecticism and his diverse roots, Jorge's tamale menu won't draw on any one regional cuisine.
Inside Chilapan's brightly painted dining room, he took us through the steps of making one of his more exotic varieties of tamales. Though the southern state of Oaxaca is probably best known for its complex, heavily spiced moles, its unique tamales are a regional specialty, too. Wrapped in banana leaves instead of the usual cornhusks, they acquire an earthy, herb-like taste that feels appropriate for a rustic, home-cooked meal. Look for this Oaxacan variety and others at the tamale window.
How to Make a Oaxacan Tamale
The masa: A key ingredient in Mexican cooking, masa is a dough made from ground corn that has been treated with water and lime. Like many chefs, Jorge moistens his masa with a fat, such as lard or vegetable shortening, before pouring it onto the tamale wrapper. Each tamale should be about 60% masa, 40% filling, Jorge said.
The filling: You can fill a tamale with almost anything. Here, Jorge has chosen cochinita pibil—Mexican pulled pork. It's not particularly Oaxacan—the dish actually originates farther east, in Yucatán—but its rich, slightly sweet flavor is a good match for the earthiness of the banana leaf. Just like the masa, cochinita pibil takes a while to prepare. After soaking the pork in a marinade made with achiote, he packs it into a roasting pan with banana leaves, pineapples, and oranges and cooks it slowly in the oven for four hours at 250 degrees. The result is incredibly tender, easy-to-shred meat.
The wrapping: Banana leaves are more brittle than cornhusks and crack easily, so they can't be bundled into the usual tamale shape. Instead, Jorge folds them into rectangular packages, as if they were birthday gifts, and ties them with stray leaf strips.
Cooking and serving: Compared to cornhusk tamales, Oaxacan-style tamales take slightly longer to cook. Once he has a few finished tamales, Jorge puts them in a pot filled with a little water and steams them for about an hour. To serve, the kitchen staff unwraps the bundles and tops them with pickled red onions and drizzles of salsa and sour cream.
Photo and video by Andrew Nawrocki, Groupon. Music: "Playtime" by Jahzzar, under a CC BY-SA 4.0 license.
Shop for deals on Mexican restaurants in your city.
BY: Nathalie Lagerfeld
Guide Staff Writer
Nathalie is a writer and editor on the Guide's food team. Originally from Virginia, she now lives in Chicago, where she regularly indulges her love of tortas, bibimbap, and Cheez-Its. Follow her on Twitter @maviswillsaveus.