How to Make an Adrenal Gland Cookie for Valentine's Day
BY: Jess Snively |
Feb 11, 2015
With Valentine's Day quickly approaching, you might find yourself feeling feelings. But before you go blaming your heart for this sudden influx of warm fuzzies, consider this: your body's real love epicenter may be located a little lower (and to the back).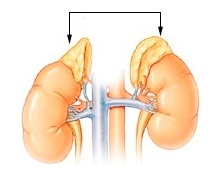 The adrenal glands—located right above the kidneys—are responsible for managing the body's fight or flight response, releasing adrenaline, cortisol, and aldosterone in times of stress. They also secrete a bit of dopamine—the chemical that triggers the feeling of euphoria that some interpret as love.
And so, this Valentine's Day, why not give your sweetheart or crush a gift that comes, not from the heart, but from the real source of your love? To help, we came up with a DIY for creating an anatomically-correct adrenal gland cookie that's sure to get their neurotransmitters transmitting.

What You Need:
Your favorite cookie recipe (and all the ingredients it requires)




Frosting in the following colors: red, black, blue, and yellow




Cookie sheet




Frosting decorating tip for creating smooth lines




Frosting decorating tip for creating texture




Small frosting spatula



What You Do:
1. Preheat the oven to 350 degrees.

2. Follow the recipe for your favorite cookies.

3. Hand roll the dough into a patty approximately 3 inches in diameter (this should yield a cookie that's about 5-inches in diameter after baking).

4. Bake for 20–30 minutes (watch the center, it may take longer to bake depending on your oven).

5. Let the cookie cool for approximately 15 minutes.

6. To prevent the frosting from melting during application, first put the cookie in your refrigerator for about 45 minutes.

7. When it's completely cool, create the black-and-white frosting base. Use the smooth tip and frost half the cookie with black frosting and half with white frosting. Smooth the frosting on both sides with the frosting spatula.

8. Using the red, yellow, and blue frosting, draw the horrible, yet adorable (adhorrible?) adrenal glands following the template below.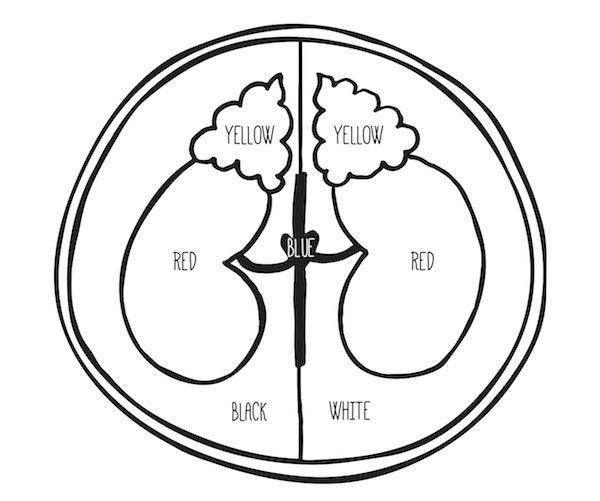 9. Place the cookie in a box or a body organ transplant cooler to present the cookie to your Valentine. (Pro tip: be sure to not wrap the cookie in saran wrap, as the frosting will smear! And make sure to gift your creation in a box that is not too flat.)

10. Stare at your Valentine without blinking until he or she finishes the cookie (optional).
Top photo and video by Andrew Nawrocki, Groupon. Video edited by Mel Kassel, Groupon. Video music by Bensound. Video sound effect by freeSFX.
Flirt with more fun Valentine's Day projects: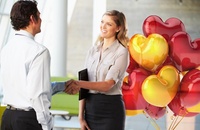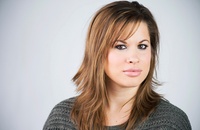 BY: Jess Snively
Jess is an avid DIYer and the founder and artisan behind Milton and Margie's Soy WaxCandles.