GROUPON GUIDE TO WASHINGTON-DC
Acne Treatments We Bet You Haven't Heard of
BY: Colleen Loggins Loster |
Feb 5, 2014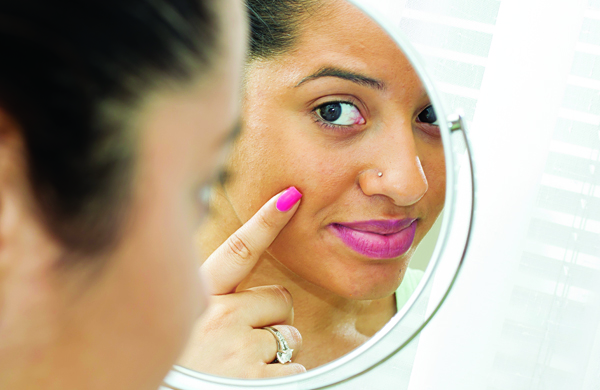 If you suffer from acne, chances are you're well-acquainted with these guys: salicylic acid and benzoyl peroxide. They're two of the most common ingredients found in over-the-counter acne fighters—in part because their effectiveness has been proven (salicylic acid helps unclog pores and benzoyl peroxide kills the bacteria).
In spite of that, there's a reason why companies are still competing against one another to produce the latest and greatest acne cure. And there's a reason why YouTube videos dedicated to acne cover-up tips continue to get millions of views. For just as there are many different causes of acne—hormones, stress, diet, genetics—there are many different ways to treat it. Salicylic acid and benzoyl peroxide might work well in tests, but their effectiveness may not be the same for everyone. Add in variables such as skin type and age, and it can be hard to find something that actually fights your acne.
For some, an alternative treatment might work better. The following have worked for me, to varying degrees, and I think they're worth a shot if it means clearer skin.
Aloe Vera Gel
At the beginning of last summer, my forehead started breaking out like crazy, and I couldn't seem to get it under control. I would clean my skin with a creamy wash containing 10% benzoyl peroxide in the morning and then apply a prescription containing benzoyl peroxide and clindamycin. At night, I'd wash my face with a 2% salicylic acid cleanser and apply my prescription Tretinoin cream (a generic prescription for Retin-A). I had been using it for a year, and it had worked well for a while but seemed to be losing its effectiveness over time.
That's when I read about aloe vera gel in Allure. According to the article, researchers found that using aloe vera gel along with a retinoid may improve the retinoid's effectiveness. And because it has anti-inflammatory and antibacterial properties, the aloe vera may even combat acne on its own.
I began combining the two products about four months ago, and I have to say that I've noticed an improvement. My forehead cleared up dramatically after about six weeks, and now I refuse to go a night without using both of them. One drawback: my boyfriend kind of hates the smell of the gel—I personally never notice it.
Tea Tree Oil
If you don't use a retinoid and don't find aloe vera gel to be effective on its own, consider trying tea tree oil. Tea tree oil, an extract from a plant native to Australia, has antimicrobial and anti-inflammatory properties. I like to dab a tiny bit of the pure, undiluted oil onto a particularly stubborn zit or cyst. I'd say that about 7 times out of 10, it significantly reduces the size of the pimple or stops the cyst from swelling into a painful bump. It even appears to be more effective as a spot treatment than my aloe vera/Tretinoin combo.
However, the oil can be extremely drying, so I use it sparingly, and only as a spot treatment if I really need it. If you have sensitive skin, you might want to avoid it—the Mayo Clinic notes that it can cause irritation or allergic reactions for some. It also has a very strong smell that some people find unpleasant.
Hydrocortisone Cream
According to Dr. Leslie Baumann, a renowned board-certified dermatologist and author of the bestselling book The Skin Type Solution, you can apply a hydrocortisone cream if you have what she calls a "once-in-a-blue-moon zit emergency," such as a photo shoot or wedding.
The topical anti-inflammatory should take the redness out of a pimple quickly. But Dr. Baumann cautions that if you use it too often, you can actually aggravate or worsen acne. This has definitely happened to me before, so applying it the right number of times is quite a delicate dance.
Helpful Tips
No matter how you choose to treat a tenacious pimple, particularly a cyst, you should always apply a warm washcloth to the area first. This helps open up the pores, and it may help emulsify the cyst's hard sebum (the blog Skinacea gives instructions for making a handy heated rice-sock compress).
If you don't see immediate results, don't despair. Learn how to cover up any lingering acne spots with well-placed makeup. Check out the The Guide on How to Wear Concealer for some advice.
BY: Colleen Loggins Loster
Colleen is a makeup/skincare junkie who has a serious Sephora problem. She writes about all things beauty and occasionally does hand modeling for work. Her job is strange.