All Voices Welcome: Shape-Note Singing in Chicago
BY: Adena Rivera-Dundas |
May 10, 2013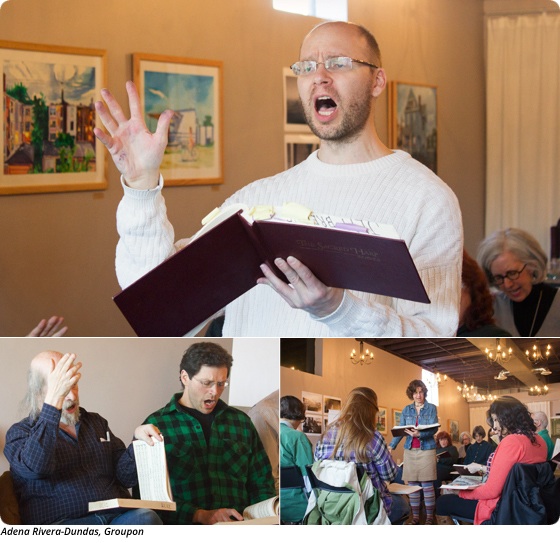 On May 25 starting at 9:30 a.m., 200 or so people will gather in the
Pulaski Park
Fieldhouse, face one another in a giant square, take a collective deep breath, and launch into song. Their collective voice will ricochet off the walls, creating a torrent of chaotic, yet hauntingly beautiful music that leaves audience members breathless. Except that there is no audience. The event is free and open to the public, but if you come, you have to sing. No experience? No problem. In fact, Sacred Harp was invented as a means of teaching people to sing without them needing to read music. As Jeff Breting, a local singer dedicated to rounding up new performers, says, "all voices are welcome." Sacred Harp is a form of shape-note music—so-called because the notes are written as square, ovals, triangles, and diamonds—that came to America with the first settlers. It spread from New England to the South via traveling song-book writers who stopped in towns to teach rural families to read and sing their music.
The Sacred Harp
, the book from which the genre takes its name, was first published in 1844 and has survived as one of this country's oldest living traditions. And now, the tradition of not only singing this music, but teaching it, thrives in Chicago thanks to a small group of musicians who stumbled across Sacred Harp 30 years ago. After spending 25 minutes learning one of their first songs, founding member Ted Mercer remembers the whole group felt "this unanimous spark. The whole place lit up." And they were hooked. Today, the Sacred Harp community thrives in all corners of Chicago with weekly performances at singers' homes in Hyde Park and Evanston, and city-wide gatherings every few months somewhere in between. The last one was held on Sunday, April 21, in Logan Square's
Beauty and Brawn Gallery
, and of the 30 or so singers in attendance, four or five had never sung Sacred Harp before. But the euphonic energy in the room demanded not only attention, but participation. As the
group's website
says, "try it; you'll like it."
How to get involved:
On May 18, singers and non-singers are invited to an
introductory workshop
from 2 p.m. to 4:30 p.m. led by Jeff Breting. During the session, Breting will give beginners the necessary tools to participate in the upcoming Midwest Convention. Free and open to the public, the
convention
will take place on May 25 at the Pulaski Park Fieldhouse, and on May 26 at the
Irish American Heritage Center
, from 9:30 a.m. to 3 p.m. on both days.
BY: Adena Rivera-Dundas
Originally from Los Angeles, Adena is a Chicago-based writer and casual Sacred Harp singer.