GROUPON GUIDE TO NEW YORK CITY
An Art-Filled Beach Day at PS1's "Rockaway!"
BY: Kasia Mychajlowycz |
Nov 3, 2022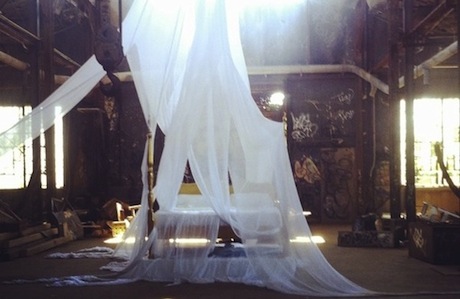 Rockaway!
is a summer-long art exhibit celebrating the reopening of Fort Tilden, which was closed for two years after damage from Hurricane Sandy. Put on through a collaboration with the
Museum of Modern Art'
s contemporary museum, PS1, and local artist and community groups, the show's big draw is a large exhibit by musician, writer, artist, and Rockaway resident Patti Smith. But there's a lot more to explore there, especially when combined with a beach day. Follow our guide to navigating the historic site and the accompanying exhibit, whose works center around the connection between place, objects, and memory.
The Chapel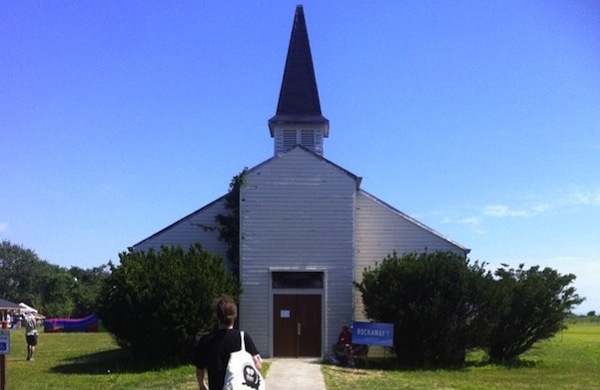 Walk into Fort Tilden, and the first exhibit area you'll see is an old white building—the restored Fort Tilden chapel. Janet Cardiff's
The Forty Piece Motet
takes over the bare and musty space with 40 speakers, each of which amplifies the voice of one singer performing their part of a complicated 16th-century choral piece. Walking among the speakers offers endless ways to hear the song; it felt personal and almost wrong to be walking among them, like sidling up to a chorister in the middle of a performance. The surround-sound effect feels even more intense when you look out the windows toward the peaceful beach. At the chapel, grab a brochure (with a handy map inside) and rely on volunteers to direct you to the other exhibits.
Rockaway Artists Alliance Gallery
A few hundred feet to the west, you can see what looks like an abandoned factory overgrown with scrubby trees. This houses the next exhibit, which you enter by going through the Rockaway Artists Alliance Gallery. The community nonprofit group's gallery hosts Patti Smith's photographs, which are a lifelong catalog of the objects and places dear to her: ex-lover and close friend Robert Mapplethorpe's grave, Frida Kahlo's corset, her own work boots. The photos are all shot on film in black and white, adding a layer of ghostliness to the surviving objects of dead people. Smith isn't the best photographer, but it's interesting to see a curated selection of a woman who seems to have traveled everywhere. Try to nab one of the scarce gallery guides at the front desk because, like the entire
Rockaway!
exhibit, signage is rare here but would be useful. (Skip the attached exhibit honoring Walt Whitman, which is stingy: a few unexplained relics in a display box, a dozen tattered copies of his books, a forgettable movie. You probably remember more about him from high school than you'll learn here.)
The Resilience of the Dreamer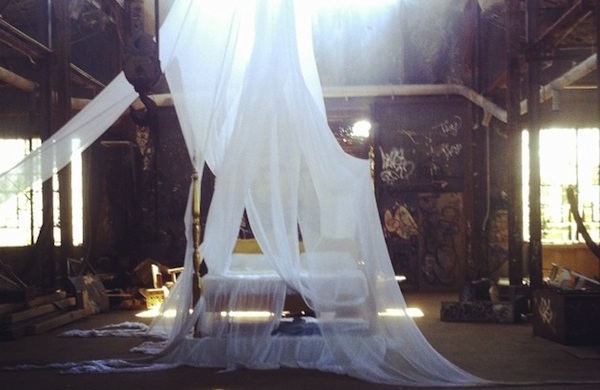 Across a small garden path is an old auto garage housing Smith's installation,
The Resilience of the Dreamer
. A gilded four-poster bed, draped with white linens hanging from the high ceilings and lit by punched-out skylights, looks like a dream or a ghost. It's also a reminder that, despite its upbeat exclamation point, all of
Rockaway!
sprang from the traumas of Hurricane Sandy. Smith based
Resilience
on beds she saw washed ashore after the disaster.
Around Fort Tilden
Sprinkled throughout the grounds, a careful eye will catch a few of the little birds' nests created by Adrián Villar Rojas. The low, slouching bowls are very difficult to find, looking for all the world like real nests—a small offering of home for a community where many were left homeless just two years ago. Granite blocks Smith inscribed with fragments of poems by Whitman stand along the shore road of Fort Tilden, almost at the western edge and close to the beach. We recommend taking a break in the sand before heading back to the bus stop and
jumping on the Q22 bus
, which will drop you off two blocks from the Rockaway Beach Surf Club.
Rockaway Beach Surf Club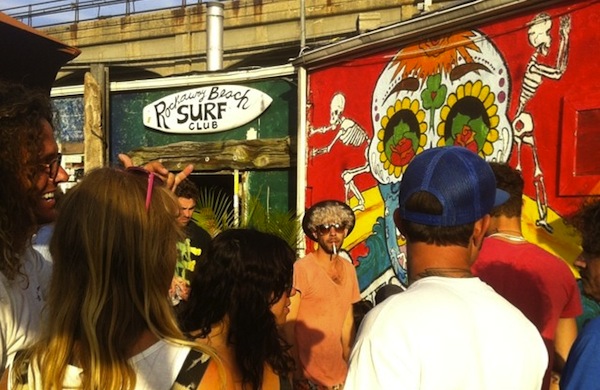 The exhibit at the surf club features artwork by locals and notable artists, though no piece really stands out on its own. Granted, the large shack that makes up the surf club seems dim compared to the distracting, sun-drenched patio right outside. Grab a drink (cans of PBR are $3, a dark and stormy is $9) and take note of a few pieces of art before you run outside:
Above the ATM is Camille Henrot's Tropics of Love, a grid of nine tawdry and tender portraits of half-animals, half-humans coupled up.
To the right of the bathrooms is Allyson Vieira's Aphrodite I, a delicate ink drawing of an octopus that shows the artist's very light and precise hand.
Tom Sachs's Tides at Rockaway Beach is the largest piece on the wall to the left as you walk in. At first, Sachs's work looks like a schedule of upcoming tides, but looking more closely, it's clear this is actually a schedule of deaths, listing men's and women's life expectancy against their age today. In short, Sachs's work tells you how much longer you're statistically likely to live. The subject matter is creepy, even though its handmade, graffiti-esque aesthetic fits right in with this local bar.
Now, step out into the sun. Out back, surfers stash their boards in lockers, locals talk shop in flip-flops, and pilgrims from Manhattan let loose. A new Southern-style food truck sells meaty sandwiches (with one vegan option) and killer sweet-potato fries. Enjoy this last phase of your visit to the Rockaways—from there, it's a half-block walk to the subway and back to reality.
Rockaway! at a Glance
When to go:
Open and free to the public Thursday–Sunday from noon to 6 p.m. until September 1. The Rockaway Beach Surf Club exhibit is also open to the public free of charge Monday–Friday from noon to midnight and Saturday–Sunday from 11 a.m. to midnight.
The Forty Piece Motet
by Janet Cardiff will only be open through Sunday, August 17.
How to get there:
Take the 5 or 2 to the last stop in Brooklyn, Flatbush Ave./ Brooklyn College, and walk a block to the intersection of Flatbush Avenue and Avenue H, in front of Target. From there,
catch the Q35 bus toward the Rockaways
, getting off at the first stop after crossing the Marine Parkway Bridge.
What to bring:
At Fort Tilden, water and food are scarce but surf and sand are plenty, so pack a towel, swimsuit, sunblock, water, and snacks.
Photos by Kasia Mychajlowycz.