Apple Recipes that Chicago's Mom Bloggers Use to Serve Up an Orchard
BY: Aimee Algas Alker |
Sep 26, 2013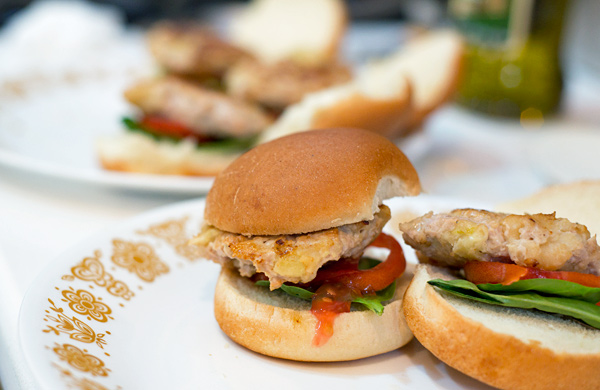 Three great Chicago mommy bloggers—Joelen Tan of
What's Cookin' Chicago?
, Emily Paster of
West of the Loop
, and Johanna Cook of
Momma Cuisine
—shared with me some apple recipes that get kids involved in the kitchen (they also gave me
some tips on getting kids to the orchard
). Since my own offspring is still in diapers, I was on my own with the recipes. Still, I couldn't resist checking them out. So below are all three recipes, which include a
five-spice pumpkin-apple cake
, a
roasted pork loin with apples
, and a step-by-step pictorial from my attempt at
chicken, cheddar, and apple sliders
.
Chicken, Cheddar, and Apple Sliders
by Joelen Tan of What's Cookin' Chicago?
What You Need: 
(My substitutions are in parentheses; I halved the recipe since only three of us would be eating—me, my husband, Jamie, and Groupon photographer Tim) 4 granny smith apples 1 teaspoon olive oil 2 pounds ground chicken (I couldn't find organic ground chicken through Peapod, so I used turkey, which Tim roundly approved since the holidays are approaching) 1/2 cup shredded cheddar cheese 1/2 cup dried breadcrumbs (I used panko, as I often do) 1/4 cup milk 1/2 tablespoon poultry seasoning (Old Bay, all day) Salt and pepper to taste
What You Do: 
Preheat oven to 350 degrees. Peel and core the apples and place on a cookie sheet. Drizzle with olive oil and sprinkle salt to taste, then bake for 30 minutes. Process baked apples in a food processor until finely chopped; set aside. (I used a potato masher and a fork, since my food processor is in a box somewhere. If I made this with kids, I'd probably let them help with mashing the apples. My food mill probably would have done the job as well.)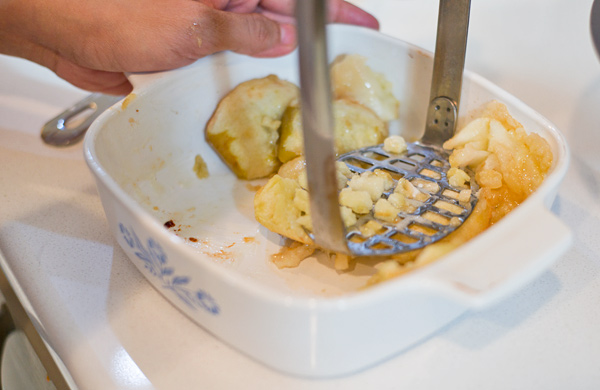 Place 2 pounds of ground chicken, 1 cup processed roasted apples and 1/2 cup shredded cheddar cheese in a bowl. Add to the bowl 1/2 cup dried breadcrumbs, 1/4 cup milk, 1/2 tablespoon of poultry seasoning, and salt and pepper to taste. Carefully combine all the ingredients until fully incorporated. (This is the part kids can help with; mixing meat by hand is fun.) Form mixture into slider-sized patties.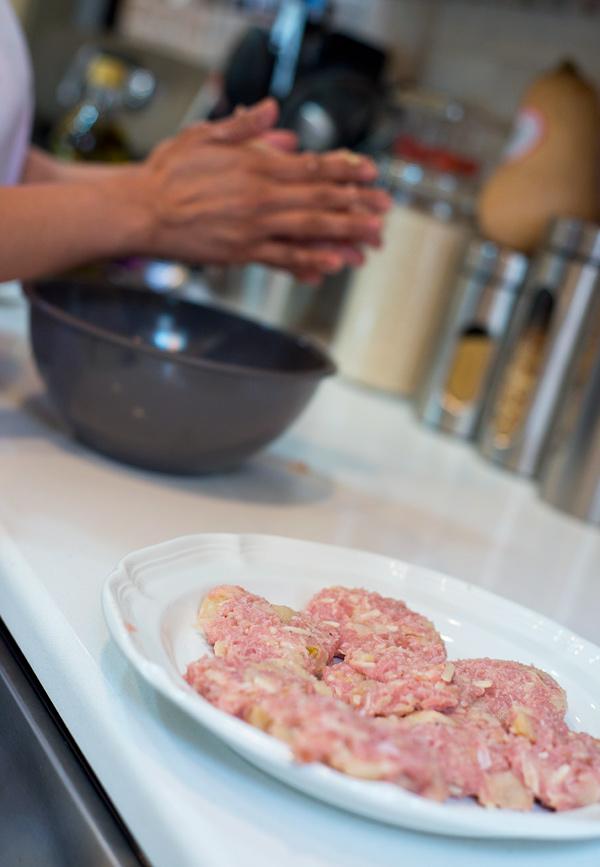 Bake, fry, or grill patties till done. (I fried them in olive oil.)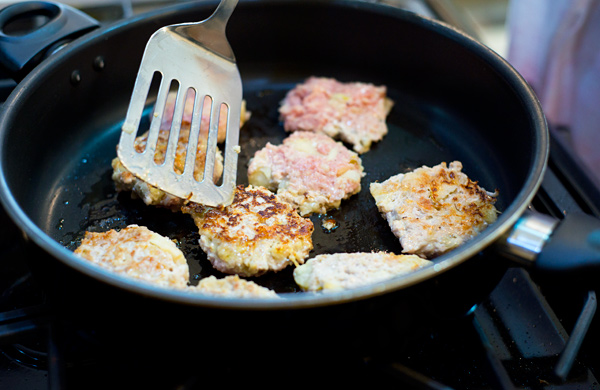 Serve on slider buns. (I added a couple of leaves of baby spinach and slices of just-picked tomatoes. Dijon mustard also would have been delicious on them.)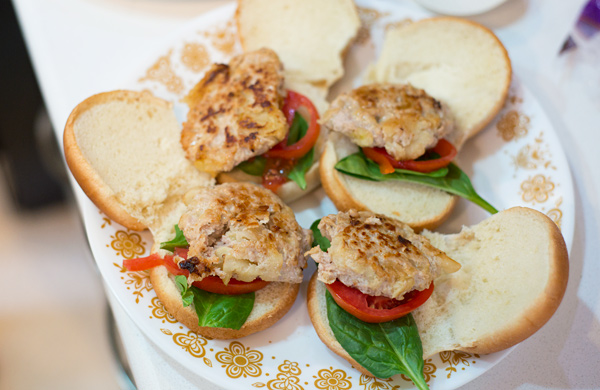 The Verdict:
The three of us—Jamie, Tim, and I—didn't even make it into the other room; we snarfed these down standing up at the counter. They were delicious, easy, and healthy.
Here are a couple more recipes to help you use up that mountain of apples. If you try your hand at either, email us some photos at grouponguide@groupon.com to let us know how it goes!
Five-Spice Pumpkin-Apple Cake
by Emily Paster of West of the Loop
What You Need for the Cake:
3 cups all-purpose flour 3/4 teaspoons salt 2 teaspoons baking soda 3 teaspoons chinese five-spice powder 1 15-ounce can of pumpkin (not pumpkin-pie filling) 3/4 cup vegetable oil 2 1/4 cups sugar 4 large eggs, at room temperature 3 granny smith apples, peeled and cored
What You Do:
Preheat oven to 350 and grease a large bundt pan. Whisk together the flour, salt, baking soda, and chinese five-spice powder in a bowl. In a standing mixer, cream the oil and sugar until light and fluffy. Add the eggs one at a time. Add the canned pumpkin. Gradually add the flour mixture and mix until smooth. Chop two of the apples into chunks and gently fold them into the batter. Pour the batter into the prepared bundt pan. Slice the remaining apple and lay the slices on top of the batter in the pan overlapping slightly. Top with the streusel (see recipe below). Bake for 60-70 minutes until the top is firm and a tester inserted into the center comes out clean. Cool cake on a wire rack for 30 minutes before removing to a platter.
Kids can help with:
Whisking, mixing in the flour mixture, arranging sliced apples on top.
What You Need for the Streusel:
1 tablespoon all-purpose flour 5 tablespoons sugar 1 teaspoon chinese five-spice powder 2 tablespoons crystallized ginger, minced 1 tablespoons unsalted butter, softened
What You Do:
To make the streusel, whisk together the flour, sugar, and five-spice powder in a small bowl. Cut in the softened butter and pinch the mixture together with your fingers until it resembles a coarse meal. Add the crystallized ginger and stir to combine. Freeze until ready to use.
Kids can help with:
Whisking, pinching, and stirring.
Roasted Pork Loin with Apples
by Johanna Cook of Momma Cuisine
What You Need:
2 pounds of pork loin 2 tablespoons of olive oil 2 tablespoons of dried italian seasoning 2 1/2 teaspoons of kosher salt Freshly cracked black pepper 3-4 red potatoes, quartered 1 cup of baby carrots 1 red onion, largely diced 1 gala apple, largely diced 1 granny smith apple, largely diced 1/3 cup of organic apple juice or cider 1/4 cup of organic, low-sodium chicken stock
What You Do:
Heat the oven to 400 degrees. Drizzle the pork loin with olive oil, then rub it with the 2 teaspoons salt, pepper, and dried italian seasoning. Heat a large skillet on high heat and olive oil. Sear all sides of the loin until golden brown and place on a roasting pan. In a large bowl, toss all the vegetables and apples together with a drizzle of olive oil, 1/2 teaspoon of the kosher salt, and a pinch of dried italian seasoning. Surround the loin with the apple and vegetable mixture. Pour the apple juice and chicken stock over the veggies, apples and loin, and cover with foil or parchment paper. Roast in the oven for about 40 minutes. Take the cover off and roast for another 15 minutes, until tender and the internal temperature is at least 165 degrees.
Kids can help with:
Tossing veggies and apples, then placing them around the loin. Older kids can also pour the juice and stock.
Photo: © Timothy Burkhart, Groupon
BY: Aimee Algas Alker
Guide Staff Writer
Though Aimee stays up to date on the latest food trends for the Guide, most of her meals are served cold and cut into tiny, toddler-sized bites.