My Massage at LUSH Delighted All Five of My Senses
BY: Favin the Maven |
Oct 1, 2014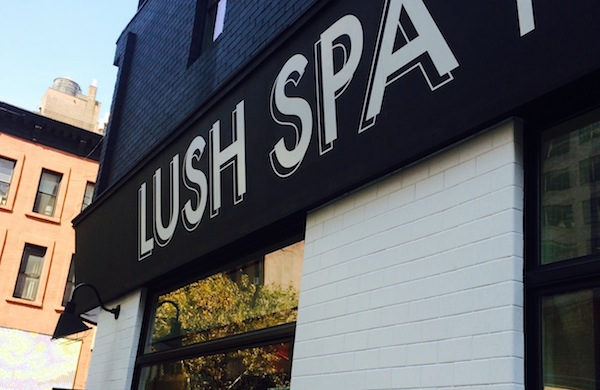 I am a
huge
fan of
LUSH
beauty products, so when I was in New York City last month, I made sure to stop by
the company's Upper East Side spa
. There are only two LUSH Spas in North America (the other is in Philadelphia), so I had to book way in advance—and it was totally worth it. LUSH is a
British brand
, and the
spa
looks like a cozy English cottage. There are only four treatment rooms, seven service options, and a handful of practitioners. But the
massage
I received,
Synaesthesia
, was far from modest. In fact, it was probably the most layered, thoughtful spa treatment I've ever had. It's LUSH's signature service, described as "a complete merging of the senses."

Here's how it engaged all five of mine.
First, I looked at a list of words.
To start things off, my massage therapist, Ellysha, escorted me upstairs to a room that looked like my grandmother's kitchen. Then she sat at the table with me and asked me to choose a word from a list scrawled on a chalkboard wall.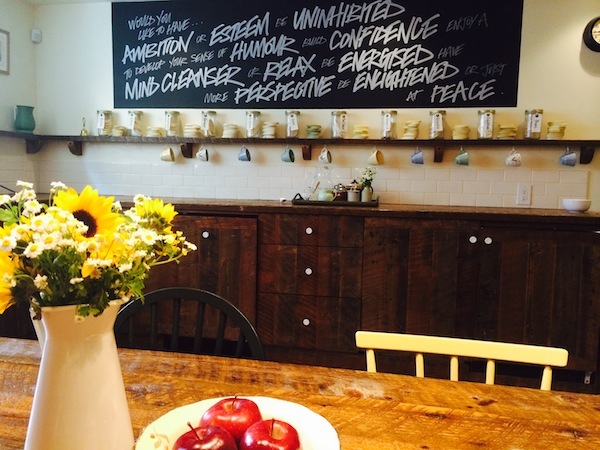 For whatever reason, I was feeling "perspective." Ellysha had me write the word on a small slate, which she hung on the door of my treatment room.
Next, I smelled perfumed fog.
Ellysha then led me to a shelf of essential oils, each of which was tagged with a different word. I had to choose one—
without
smelling it first. I went with "beautiful." In the treatment room, Ellysha squeezed a few drops of the oil and some water into three separate beakers of dry ice. Soon, they were all bubbling over with amazing, floral-scented fog. Two were for scenting the room; the third she used to "smudge" my body. In other words, she circled it around me, clearing my mind and jump-starting the sensory experience.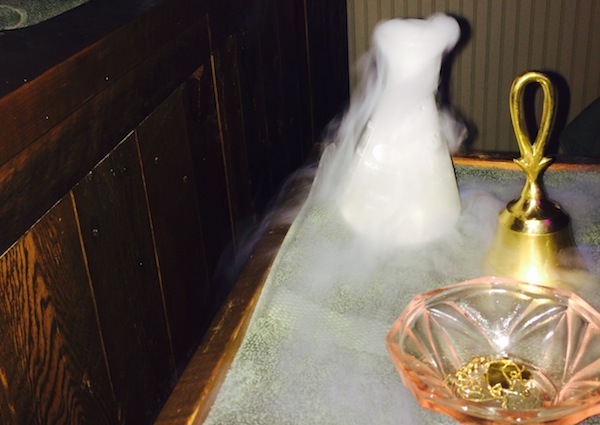 Then, I felt all kinds of feelings …
This is when the actual massage started. Ellysha had a bar inscribed with my first word choice, "perspective." The bar was a solidified cream that she emulsified in her hands and smoothed onto my body. (It smelled much different than "beautiful"—it was earthy, almost herbal.) The massage was an 80-minute rubdown during which—and I'm not sure how—Ellysha's hands would change from feeling warm to cool to warm again. It was a really cool (no pun intended) sensation. She also timed her kneads to music, which brings me to my next sensory experience.
… while I listened to music that was like nothing I'd heard before.
Probably because LUSH uses original tunes. Composed by British folk musician Simon Emmerson, the 80-minute track is supposed to make you feel like you're getting 24 hours of rest. As the song transitioned from bird chirps to cricket chirps and back to bird chirps, Ellysha's pressure ebbed and flowed with the volume level. ("You're almost the instrument being played," as LUSH cofounder Mark Constantine says.) The lighting changes color with the tone of the song, too.
Finally, I drank a cup of custom tea.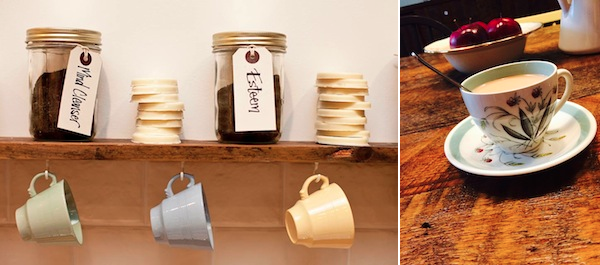 Image of tea jars courtesy of LUSH Spa's Facebook page.
After the massage (and post-massage bath in a clawfoot tub!), there was a
cup of tea
waiting for me in the kitchen. The tea blend was actually
infused
with the "perspective" aroma. I was drinking in perspective! It tasted like black tea, and it was served with cream and sugar. It was exactly like the tea
my dad
drinks, so I felt pretty cozy in my robe, holding the warm cup, and somehow not hearing any of the noise from the Lexington Avenue crowds walking below the second-floor window. If it's possible for a spa treatment to give you perspective, this one definitely did.
Can't get to New York or Philly? Here's some unique massages available in other cities:
| | | |
| --- | --- | --- |
| | | |
| LA: Couples Hot-Stone Massage with Wine | Phoenix: Mother-Daughter Spa Day | Chicago: HydroMassage Sessions |
BY: Favin the Maven
For me, both beauty and fashion need to be accessible and not intimidating. I love a great deal and a good DIY beauty treatment. I pride myself on trying new trends, being open minded and getting a great treatment without breaking the bank. In the name of beauty I will try anything once.