At Mortified, People Share Their Embarrassing Stories. Here Are Some of Ours.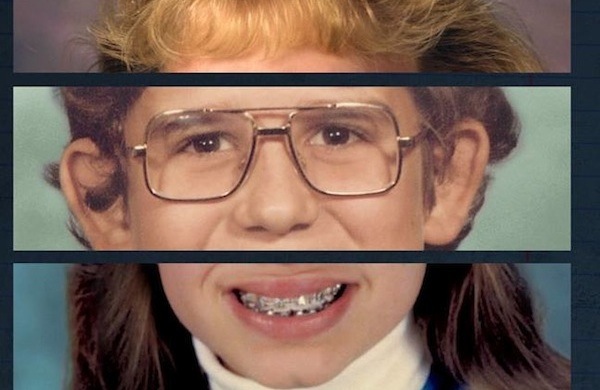 Mortified calls on adults with a strong stomach and a total lack of ego to share awkward stories from their youth. We asked our writers and editors to get in on the game.
Imagine standing before a room packed with complete strangers and reading about the most shameful moments of your youth. If the mere thought makes you cringe, you're not alone. And yet this is the entire basis of
Mortified
, a show that draws much of its appeal from its very potent cringe factor. A national organization founded in the late 1990s, Mortified calls on adults with a strong stomach and a total lack of ego to share the diaries and treatises they penned as awkward teenagers. Mortified has become many things over the years—a
documentary film
, a
Sundance Channel series
, and even two written anthologies—but its purest form has always been the live stage show. Local Mortified chapters put on live, multimedia storytelling shows several times per year, and the Chicago chapter is no different. In anticipation of Mortified's April 12 show at
Schubas Tavern
(3159 N. Southport Ave.), we asked our writers and editors to share their own embarrassing stories. We hope you'll enjoy them and have a couple laughs at our expense. –
Will Landon
You see, what happened was…
"I was 11 or 12, and performing as a chorus member in a production of
Snow White
. Other than singing, my only responsibility was carrying a potted tree onstage during a scene change. In the dark. Up a ramp. On opening night, I strode forward, tree in hand, and proceeded to walk off the top corner of the ramp, landing in the front row. When the lights came up, our audience was treated to the sight of a chunky kid in royal-purple tights, an ill-fitting silver tunic, and a fake-jeweled hat hustling out through the side door." –
Tyler Clark
"The first time we were alone, I farted in front of my sort-of boyfriend's best friend Dan (who I'd just met) and laughed it off. Later, my boyfriend told me that Dan called me a rat: 'She farted right in front of me and all she did was laugh.'" –
Aimee Algas Alker
"When I was 13 and hanging out with my no-goodnik cousin, he convinced me to steal a bottle of alcohol from the grocery store. I had never touched the stuff and didn't know what the cool kids were drinking, so I casually walked up the aisle and grabbed the first thing I saw: a lime-green margarita mixer. Of course they caught me and called the police, who had a good laugh at the fact that I had tried to steal the one thing I didn't need an ID to buy." –
Collin Brennan
"At 12 or 13, I was shy. My best friend, conversely, was self-assured with a bossy streak. She decided we should make prank calls one afternoon. I was first up. She flipped through the Yellow Pages, pointed to the number of the local KFC, and told me what to say. I grew mortified as the phone rang. 'Hello, Kentucky Fried Chicken,' a woman intoned in a Southern twang. 'Hi,' I croaked. 'I was wondering…how large are your breasts?' She spat back, 'Is this some kinda joke?' 'No, ma'am,' I said. 'I'm…uh…doing research for a science project.' I've never placed another prank call since." –
Halley Lawrence
"In high school, I managed to fall down the stairs at every major university in Michigan. The worst was having to walk into a forensics competition with one broken heel, major cry-face, and a knee-scrape bleeding through my tights, then do a monologue." –
Allison Shoemaker
"In middle school, some pals and I wanted to throw our friend a surprise birthday party to cheer her up because her family was going through a tough time. While playing phone tag with all my friends trying to organize this, I accidentally told my friend about her surprise party, then immediately hung up on her in shock. We got someone's older brother to drive us to the movies. He brought the family pug along—and it got sick in my lap. I had to run home and change pants. This meant we missed the movie we were going to see, so we ended up seeing
The Cider House Rules
, wherein Tobey Maguire falls in love with Charlize Theron after giving her an abortion at an orphanage." –
Liz Juranek
"I couldn't get into a bar in Mexico City because I was wearing shorts, but they were really cool shorts so the security guard agreed to trade me his slacks for them. I thought I'd look super sharp, but instead I looked like Hillary Clinton. I was living out of a backpack, so I spent the next several weeks having people tell me I looked like Hillary Clinton. I cannot stress how unflattering these pants were. It was a dark time for me." –
Cody Braun
"My [high-school] cross-country ski team took a trip to the Birkebeiner Trail and I decided to try snowboarding. I had never snowboarded before and didn't know what to do, so I hurled myself downward with no endgame. As I neared the lodge at top speed, I knew my only option was to fall. I crashed on my face, quite gloriously, and looked up to see I had fallen right in front of one of the state's top boys' cross-country teams, who were practicing their race starts. Their coach was just a few yards away, videotaping the whole thing." –
Anna Skorczeski
"The first time I got my period was in the locker-room shower. My mom hadn't really told me about the birds and the bees, so I thought I was hemorrhaging. Then all the other girls—rich girls, popular girls who didn't much like me—started throwing tampons at me shouting 'PLUG IT UP! PLUG IT UP!' I went home and told my mom about it, and she said it was all my fault for having the stain of Eve's original sin in me: lust. She said I brought it on myself because I was born of woman and I desired men…and the thing is, I did start liking boys that year." –
Carrie White
Mortified will make everyone feel, well, mortified at Schubas Tavern (3159 N. Southport Ave.) on Saturday, April 12, at 7 p.m. Tickets are $12 and can be purchased here.
Image courtesy of Mortified.
BY: Groupon Guide Staff
Groupon Guide Staff