Schubas Tavern: A Former Tied House Turns to Music
BY: Collin Brennan |
Jan 22, 2014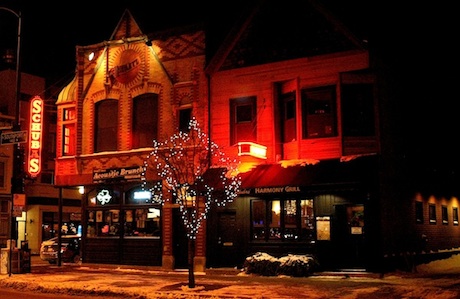 A Schlitz globe is etched into the western façade of Schubas, a Chicago music venue that owes its existence to the beer that made Milwaukee famous.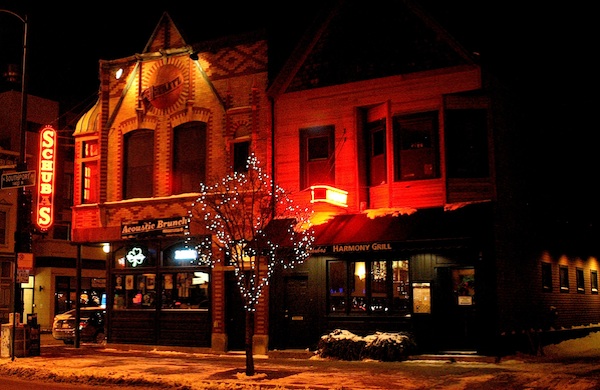 ---
Check Out Our Featured Article for Schubas:
Six Meme Animals Review Little Hurricane's Top Songs
Grumpy Cat, Doge, and other furry memes weigh in on the indie-blues duo.

Little Hurricane will be at Schubas on Friday, May 9. Buy tickets here.
---
The next time you stroll through West Lakeview, stop on the southeast corner of Belmont and Southport Avenues to admire the elegant masonry that wraps around the entrance to
Schubas Tavern
. Among the last things these neo-Gothic flourishes will evoke in your mind's eye are the gaudy, golden arches of downtown's
Rock N Roll McDonald's
. But these two buildings have more in common than a documented penchant for rock music. According to
Paul Durica
, a local historian and the founder of
Pocket Guide to Hell
tours, Schubas is the spiritual precursor to McDonald's and any number of the fast-food chains that now litter Chicago's landscape. But before we get ahead of ourselves, let's take a trip back to 1871. The seeds for the rock club we call Schubas were planted that year, amid the rubble and ashes of the Great Chicago Fire. Recognizing that most Chicago breweries had been wiped out in that fire, Milwaukee's Schlitz Brewing Company began sending barges filled with barrels of beer down to Chicago. Not ones to miss an opportunity, the brewers also struck a lucrative deal with local bar owners looking to get back on their feet. "If you went into business with Schlitz," explains Durica, "they'd provide you with your furniture, your lights, and all your glassware—basically anything you need to get off your feet." The one condition? You'd have to serve exclusively Schlitz products. In this way, Durica says, Schubas and the hundreds of other so-called tied houses "operated in a way not so different from a modern fast-food franchise." Few tied houses remain today, but those that do are still marked by a signature
Schiltz globe
somewhere on the exterior. Schubas is no exception—a handsome globe in terra cotta bas-relief can be spotted on the building's western façade, just below the roofline.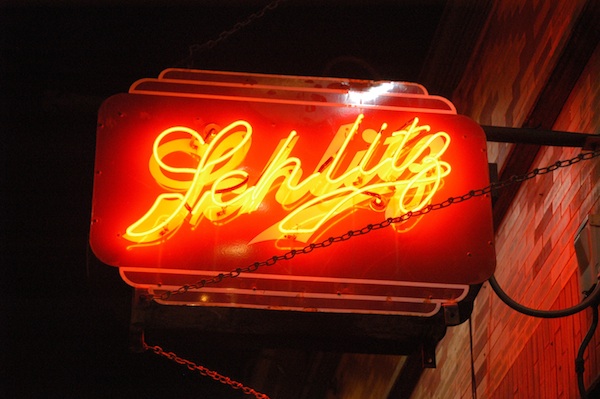 Schubas maintains this visible connection with the beer that made Milwaukee famous, but in most other ways the bar has moved on. The first steps toward the venue's modern identity were taken in 1988, when Chris and Michael Schuba
bought the building
and set to work refurbishing a bar that had seen better years. That meant cleaning the patterned brickwork of the exterior and installing a 30-foot Brunswick mahogany bar and tin ceilings in the interior. It also meant revamping the acoustics in the massive venue space in the back—a move that would permanently change the bar's identity from "tied house" to "music club." Today, Schubas hosts a
diverse lineup
of music seven nights a week. Its stage has endured the stomping shoes of hundreds of honky-tonk, indie, country, and jazz acts from around the world, including the bands that perform each week at Sunday's beloved
Acoustic Brunch
. The building itself was designated a
Chicago Historic Landmark
in August 2011, but it certainly doesn't suffer from self-reverence. Kitschy decor elements abound—check out the bust of Elvis behind the bar—and the shows have been known to get appropriately sweaty and raucous. Taking a cue from the city that surrounds it on all sides, Schubas strikes the right balance between historic glamour and rock 'n' roll grit. You certainly won't mistake it for a McDonald's.
Find deals on things to do in Chicago throughout all of Groupon.
Photos of Schubas: Collin Brennan