Austin's Top 10 Romantic Restaurants
BY: Editors' Picks |
Jan 29, 2014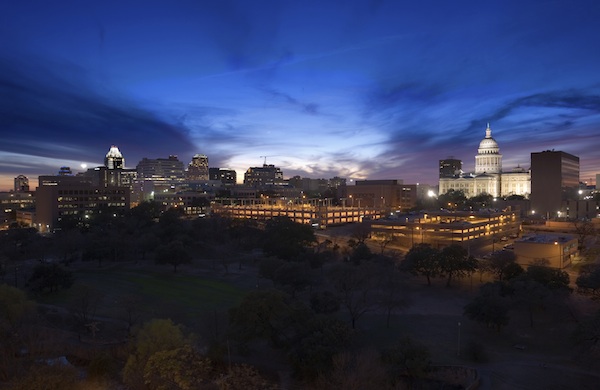 The Driskill Grill has hosted many a romantic rendezvous, but only one was of national importance. In 1934, Lyndon B. Johnson took Claudia Taylor (later known as "Lady Bird") there on their first date. Later that day, after a long drive in the country, Johnson proposed, and the two wed within a few months. Not every date at the Driskill ends so happily, but given the posh setting and magnificent wine list, it's easy to see how a couple might get carried away.
Downtown: A Cozy Piece of Paris
Chez Nous
| 
510 Neches St.
Opened in 1982 by three friends from Paris, Chez Nous has since become Austin's primary alternative to a vacation in France. A mural on one wall depicts a Metro station and the buildings beyond, completing the illusion of sitting in a quaint bistro—one that preps its own pâté and sautéed veal sweetbreads.
West Austin: Farm-Fresh German Fare
Fabi + Rosi
|
509 Hearn St.
Fabi + Rosi consists of a bungalow built in 1903, a vegetable garden, and, of course, a Hühner Haus (chicken coop). You could argue the chickens are luckier than the guests: they get to feast on Chef Wolfgang's kitchen scraps, left over from European dishes such as pork schnitzel and housemade linguine, every day.
Cardinal Hills Estates: Hill Country Game Meats
Hudson's on the Bend
|
3509 Ranch Rd. 620 N.
If you can't present your sweetheart with a diamond, perhaps a diamondback rattlesnake will do. At Hudson's on the Bend, Chef Jeff Blank turns the snake into a cake with a pistachio-nut crust, a prime example of his Texas Hill Country cuisine. All of his wild game, from rabbit to venison, cooks over pecan wood in the onsite smokehouse.
Central East Austin: Croissants in the Courtyard
Blue Dahlia Bistro
|
1115 E. 11th St.
Sitting in the outdoor courtyard at Blue Dahlia Bistro means your date might get crashed by a neighborhood cat. The pets are part of the casual bistro's charm, however, just like the flourishing bamboo and the locally sourced French food. The pastries, tartines, and larger plates here all make for memorable yet affordable meals.
Downtown: Daily Changing Menu in a 19th-Century Hotel
Driskill Grill
|
604 Brazos St.
The stately Driskill Hotel has stood downtown for more than 120 years, but the menu at Driskill Grill is always new. Each night Chef Troy Knapp presents a different selection of Texas-style plates (think cornbread-stuffed quail), pairing them with wines from a sprawling list. If you're stopping by during festival season, keep an eye out for celebrities.
Bouldin: Movie Nights in the Wine Garden
Lenoir
|
1807 S. 1st St.
During a typical visit to Lenoir, you sit beneath lantern-like glass lights at a communal table while feasting on creative entrees such as roasted antelope and tea-smoked quail. But on Thursdays, guests (and their dogs) head to the garden for a movie and a glass of mulled wine. You can even cuddle up under a provided blanket on colder nights.
Bouldin: Peacocks Roam a Victorian Estate
Green Pastures
|
811 W. Live Oak St.
It's easy to see why Green Pastures is a popular spot for weddings. The Victorian estate, complete with wraparound porches and peacocks wandering the grounds, oozes a uniquely Southern appeal. You needn't be getting married to enjoy its French-inspired cuisine, though, including bananas foster for two, flambéed tableside.
Downtown: Barbecue Gets an Upgrade
Lambert's
|
401 W. 2nd St.
"This is about as upscale as the barbecue genre gets," says
USA Today
, labeling Lambert's "the perfect date-night barbecue" because of its low lighting and attentive waiters. The barbecue itself, including the brown-sugar-and-coffee-rubbed brisket, also comes across as relatively posh. On weekend nights, head upstairs for live music.
Govalle: "Felliniesque" Late-Night Spot
Justine's Brasserie
|
4710 E. 5th St.
Escargot, steak tartare with a raw egg on top, and daily plates inscribed on the chalkboard aren't the only reasons why people consider Justine's an authentic French bistro. The
New York Times
calls its atmosphere "Felliniesque," referencing the turntable inside and the games of pétanque that take place out front.
Old West Austin: Food from Austin's Backyard
Wink
|
1014 N. Lamar Blvd.
Wink's minimalist dining room may be undersized, but its devotion to locally sourced ingredients is overwhelming: more than 75% of its food hails from farms within 100 miles of the restaurant. A chef's tasting menu covers five or seven courses, including hanger steak with a honey biscuit, and even comes in a vegetarian version.
BY: Editors' Picks
Editors' Picks
Deal or no deal, our editors strongly recommend these businesses based on their reputation, popularity, and quality of service.