Baseballs and Seitan: Vegan Eats Near Wrigley Field
BY: Katie Cortese |
Apr 15, 2013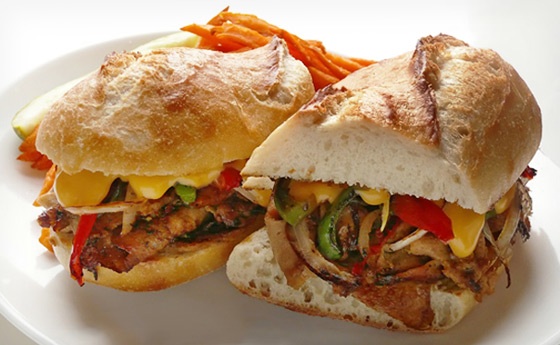 Gone are the days where hot dogs, peanuts, and Cracker Jack were the only nourishment available during baseball games. Today, stadiums across the country are filling their concessions with everything from crab cakes to slow-cooked pork tacos. Many of these new, creative offerings also cater to those with specialized diets, including vegan and vegetarian. Below are some local places in and surrounding Wrigley Field that serve vegan dishes to the masses.
The Chicago Diner's Philly Cheezestaek, which returned to the menu to honor the eatery's 30th anniversary
The Chicago Diner:
3411 North Halsted Street
When the Cubs play at home, the normally packed Chicago Diner just about bursts at the seams. Kat Barry, business development specialist for the vegetarian eatery, says the culinary team plans for those game days with advance preparation of food and making sure they have their seasonal specials in stock, such as the seitan-packed
Philly Cheezestaek
. "Everyone has a craving for big sandwiches, so we like to provide them with that," Barry says. Though the
Radical reuben
is the most well-known, all of The Chicago Diner's sandwiches are "very satisfying," she says. Other options include
gyros with sliced seitan
on a pita and a
pesto chickün panini
crafted from a panko-breaded seitan patty. If patrons care for veganized ballpark staples, The Chicago Diner's
nachos
pile seitan chorizo, spiced black beans, cheese, sour cream, guacamole, tomatoes, onions, jalapeños, and salsa atop crispy chips. The chefs also slather barbecue or spicy buffalo sauce over wings. Local beers—including Two Brothers, Metropolitan, and 5 Vulture—help cleanse palates. "Non-vegans like [our food] too, so people can come with the whole crew," Barry says.
Dimo's Pizza:
3463 North Clark Street
"Cubs season is our peak time for business," says brand manager Ann Wanserski. "It is pretty much nonstop once the season starts." The massive crowd that pours through the doors on game day downs crusts topped with unique ingredient combinations that are locally sourced when possible, Wanserski says. Standouts include the
BBQ Steak & Fries pizza
with mozzarella Teese and sausage seitan,
the Mac
—a take on mac 'n' cheese—and the
Buffalo Chicken & Pineapple
with marinated buffalo-chicken seitan. The pizza place also has a monthly vegan special, where the staff can "do something a little more crazy," Wanserski says; for example, the popular
Nacho pizza
topped with chorizo seitan, black beans, and housemade salsa verde. Though they do have non-veg options on the menu, offering vegan pies is near and dear to the Dimo's family. Not only are some of the staff members vegan themselves, but Dimo's vegan customers are their most dedicated followers, Wanserski says. "We wanted to make pizzas for everyone, for every diet. It is important to reach out to [the vegan] community as well."
Victory's Banner:
2100 West Roscoe Street
The grills at Victory's Banner feel the most heat during weekend brunches, especially on Sundays when the Cubs play, says owner Pradhan Balter. On the breakfast side of brunch, the vegetarian restaurant serves a mean
vegan french toast
that's so good "a lot of non-vegans prefer it," he says. In fact, 85%–90% of the Roscoe Village joint's customers are not vegetarian, Balter says. On the lunch side of the menu, a slate of vegan burgers made in-house from veggies, grains, and spices can easily have their toppings veganized. Balter's pick—the 
Southwest burger
with barbecue sauce and sautéed mushrooms—"makes for a good, sloppy, happy burger," he says with a laugh.
Huey's Hot Dogs:
507 West Balmoral Avenue
Huey's Hot Dogs cooks up some of the best hot dogs outside Wrigley—and a number of those links are made sans meat. Cook-cum-manager Katie Kolodziejski covers the grills with
Smart Dogs–brand vegan hot dogs
, serving them Chicago-style or doused in veggie chili. Not only are they a popular item on the menu, she says, but so satisfying that customers "double check to see if they are really the vegan dogs." The Andersonville shop, bedecked in ketchup- and mustard-hued walls, also offers vegan
beer brats and burgers
snuggled inside baskets with red-and-white checkered paper. And though this eatery isn't the closest to Wrigley Field, its hot dogs are too good to pass up.
Wrigley Field
Chicago-based
Levy Restaurants
, the official restaurant partner at Wrigley, is now offering a
veggie dog
on the
ballpark's menu
—and they aren't stopping there. They also stock the park with
Sloppy Janes
, the vegan version of a sloppy joe. The saucy sandwich—with tempeh, tomatoes, peppers, onions, spices, and molasses—packs a punch. And, of course, ballpark peanuts and Cracker Jack are both vegan-friendly game-day options.