GROUPON GUIDE TO WASHINGTON-DC
Beards and Man Buns Are Not for the Lazy
BY: Favin the Maven |
Sep 22, 2014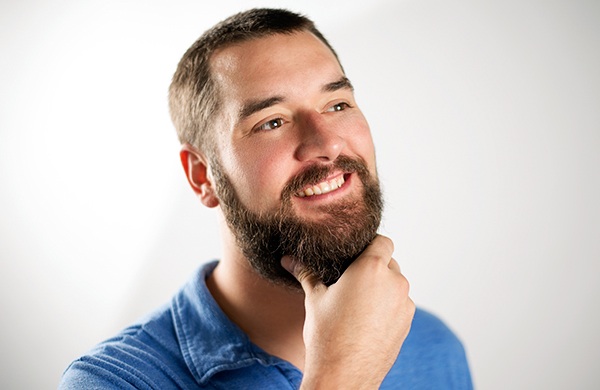 I'm not a guy, but I don't want to leave guys out of my beauty blog. They can be beautiful, too! Just look at my friend Nicholas, in the picture for this article. Or Vin Diesel, my ultimate celebrity crush. Those
arms
! To get more involved in the men's beauty beat (handsomeness beat?), I decided to start with a topic I can relate to:
hair
. I can't grow a beard, but I at least know what it's like to feel mystified by my curls, and want some tips from a pro. So I talked with Rami "The Razor" Natour. No, he's not a pro wrestler. He's a barber at Chicago's
State Street Barbers
, a shop known for its classic straight-razor shaves and vintage furniture. He gave me the lowdown on two major fall trends: beards and man buns. Here's what I learned.

Rami on Facial Hair
On what's trending for fall
"A full beard, you know. Not patchy at all. Probably tapered into the haircut, shorter on the sides than on the rest of the face."
On grooming products
Paul Mitchell products do wonders for beards, he says. And "when people want to add a twist to their mustache—it's kind of a Frenchman look—
Layrite
[Original Pomade] is good for doing that."
On maintenance
"A lot of people think the beard is about being more lazy. But actually, having a beard, you should maintain it more often." That means regular trims. "You should condition it and shampoo," he says. "I would say, at least three times a week." However, Rami recommends doing this less frequently if you have sensitive or dry skin.
On that growing-in itch
It probably means you're not shampooing and conditioning enough, or you have ingrown hairs. "Tea tree oil is the best thing for [ingrowns]," he says. Just dab it on problem areas.
On beards without mustaches
"It should never happen."
Rami on Man Buns
On the ideal face shape for a bun
Anything but round. "The round face, [a bun] just kind of makes it look more round."
On distinguishing it from a woman's bun
"Don't keep it so neat," Rami says. "Have it a little bit messy, not so perfect." He thinks Joakim Noah is a master of this,
which is true
.
On keeping this "messy" style from getting sloppy
"Make sure the sideburns don't get too long, and the back of the neck is always trimmed up and tapered well." Maintenance is also key when you're growing out your hair. Go in for regular trims; the rest of the time, Rami recommends keeping your mid-length hair combed back.
Read more about the man bun and other trending men's hairstyles on the The Guide.