Beat Kitchen: Rock and Samba and Burgers, Oh My!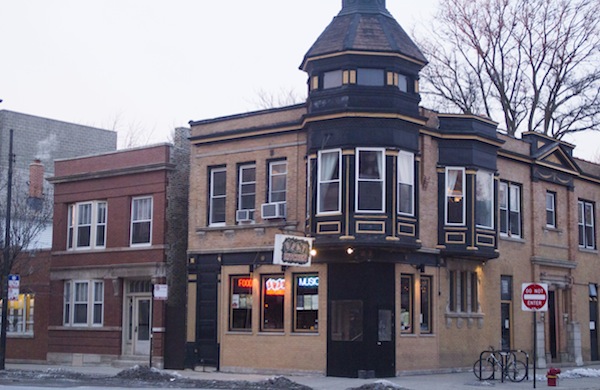 Discover new music, devour a half-pound burger, or do both at once. All things are possible at Roscoe Village's local rock club.
Check Out Our Featured Article for Beat Kitchen:
Five Reasons Jesse Malin Might Just Make You Jealous
Jesse Malin has achieved quite a lot in a career spanning nearly 40 years. Especially considering he's in his 40s.

Jesse Malin will be at Beat Kitchen on Thursday, April 24. Buy tickets here.
As you approach the corner of Belmont and Hoyne for the first time, you're likely to experience something that will soon feel commonplace. This feeling is best described as one part confusion and one part excitement, because with every visit to Beat Kitchen, you'll have no idea what to expect. Roscoe Village's local rock club has a way of keeping people on their toes. It all starts with the sign—a wooden, swinging-in-the-wind affair with hand-painted retro lettering. It's evocative of… something.
Kingston Mines
? Scrabble tiles? That one
vintage cover
of
On the Road
? Maybe. But in any case, it doesn't offer many clues as to what's inside. Serving up the unexpected is key to Beat Kitchen's appeal, from the menu of eclectic American dishes to the entertainment calendar, which appears completely uninterested in predictability. Take February 2014 as a case-in-point. In the year's shortest month, the club played host to indie-pop darling Nicole Atkins, metal three-piece Arbogast, Southern-rock outfit Lee Bains III & The Glory Fires, and the Vans Warped Tour's Acoustic Basement Tour. Samba? Sure. Deathcore? No problem. Medieval space rock? Um…Why not? If Beat Kitchen's calendar was transformed into a record store's sorting pile, someone would be stuck working hours of overtime. Musicians own the venue's no-frills stage most nights, but there's fun to be had beyond the chord charts. On Tuesdays, a cabal of hilarious performers holds court at the
Chicago Underground Comedy Showcase
. And on Monday evenings, the front of the bar transforms into Mushroom Kingdom as regulars feverishly collect coins and stomp Koopas during the weekly Mario night. Speaking of events that might appeal to grownup children, the Concert for Kids series on Sunday mornings trades in Ring Around the Rosie for a good old-fashioned mosh pit. Oh, and then there's the food.
Did we mention the food?
BY: Allison Shoemaker
Allison Shoemaker