GROUPON GUIDE TO WASHINGTON-DC
Flying Dog's Raging Bitch Is the Belgian Beer for Hopheads
BY: Shannon Jewitt |
Sep 26, 2014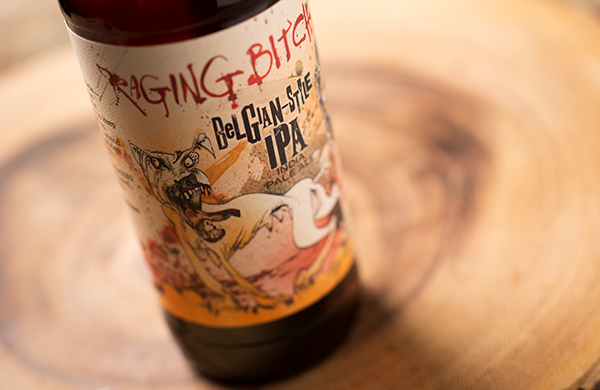 There are almost 3,000 craft breweries in the United States. In this edition of Beer Stalker, we investigate Flying Dog Brewery's Raging Bitch Belgian-Style IPA and learn the origins of its name and how it helped pioneer a new style of beer.
The beer:
Flying Dog Brewery
's
Raging Bitch Belgian-Style IPA
Hometown:
Although it was born in Colorado, Flying Dog now resides in Frederick, Maryland.
Malts:
Caramel
Style:
Belgian-style IPA
Hops:
Warrior, Columbus, amarillo
Color:
Tawny as a caramel apple but not nearly as sweet.

What was the inspiration for this beer?
"[At Flying Dog Brewery,] we all have a great love of Belgian beers, and we're all hopheads," said Matt Brophy, Flying Dog's brewmaster. "At the time, there weren't really that many beers that fit that category, if you will. So we started experimenting a little bit." They took the wort, or unfermented beer, from the brewery's Snake Dog IPA and fermented it with a Belgian white-beer yeast strain. Then, they dry-hopped the beer with amarillo hops, which have a lot of tropical characteristics. "The real challenge is to get that marriage right between the yeast characteristics and the hop aromatics," he said. "A lot of times, what you'll see is that those components clash with each other. And we were really pleased at how well these characteristics complemented each other."
Why did you call this beer Raging Bitch?
"The yeast that we use is called 'El Diablo,'" Brophy said. (That means "the devil" in Spanish.) "One of the things that we noticed very early on with this yeast strain is that it was a very vigorous fermenter. … So we were starting to look at names, kind of devilish names, and just kind of thinking about this raging fermentation." One of the women at Flying Dog suggested Raging Bitch, and the name stuck.
What was the initial reaction to Raging Bitch's experimental style?
"I was blown away with the passion and intensity that people brought to the conversation with the compliments," he said, recalling his introduction of the beer to fellow brewers in 2009. "When it was released, it very quickly grew to become our No. 1 seller." Indeed, Raging Bitch was one of the first Belgian-style IPAs to be widely distributed.
How long has Flying Dog called Frederick, Maryland, home?
"We started as a brewpub in Aspen in 1990, and then in '94 we moved to Denver, where we had a production facility. … We produced beer [there] until January of 2008," Brophy said. At the time, the majority of Flying Dog's sales were east of the Mississippi, so the brewery looked into East Coast options. "We purchased what is now the Flying Dog Brewery here in Frederick in 2006," he said. "We were so well received in the Mid-Atlantic region that it quickly became our home."
Photo by Andrew Nawrocki, Groupon
Shop Goods for glassware and bar accessories:
Read more beer stories on the Guide:
| | |
| --- | --- |
| | |
| The IPA Fueling America's Fastest Growing Brewery | The Essential Six-Pack of Fall Beers |
BY: Shannon Jewitt
Resident Beer Stalker Shannon has an insatiable thirst for craft beer. Despite being a vegetarian, she always makes an exception for fries cooked in duck fat.