The IPA Fueling America's Fastest Growing Brewery
BY: Shannon Jewitt |
Sep 19, 2014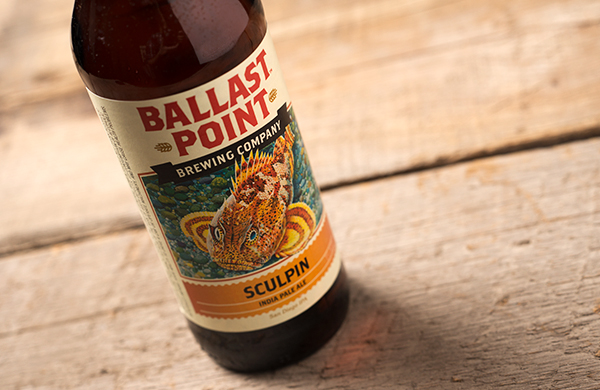 There are almost 3,000 craft breweries in the United States. In this edition of Beer Stalker, we investigate Ballast Point Brewing & Spirits' Sculpin India Pale Ale to learn about its homebrewing roots and the secret behind its popularity.
The beer:
Ballast Point Brewing & Spirits
' Sculpin India Pale Ale
Hometown:
San Diego. Ballast Point is the city's second largest brewery by volume.
Malts:
American two-row and caravienne
Style:
West Coast IPA
Hops:
Amarillo and Simcoe
Color:
This IPA not only sports the same reddish-brown hue as its namesake fish, but it packs the same sting, too.

What was the inspiration for this beer?
"It takes a village to raise a beer," said Colby Chandler, the specialty brewer at Ballast Point. And that was certainly true for
Sculpin IPA
. While managing Ballast Point's
Home Brew Mart
,  two of Chandler's employees won the National Homebrew Competition, one with a single IPA and the other with a double IPA. "I looked at their recipes, noticed that even though they weren't really brewing together, they were using a lot of really similar ingredients," he said. "So I took those ingredients, and I sprinkled in some of my ingredient knowledge." Then, the group brewed a small batch in the brew house. Sculpin was the result.
How does Sculpin stand out from other IPAs?
"It's a very balanced beer," Chandler said. Its bright aromas and flavors, which are characteristic of West Coast IPAs, add to its drinkability. When someone comes into the tasting room claiming they don't like IPAs, Chandler turns to Sculpin to prove them wrong. "And 9 times out of 10, they love it."
Ballast Point is passionate about two things: brewing beer and fishing. How are those two activities similar?
"I think they're both just really classic hobbies," Chandler said. Of course, it doesn't hurt that "the end product is something that you can consume … and something that you can share."
Ballast Point Brewing & Spirits turns 18 this year (Sculpin turns 9). What's it been like watching the beer and the brewery grow up?
"We're becoming adults pretty fast," Chandler said. He's not wrong: Ballast Point won the World Beer Cup in 2010 and has doubled its production each year since. It recently opened a fourth brewery and is on target to produce 125,000 barrels in 2014, making it the fastest-growing brewery in the United States, according to Chandler. As for Sculpin, the West Coast IPA is the brewery's unquestionable bestseller, accounting for about 55% of sales. "The growth that you've seen over the past four years has really been spurred by Sculpin," Chandler said.
Shop Goods for glassware and bar accessories:
Read more beer stories on the Guide:
| | |
| --- | --- |
| | |
| Great Divide's Yeti Imperial Stout | Session Beer Myths, Debunked |
BY: Shannon Jewitt
Resident Beer Stalker Shannon has an insatiable thirst for craft beer. Despite being a vegetarian, she always makes an exception for fries cooked in duck fat.