GROUPON GUIDE TO WASHINGTON-DC
Great Minds Drink Alike, and They Drink Great Divide's Yeti
BY: Shannon Jewitt |
Aug 29, 2014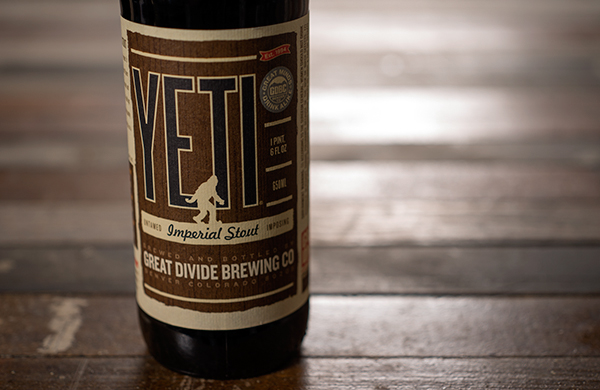 There are almost 3,000 craft breweries in the United States. In this edition of Beer Stalker, we investigate Great Divide Brewing Co.'s Yeti Imperial Stout, meet its diverse family, and learn what it has in common with the Abominable Snowman.
The beer:
Great Divide Brewing Co.
's
Yeti Imperial Stout
Malts:
Two-row malted barley, roasted barley, chocolate malt, black malt
Style:
Russian imperial stout
Hops:
"It is very hoppy," said Taylor Rees, Great Divide's head brewer. "It's hoppier than most imperial stouts." Perhaps that's why the brewery would only reveal that the beer contains American hops.
Color:
The cold dark black of a winter night just before a yeti attack

Great Divide's motto is "Great minds drink alike." So what do those great minds drink?
"They drink flavorful, aromatic, but well-balanced beer," Rees said. Although that's true of many beers, it certainly describes Yeti. About 10 years ago, Great Divide decided to begin making more complex beers, and Yeti was among them. As Rees said, the goal was to make an in-your-face imperial stout with a big hop profile.
Beyond its name, what does this beer have in common with a yeti?
"It's big. It's aggressive," Rees said. "It's very popular, so it can be elusive in the store." There is an important distinction between Great Divide's Yeti and the mythical creature, though. The Abominable Snowman is generally associated with winter, whereas this stout—even when difficult to obtain—is available any season. "[The Great Divide team] found that we, personally, as beer drinkers, like drinking imperial stouts all year round. And it turns out our customers felt the same way," Rees said.
When is the best time to drink Yeti?
"I think it's the perfect after-dinner beer," Rees said. "I like it with food, but it's kind of a tough one to pair with a full meal." It does, however, pair well with some desserts. "We made Yeti ice-cream floats at our last anniversary party that were delicious," he said. The brewer also suggested sharing the libation with friends. "It's not something you want to drink a whole 22-ounce bottle [of] by yourself, probably. It's pretty strong."
Does the beer have any siblings?
The Himalayas may be stalked by only one yeti, but there is an entire Yeti clan originating from the Denver microbrewery. And it would seem the original isn't even the most elusive of the bunch—a Belgian-style limited edition is near impossible to track down, and variations such as orange-chocolate and Bretty Yeti make infrequent appearances at the brewery and various festivals. Yeti's
seasonal siblings
, Espresso Oak Aged, Chocolate Oak Aged, Oatmeal, and Oak Aged, are a bit easier to find, as is a
Barrel Aged
version.
Is the brewery's personality as outgoing as its beers?
Great Divide certainly knows how to party. It recently celebrated its 20th anniversary with an event featuring 20 of its rare brews along with bands and food trucks. But it's not all fun and games—instead of planning its 21st birthday, it's
focused on expanding
. "We've got a lot on the horizon," Rees said, the most important of which is getting its second location up and running.
This isn't the first brewery we've watched grow up. Read our coverage of Half Acre Beer Company's expansion.
Photo by Andrew Nawrocki, Groupon
Shop for local deals in beer, wine, or spirits.
Read more to build a six-pack of beer stories:
BY: Shannon Jewitt
Resident Beer Stalker Shannon has an insatiable thirst for craft beer. Despite being a vegetarian, she always makes an exception for fries cooked in duck fat.