Ben Platt of "The Book of Mormon" and "Pitch Perfect" Lists His Favorite Chicago Restaurants
BY: Aimee Algas Alker |
Sep 3, 2013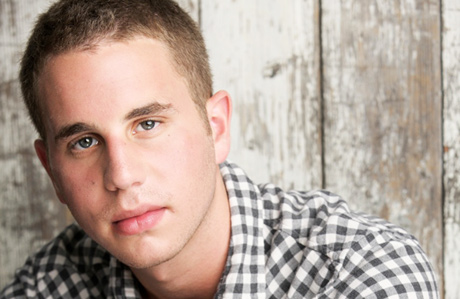 Last year, actor Ben Platt won over audiences as awkwardly earnest
Star Wars
fan Benji in
Pitch Perfect
. That September, he deferred his freshman year at Columbia University to take on an equally earnest role:
The Book of Mormon's
Elder Cunningham. Born and bred in Los Angeles, Ben has braved our unpredictable weather since then, exploring Chicago with a gaggle of friends and cast members. ("It's smaller and more communal than I thought," he said.) On the eve of his departure from our fair city, I chatted with him about—what else?—his favorite places to eat.
Breakfast for Dinner
A fan of Stephanie Izard, Ben had the best meal in Chicago so far at costar Nic Rouleau's birthday dinner at
Girl & the Goat
(809 W. Randolph St.). His favorite dishes? "Broccoli with cream sauce and rice krispies on top—and the octopus. I love octopus."
An Actor's Brunch
Before "seeing something Chicago-y" like the Art Institute or Lincoln Park Zoo on one of his days off, Ben often heads to brunch at
Yolk
(747 N. Wells St.), where he and the cast have become regulars. So I asked him what I'd order if I wanted a Ben Platt brunch. "If you wanted something healthy, it would be the Healthy Start waffle. If you didn't, you'd get something like the french toast."
Thinking on His Feet
Finally, to test his Chicago cred, I gave him a few situations and asked him to name what he'd crave in each one.
* You're out late night:
Cheesie's
(958 W. Belmont Ave.) grilled cheese with pork or mac and cheese, to satisfy fried-food cravings
* Your parents are here to visit:
Rosebud
(70 W. Madison St.)—"It's right near the theater and has good steaks."
* The only thing open right now is a gas station:
Beef jerky or Doritos, "or Ben & Jerry's if it's time for dessert."
* You're entertaining a pack of Wookiees who, as your Star Wars–loving character from Pitch Perfect would know, love spicy foods and potent homebrews:
Some spicy rolls and Japanese beer to share at the pan-Asian eatery
Sunda
(110 W. Illinois St.). And what's next for Ben after
The Book of Mormon
? "I'm interested in doing TV, maybe not a musical or comedy. I'd like to dip my foot in that pool."
Photo courtesy of One Entertainment