GROUPON GUIDE TO SAN FRANCISCO
Best High-End Mexican Restaurants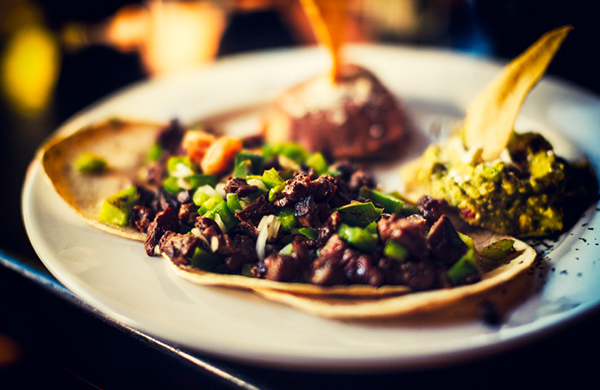 Fairly or not, Mexican food is married in the public imagination to inexpensive taquerias and hangover cures. Thankfully, the Bay Area's large Latino population means that upscale Mexican dining is increasingly varied and plentiful, with enough options to satisfy even high-end diners.
Perhaps the fanciest thing to ever open on Divisadero Street, La Urbana is an upscale cantina straight out of Mexico City. Its striking interior, full of murals and gorgeous tile work, complements the mezcal-heavy cocktail list and inviting menu that includes grilled octopus, pork carnitas and red snapper with huitlacoche, the Mexican equivalent of European truffles. The place is always hopping, but if the wait's absurd, duck into the adjacent space, El Garaje, and snag a bottle of beer while you eye an open table.
Many San Franciscans opt for Papalote, a mid-scale eatery that can sometimes feel like a nondescript chain. Thankfully, their burritos are among the city's best, and Papalote's pricey tacos, which can run up to two for $10, certainly qualifies as upscale Mexican food. Then again, when you're paying for wonderfully prepared soyrizo, standout mole or the incredibly flavorful pechuga al achiote chicken, it's easy to understand why Papalote is a Mission favorite.
Nopalito, with two locations in the city, has also recently come into its own. Each location sports a unique menu, but both fuse traditional Mexican cuisine with the California ethos of freshness. Upscale though it may be in spirit, the entrées generally keep below the $19 threshold, making both Nopalito outposts a relative bargain.
Healthy and environmentally-conscious diners can also hop over to Gracias Madre, the all organic vegan Mexican food eatery run under the Café Gratitude umbrella. Not only can you find tasty meat-free options on the menu, some of the entrées are downright delicious. And perhaps best of all: Gracias Madre has a full liquor license.
BY: Gayot
Gayot
GAYOT.com serves as a leading worldwide authority on the good life. Millions of readers turn to Gayot's savvy, professional reviews on dining, travel and lifestyle. From "Best of" lists and travel guides, to a searchable restaurant and hotel database, Gayot provides dependable coverage while keeping up with the latest trends and news.