Best of Chicago's New, Healthy "Fast Food"
BY: Erica Agran |
Jan 16, 2015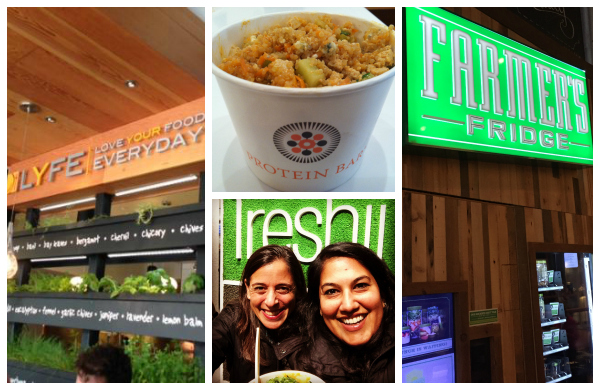 It used to be that lunchtime options in the Loop and River North would ruin your diet and your bank balance. Great news, now there are a slew of new healthy options in Chicago. Try some of these options to keep your new year's resolutions on track. A bonus – they have delicious options that you can try to recreate at home, too!
Protein Bar was one of Chicago's first uber healthy fast food places. Have no fear this is not egg whites, protein powder and meatheads. Protein Bar offers quick, healthy, delicious options in a fun and funky environment. The "super food" focused choices include quinoa bowls and wraps, fruit smoothies and breakfast options. My faves are the Buffalo Bowl and the Super Food Salad. They share nutrition information on the menu to guide your choices. They now have 11 locations in the city and 2 in the 'burbs.
Lyfe Kitchen is a small national chain that focuses on "quality food using locally and sustainably sourced ingredients whenever possible." Oprah's chef, Art Smith is at the helm. Every item on the menu is lower than 600 calories. The Chicago River North location is bright and clean and the service is quick and friendly. The menu is huge and most items can be customized for food allergies or preferences. Try the awesome Fish Tacos and amazing juices. There is also an Evanston location. (413 Clark St.)
Chicago Raw has two locations with one in the French Market. Raw's menu is made up of entirely uncooked, 100% plant-based products. That said they have an awesome variety of foods. If you served the muffins or nacho chips to guests, they may never know that the items are raw and amazing for them. Try the Chipotle Lime Tortilla Chips (but watch out – they are addictive!), delicious salads, breads and muffins – yes, muffins. Good and amazingly good for you! (51 W Huron St. & 131 N Clinton St.)
Hannah's Bretzel offers healthy, organic, delicious and nutritious options. They are the first sandwich shop to focus on organic ingredients, sustainability and "whole grain nutrition." Oh, and they definitely focus on flavor and freshness, too. They make breakfast and lunch and have great catering options for your office. Try my faves the Ella's Salad or the Thanksgiving 365 sandwich. They also have delicious soups, sides and an amazing selection of chocolate by the registers! They have five locations in Chicago. (180. W Washington St, 131 S Dearborn, 400 N LaSalle St., 233 N Michigan Ave., 555 W Monroe)
Freshii's motto is "Eat. Energize." Freshii offers healthy, nutritious (and tasty) meals and snacks for people on the go. The menu includes custom-made wraps, salads, quinoa bowls, fresh pressed juices, breakfast, frozen yogurt and more. My faves are the Buddha Bowl and the Ninja Salad, but you really can't go wrong. Freshii has 17 locations in the Chicagoland area and hundreds of other places all over the world.Paragraph
Farmer's Fridge is a fresh, health food line in - wait for it – vending machines. They make delicious salads, wraps, snacks and breakfasts that are fresh and handmade. They are on a mission to make "real tasting food" that can be "really good for you and really easy to get." You can add protein to your salads and other extras. The ordering system is super clever. I'll admit, I found it pretty entertaining. They also come in great reusable jars that you can recycle with them or keep for yourself to reuse. You can shake up your salad and eat right from the jar. So easy! My faves are the High Protein Salad and the Antixoidant Salad. Even the "Cheater" has a good nutritional profile. There are currently 9 locations including 600 W Chicago (Groupon's HQ), The Shops at Nordstrom and several 7-11 stores. They also offer home delivery!Paragraph
BY: Erica Agran
Erica Agran is the blogger behind Erica Finds. She is a Chicago-based runner, wellness seeker, bargain hunter, wife, social media junkie, yogi, traveler and healthy food enthusiast. Erica started blogging to share deals (a/k/a "finds") and has expanded to include food, fitness, travel, running and all of the good things she finds in and around Chicago.