Best Places in Austin for Out of the Box Yoga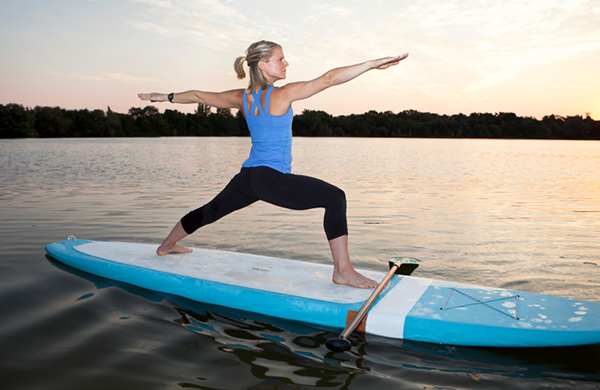 As one of the most yoga-centric cities in the country, some say Austin has more instructors per capita than anywhere else in the United States – and plenty of quirky studios to go along with them. In keeping with Austin's reputation for love of the unorthodox, the city's yoga scene offers some more unusual ways to get fit through the ancient Indian practice. Check out these top picks for places to hone your yoga skills in a very unique way. You don't even have to be standing on the ground to do yoga in Austin. Using silk hammocks mounted to the ceiling, aerial yoga allows participants to be suspended in the air while moving through poses of hatha, vinyasa or fusion yoga, while completely and safely supported. Four Elements Yoga and Fitness on Congress Avenue in downtown Austin offers two urban-loft style studios in a rejuvenating space filled with natural light to enjoy while you find your inner peace – all while dangling from the ceiling. The sport of stand up paddleboarding (known as SUP) is the fastest-growing water sport in Austin – the city is now home to the largest stand up paddleboard maker in the world, SUP ATX. But many Austinites take it a step further; as if balancing on the board isn't enough, you can practice yoga while paddleboarding! This form of yoga offers two challenges: first, becoming proficient on the board, and then beginning to move into yoga poses. Some of the popular SUP yoga classes in Austin are offered by Paddle Zen and Say Om Paddle Yoga, and Namaste SUP can help you find others in the SUP yoga community.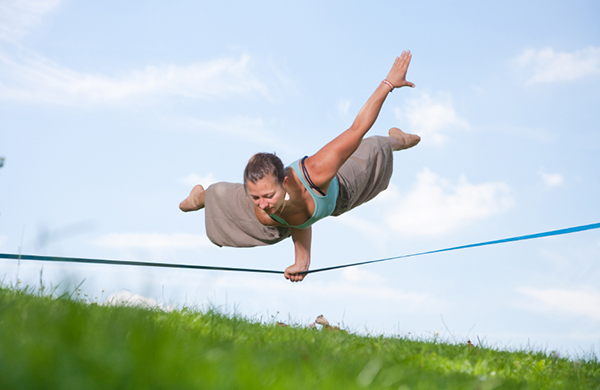 Despite its name, slackline yoga is not for slackers. Using a loose tightrope, the practitioner learns to walk and balance, before getting into slow yoga movements and positions. Slacklining was developed by climbers in Yosemite Valley in the 1970s. Doing yoga on a slackline requires a whole different set of muscles and training. The best way to get involved is through Keep Austin Slacklining, a Facebook group that connects slackliners in the city. AcroYoga combines circus acrobatics, yoga, and healing arts, with partners getting into yoga poses together using high levels of balance and teamwork. As one can imagine, it's a very playful form, and a great way for two people to build trust while working together. Jenny Sauer-Klein and Jason Nemer started one school of AcroYoga in California after they began practicing therapeutic "flying" sequences together, while AcroYoga Montreal offers a slightly different style of AcroYoga started by Eugene Poku and Jessie Goldberg. In Austin, practitioners and teachers of both styles abound, especially at Austin AcroYoga, who offers classes and is a vital part of the larger Texas AcroYoga community.
BY: Gayot
GAYOT.com serves as a leading worldwide authority on the good life. Millions of readers turn to Gayot's savvy, professional reviews on dining, travel and lifestyle. From "Best of" lists and travel guides, to a searchable restaurant and hotel database, Gayot provides dependable coverage while keeping up with the latest trends and news.