Best Restaurants with Live Music in Chicago
BY: Jenny Bullistron |
Jan 31, 2015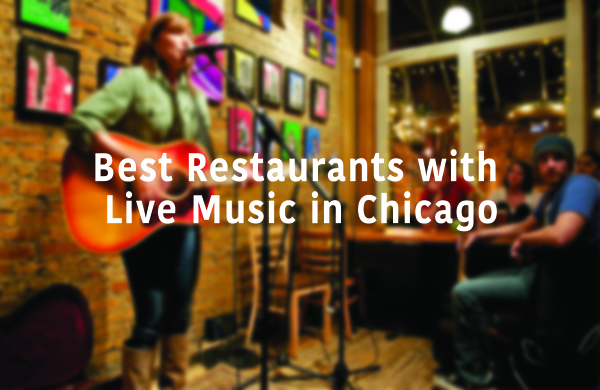 When you live in the city that is home to Lollapalooza and restaurants such as Alinea and Next, it's only natural to want to combine the two. That probably won't happen anytime soon but that doesn't mean you shouldn't rock out with your fork out.
1. Uncommon Ground Lakeview
Hidden amongst Cubs fans and country bars on Clark Street, is one of my favorite restaurants and spots for live music. If you've heard of Uncommon Ground, you probably know it for their menu of locally grown and sourced dishes. Maybe even the rooftop garden at their Edgewater location or their brand-new, 1st in Illinois, certified organic brewery.

But did you know they also feature nightly acoustic music, mainly of the singer-songwriter variety? One suggestion: the performance space is intimate so make a reservation. Past performers include Jeff Buckley, Andrew Bird, The Frames and more.
Music Calendar (http://www.uncommonground.com/pages/calendar/51.php)
2. Heartland Cafe/Red Line Tap
Jump on the Red Line and head north to the Heartland Cafe and its sister venue, Red Line Tap. The Roger's Park restaurant's menu is on the wholesome side, with breakfast served all day. I say grab the buffalo burger and a side of cornbread - there are also plenty of vegetarian/vegan options too! After dinner, catch a show at the Red Line Tap. Whether its punk, funk or something in between, you can hear live music 7 nights a week. Shows are low-priced (sometimes free!) and the whiskey selection is fantastic.
Events Calendar (http://www.redlinetap.com/events/)
3. Havana
If you think mojitos and music go hand in hand, Havana in River North is the spot for you. As the name suggests, the menu is full of Cuban food and has something for everyone - like Cuban sandwiches and steaks for meat lovers and Chiles Relleños for vegetarians. And don't forget to order one of their exotic Caribbean cocktails or a mojito.

After dinner, get in a little dancing thanks to awesome music from a live band. Check the music calendar (http://havanachicago.com/eventos/) before you go - bands don't play every night. And be prepared for a loud and lively environment!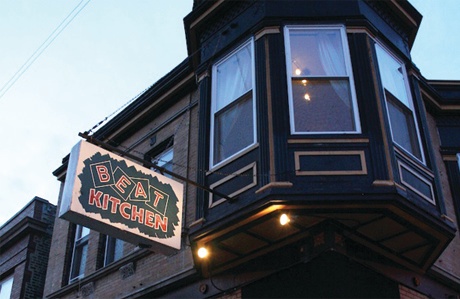 4. Beat Kitchen
When your name is Beat Kitchen, you either have a combination food/anger problem, or you are a combination restaurant/music venue. Located in Roscoe Village, off all the spots on my list, this is the only one with a real concert feel. Come early and grab a table to eat; then head to the back and stand to watch a show.

The venue itself is on the small side, so grab tickets ahead of time if a band you really want to see is playing. As far as food goes, it's a lot better than you'd expect. I recommend the quesadillas or a specialty pizza. Event Calendar (http://www.beatkitchen.com/calendar/)
5. Bandera
Bandera, in River East, is all about ambiance. Dim lighting, a view of Michigan avenue and live jazz music while you eat definitely set the mood. The music is second fiddle to the food here so come with an appetite.

Portions are very generous. If, after your house-ground burgers or a Macho salad, you are still hungry, pat yourself on the back. Then order a Bandera-made ice cream sandwich.
Extra: Lunch at Potbelly's
If you're just looking for a hot sandwich, a cup of soup and some jams from a local musician, then Potbelly's should be your new lunch spot. Besides being known for their extensive secret menu, Potbelly also has a lengthy musician directory (http://www.potbelly.com/Company/MusicianDirectory.aspx).

Don't listen to your mom - playing (music) with your food is okay!
BY: Jenny Bullistron
Food blogger and recipe developer. Honey and Birch is her personal cookbook, full of easy recipes for the slow cooker, dinner ideas, seasonal sweets and homemade condiments. She was a bartender/server in a past life and when not blogging, can be found doing freelance social media management. Native of the northwest side of Chicago, she loves the Irving bus and Taco Burrito King. If you're hungry, join her in the kitchen - there is always something delicious cooking or a cocktail being made. Must love dogs, books and loud music. Follow her on twitter @honeybirchtrees or on Facebook, Pinterest and Instagram @honeyandbirch.