Beyond Peanut Butter and Jelly
BY: Halley Lawrence |
Apr 17, 2013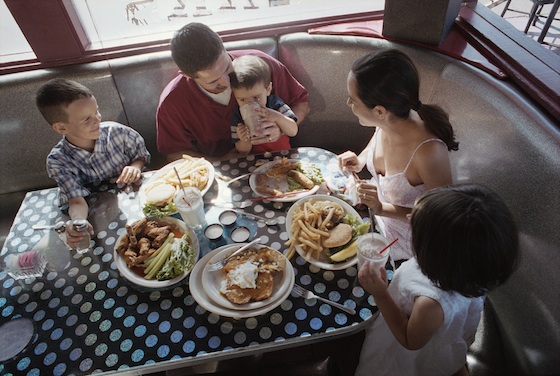 Sue Zeiler launched the website
Chicago Kids
in 2001, years before she became a parent herself. "At that time, there was no way for parents to find everything in one place," she said. Over the years, her website has grown into a hub of information for parents in search of kid-friendly activities around Chicagoland. And although many of the restaurants Sue lists on the site feature indoor playgrounds or trains that deliver plates of food to tables, there are eateries where adults may be happy as well. Sue shares a few kid-friendly restaurant recommendations for parents "who don't want to settle for hot dogs."
Browntrout | North Center
"I ate there on Saturday night with other adults, and it's a very sophisticated place. I wouldn't expect that it would be a 'kids eat free' place, but it is," Sue says. "You might forget you're in a kid-friendly restaurant until you go into the bathroom and you see the huge baby-changing table on the wall." A large communal table makes group seating easy, and kids eat free Wednesday through Sunday from 5 p.m. to 7 p.m. or whenever they appear to be stronger than the entire wait staff.
Moonshine | Wicker Park
"We used to live in the Wicker Park area, and Moonshine was one of our favorites. It's like a sports bar, but they have a great children's menu and great service," Sue says. "The manager would always come before the waitress and ask, 'Can we get some pancakes started for you?' You could be with your kids at the table, drawing with crayons, or you could be over at the bloody-mary bar." On Saturday and Sunday, stop by for a brunch that includes omelets, breakfast sandwiches, buttermilk pancakes, and a special children's breakfast plate.
Frasca Pizzeria + Wine Bar | Lakeview
"They have a good atmosphere," Sue says. "It's a place where you would meet up with a child's friends or your friends." The restaurant welcomes patrons of a wide age range with a spacious dining room, a variety of gourmet pizzas, and a list containing more types of wine than the white carpet in an infomercial. Kids eat free every day from 4:30 p.m. to 6 p.m., and all kids' meals include a scoop of ice cream.
BY: Halley Lawrence
Guide Staff Writer
Halley is a Chicago writer with southern roots. When she isn't typing, she enjoys cooking without recipes and designing garments for her upcoming clothing line, Ambidestre.