Booze, Bureaucracy, and Liquor Licensing with Endgrain's Manager
BY: CODY BRAUN | 9.26.2013 |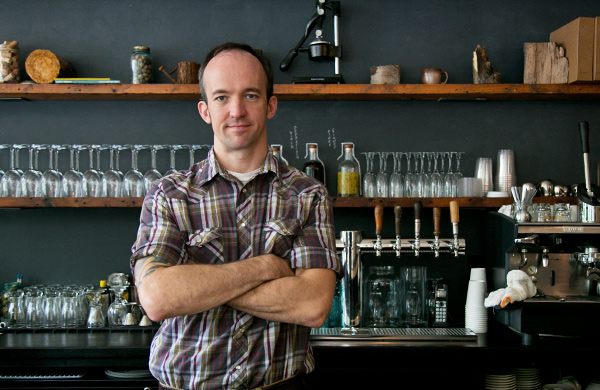 Doug Hansen is good with food. He's good with people, too. On an individual basis.
Sitting in the dining room of Endgrain (1851 W. Addison St.), the restaurant he manages, he's distracted from our interview by a minor feud with the postal service.
"The world's least friendly postman is about to come to the door," he says. "It's unbelievable. The door's open, there's friendly people in here smiling, and he insists on putting the mail in the mailbox. I had to have a talk with him, and it didn't go so well. I asked him politely what's wrong with him."
"Come in here," he continues, "we're human beings, we're in this boat together. We're the same person, let's engage in a little bit of conversation. Now he comes in and he smiles. Forcibly."
But getting a liquor license, as he's been trying to do at Endgrain for several months, requires more than forcing one government employee to be your friend.
It can be intimidating dealing with the Business Affairs and Consumer Protection department, the agency in charge of the process, and whose offices span several rooms and much of the marble flooring of City Hall. On my visit, I bounced from one official to the next, trying to find someone who'd talk to me.
And the liquor-licensing process isn't something you can just knock out in one trip either.
"Sometimes people say it's just impossible to get a liquor license in the city of Chicago," Liquor Commissioner Gregory Steadman told a room full of hopeful liquor-license applicants. "I can tell you that, yes, it's a thorough process. It's designed to be a thorough process."
It is thorough, and more than a little complex. There are nine different kinds of liquor licenses in Chicago, including special classes for businesses on Navy Pier and Wrigleyville rooftops. The process, for all of them, begins with a range of applications and required documents. "You can't apply for your liquor license until you have your retail food and business license," Hansen says. "You can't have your retail food and business license until you finish your health inspection. You can't have a health inspection until you're zoned properly to actually have a retail food establishment. So one thing begets another. And we had none of them from the start."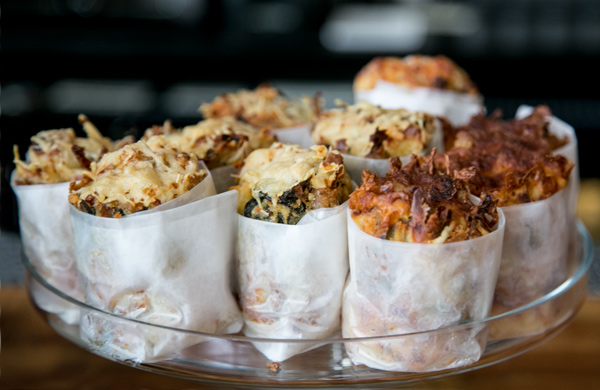 That's all happening alongside all of the culinary invention, design, and other tasks that come with opening a restaurant.
"Opening a restaurant in general is such a pain in the ass...or a blessing, I guess," says Hansen. "It's a lot like how you describe your child or a puppy. It's the greatest thing that ever happened to me, which often time translates to it's the worst thing that's ever happened to me."
He says he was already working 100-hour weeks when they started the liquor-license process (he's since slowed down to 60 or 70). "A lot of people like to ask is it hard to get a liquor license?" he says. "The answer still remains to be seen. When I have the license or when I get the phone call that says 'We've decided you can't have a liquor license,' then I'll know."
And the initial part of the licensing process wasn't going that smoothly. The space, which had been an Italian restaurant called Terragusto before Endgrain bought it, was grandfathered in under old zoning laws. "We tried to open and get a health inspection, and they were like well that's sweet of you," Hansen says, "but we're not going to come inspect your residence."
Eventually they got all the necessary paperwork, thanks in part to their alderman. "Chicago's fairly business friendly," Hansen says. "We had a lot of great support from the alderman. Super helpful. But, you still have to go through these meetings and you still get invited to this fundraiser."
He rubs his thumb against his fingers, the gesture for greasing the wheels.
After building an additional bathroom to pass inspection, and officially becoming a business, there's another $4,000 to spend on the liquor license itself.
"If you don't mind me bending the law a little bit…" Hansen says, taking the public notice for the license application briefly out of the window to show me. That notice must be displayed at all times for a month, giving neighbors a chance to voice any objections to a business selling booze.
At that point the restaurant is open, the kitchen turning out pumpernickel pasta, pork belly with jalapeño aioli, and biscuits with the consistency of a deliciously buttery ghost.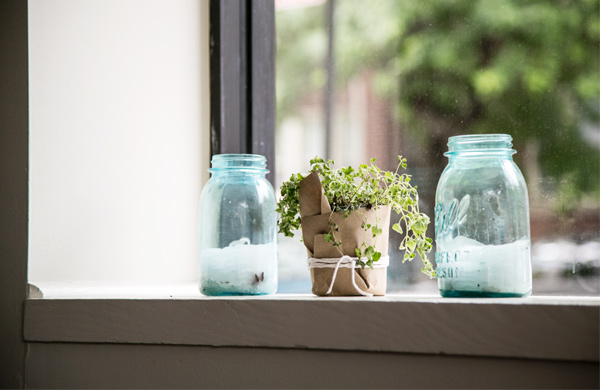 Over the course of the two months they've waited for the license, Hansen says they've probably missed out on somewhere between $24,000 and $40,000 in sales by not being able to sell beer, wine, and cocktails. "It's tough, because we're open all day. Have you been to The Map Room (1949 N. Hoyne Ave.)? I really like that place. I really like a lot about that place. In particular the fact, that if you walk in there right now, the windows are probably open, there's somebody bullshitting over here, somebody drinking coffee over here, somebody drinking a beer over here. I would like that to happen here."
He thinks they're getting closer to that goal every day. The Monday before I talked to him, all of the owners went in for the background-check portion of the licensing process. Applicants have to be fingerprinted and questioned.
"It seems to me like going through the couch for loose change," Hansen says. "If you told a 6-year-old to go through the couch, they'd be like 'There's nothing there.' But if you need that quarter, dammit, you're gonna pull the cushions off, you're gonna stick your hands in the uncomfortable parts down there, and you're gonna look under it, and you're gonna find it. That's what they're doing here."
The process is intended to ensure that applicants aren't criminals, don't owe the city money, and "aren't on a list of some kind."
You can't be a convicted felon or married to a convicted felon to get a license, but "they don't ask if you've been charged with a felony," Hansen says slyly.
When the whole process is over, everyone will be able to do what they do best. Hansen can focus more on growing produce for the restaurant on his "kind of a farm" in Wisconsin. Right now, his raspberries, blueberries, and tomatoes go slightly neglected. The bar's 10 tap lines are still mournfully parched. I've also heard the bar staff can make a mean Horse's Neck, a combination of brandy and ginger, but I'll have to wait to find out.
"I've been meeting with beer and wine and liquor reps since February," Hansen says. "There have been so many false starts." Hopefully the end is in sight for him soon. But could the spiteful mailman throw a wrench in the whole process?
"We've already stepped toe to toe," Hansen says. " I'm not worried about him."
Photo: © Stephanie Bassos, Groupon
BY: Cody Braun
Guide Staff Writer
Cody is a banjo-carrying gypsy now accustomed to having a permanent home in which to brew beer, store journalism degrees, read Wodehouse, and bake bread.