Brave the Empty Bottle's Winter Block Party with This Survival Guide
BY: Collin Brennan |
Feb 26, 2014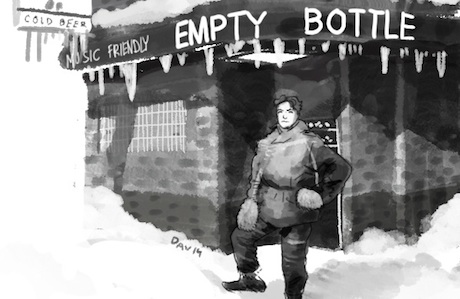 A block party in the midst of one of Chicago's worst-ever winters? Make like Ernest Shackleton and show off your survival skills with help from our guide.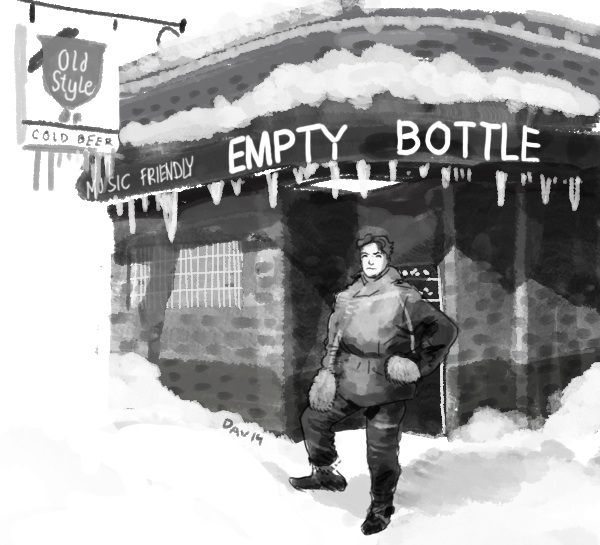 In 1914, the British explorer Ernest Shackleton set off for his third trip to the Antarctic. He brought with him a crew of stout men and the ambitious goal of crossing Antarctica via the South Pole. His ship, the
Endurance
, would not live up to its name—it became trapped in ice early in 1915 and finally sank 10 months later. Knowing his odds of survival were slim, Shackleton took five of his best men and journeyed hundreds of miles to South Georgia for help. He returned months later to rescue the rest of his crew, who were on the brink of dying from exposure. So, what does all this have to do with the
Empty Bottle
? Well, 90 years ago, people might have taken the story of Shackleton's exploits as a cautionary tale. Today, however, our friends over at the Bottle seem to have forgotten the lessons of the past. Little else could explain their decision to host
Music Frozen Dancing
, an outdoor block party held atop the icy tundra that was once Chicago. We don't want to see history repeat itself when the Empty Bottle takes over the corner of Western Avenue and Cortez Street on Saturday, March 1. No human should have to endure the fate of the
Endurance
crew, even if this time around they'll be rewarded with live music from
Marnie Stern
,
Diarrhea Planet
, and
Heavy Times
. Channeling the spirit of Shackleton, we've created this brief survival guide to Music Frozen Dancing. It's got everything you need to enjoy yourself against all odds, short of building a lifeboat and sailing to the nearest whaling station.
Survival Tip #1: Fill a Sleeping Bag with Chili from Reigning Chili Lord Travis Thatcher
The best explorers always come prepared, so shake off those strange looks you get for carting around a waterproof sleeping bag. You'll be the one laughing when you visit the chili tent in front of
Bite Cafe
. Head chef Dave Cooper will be on hand to dish out two different types of chili—both of which contain copious amounts of beer. Have a bowl of each, then make a beeline to reigning Chili Lord Travis Thatcher, the recent winner of the
fourth annual Chili Synth Cook-Off
. Travis just won a contest that involves chili and synthesizers, so he can't judge you for being unconventional when you ask him to ladle a few scoopfuls into your sleep sack. He'll even warm your heart by donating all proceeds to
PAWS Chicago
.
Survival Tip #2: Stand Superclose to Diarrhea Planet's Four Tube Amps
Yes, their name is gross, but survival often means coming to terms with your natural bodily functions. Garage-punk six-piece Diarrhea Planet are no strangers to getting messy on stage—it's kind of a prerequisite when you have four full-time guitarists. Being from Nashville, however, they are probably strangers to the kind of cold that has plagued Chicago all winter. It's a good thing they have so many members, as they'll be able to huddle close and share body heat between songs. Most audience members will follow suit, but the smartest will stand behind the stage and bask in the heat emitted from four cranked-up tube amps.
Survival Tip #3: Stuff Your Jacket with Goose Island Beers
When your chili bag starts to cool down, it's time to climb out and put on the warmest of all clothing items: the drunk jacket. Fortunately,
Goose Island
will be on hand to help. Unfortunately, their beers aren't actually infused with goose down. That means you'll have to drink more than a few of the 312 urban wheat ales and IPAs that will be available throughout the day, as well as maybe one or two of the Matildas and Sophies rotated based on availability. If you need to stay sober enough to send out a distress signal, there will also be a steaming pot of spiced apple cider.
Survival Tip #4: Take Refuge Inside the Bottle for a Nighttime Aftershow 
Pat yourself on the back with a frostbitten hand, brave explorer—you've made it to the end of the day. To celebrate your success and regain your bodily sensation, head into the Empty Bottle for an aftershow that starts around 6 p.m. As opposed to the heavy hitters who were keeping the stages warm outside, the aftershow will feature up-and-coming Chicago bands
The Lemons
and
The Morons
. It's almost cruel to throw these guys in front of a nearly frozen crowd, but they look like they're up for the challenge with a batch of messy, jangly punk that's sure to let the sunshine in.
Survival Tip #5: Build a Bonfire with Your Saved Dollar Bills
Well, you've made it to the end of the night. Your hands have regained sensation enough to reach for your wallet, and when you do, there's a surprising amount of money left in there. That's because all of the events at Music Frozen Dancing are free to the public—partly because the event's organizers wanted it to be accessible and partly because nobody was crazy enough to work the door. Celebrate by pulling out all those Lincolns and roasting them over a log. It won't even be the dumbest thing you did all day. No, that honor is reserved for choosing to attend a block party in single-digit weather.
Photo: David Yendler
BY: Collin Brennan
Guide Staff Writer
Collin is a senior editor and a staff writer for Consequence of Sound. He self-publishes zines and moderates writing workshops for The Chicago Publishers Resource Center (CHI PRC).