Breaking Down the BeltLine, Part 2: North-side Trail
BY: Megan Elliott |
Jan 22, 2014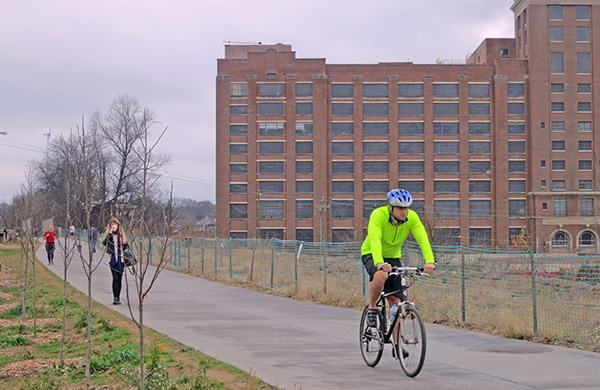 Recently, I shared
the liveliest, most popular trail
of Atlanta's BeltLine. But there's a lot more to this new city path than most Atlantans know. In addition to the shops, eats and art that the Eastside trail boasts, the beltline also offers some quiet observation of the natural beauty that Atlanta has to offer. One of the most common first observations newcomers make of Atlanta is the vast amount of greenery and trees. We are a nature-loving group and this southern city is proud of what separates us from other US metropolitan areas like New York and Los Angeles; which is exactly why the Northside trail of the Atlanta BeltLine was created. The BeltLine's most rugged open trail, the Northside trail is accessible from three points: Armore Road, Collier Road, and Goodson Lane. It runs along Tanyard Creek and through Tanyard Creek Park, connecting Ardmore Park, Collier Hills and Collier Hills North neighborhoods. As the first part of the BeltLine to open in North Atlanta, local residents have taken advantage of this glimpse into the nature of Atlanta. In fact, the Northside trail even holds its own annual 5k race, bringing Atlantans together to enjoy the BeltLine. Although the Northside trail can be considered rugged and more nature-centric than the Eastside Trail, it still provides a smooth concrete path for walking, jogging, running, bike riding, or skating—even the stretch through Tanyard Park. The goal while creating this trail was to "minimize the visual impact on the meadow," according to Beltline.org. The official BeltLine website goes on to explain, "the trail was routed through existing naturalization areas." This has proven to be a successful feat, as Tanyard Park remains aesthetically pleasing. In an effort to keep Atlanta green and naturally beautiful, the Northside trail was created in a way that not only lets nature continue to prosper on its own, but also to enhances the flow of nature. Along the trail, design features have been installed to preserve natural growth. These same design features, as well as a few more, provide an escape route for excess rainwater to prevent overflows of Tanyard Creek. The one-mile stretch that is the Northside trail of Atlanta's BeltLine is a wonderful option for casual strolling, nature walks, or light cardio exercise. Since 2010, North Atlanta residents have made this area a favorite, especially those who reside in the neighborhoods in Collier Hills that are now linked together. It has made for much easier foot access both between neighborhoods and to the Bobby Jones Golf Course in Atlanta Memorial Park. If you're looking for a nice quiet, scenic route, check out the Northside trail of the BeltLine. You can read up on the Eastside trail in
part one
of the BeltLine series. Stay tuned for more info on the other trails, parks, public art and historic preservation that Atlanta's BeltLine has to offer.
Photo courtesy of AsianCajuns.
BY: Megan Elliott
Megan Elliott is the creator and voice behind the fashion lifestyle blog, Lush to Blush. After moving to Atlanta from a small town in Florida, she made it a goal to take advantage of her new surroundings and visit as many local establishments as possible. Follow her on her journey as she discovers the award winning restaurants, as well as the hidden gems that Atlanta has to offer.