Burt Made My Kid Her First Pizza
BY: Aimee Algas Alker |
Jan 23, 2014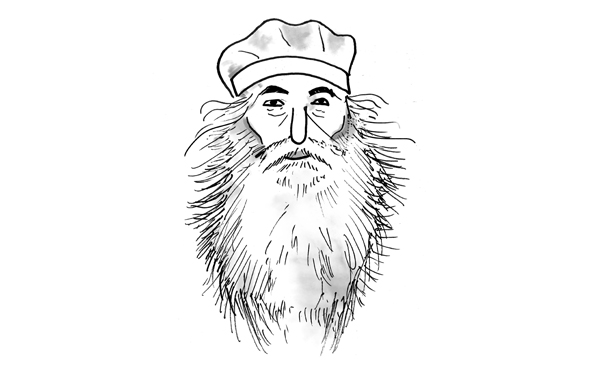 Burt Katz is a legend in the world of Chicago pizza. Some have called him and his caramelized crust genius. Others have gotten hung up on his famously particular nature—the Tribune called him a "kinda cranky pizza guy." We sent our writer to his current shop, Burt's Place, where the motto on the menu reads, "Pizza for Grown-Ups." She booked an appointment (which is required) and showed up with her husband and their one-year-old. Here are the details of this journey into the history of deep dish.
Though I grew up steps from one of Burt Katz's original shops,
Gulliver's Pizza
(the original location at 2727 W. Howard St. in Rogers Park), I'd never heard of him until a few years ago when the living legend of Chicago pizza 
appeared on Anthony Bourdain's No Reservations
. That's when I learned that Katz, now proprietor of Burt's Place in Morton Grove (8541 Ferris Ave.), created the caramelized crust that's so popular at
Pequod's Pizza
(2207 N. Clybourn Ave.). [Note: Pequod's second Morton Grove location (8520 Fernald Ave.) is just steps from Burt's Place.] Now that Burt's Place is reopened after a long hiatus, my husband and I decided to take our 1-year-old, thinking her first bite of pizza should be a true Chicago classic. Yet the motto emblazoned at the top of the menu gave me pause. "Pizza for Grown-Ups," it read. Everyone knows pizza is for kids—but is Burt's? Throughout our meal, I kept my eye out for reasons for and against toting the kids along to this grownup meal.
PLUS: The pizza is ready as soon as you get there.
All parents know that the toughest time during a meal out is that period of purgatory between ordering your meal and actually getting your food. In kid time, a mere 15 minutes drags on like an hour, so parents find themselves scrambling for ways to distract their brood from their rumbling bellies. Not so at Burt's Place. When you call to make your reservation, you don't just select a date and time; you also place your order, so your pizza is hot and ready minutes after you walk in the door.
MINUS: The pizza is ready as soon as you get there.
Which leaves no room for last-minute changes, like when the 3-year-old suddenly decides pepperoni reminds her of the monster in her closet.
PLUS: The decor is like a history lesson.
Just about everything hanging on the wood-paneled walls is from a bygone era. On one side of the room sits a gas heater with lines like a '57 Chevy. On the shelves behind my husband sat a rank of telephones, some ancient, all wired, any of which would prompt the under-10 set to wonder, "What are those?" Old radios, clocks, and photographs hang everywhere, begging to be pointed at and explained. Burt himself looks like the original hipster, with a long, long beard and a toque always atop his head.
MINUS: You probably shouldn't touch any of it.
And kids love to touch stuff. Touch it and pull it and examine it and, ultimately, break it. And as hospitable as the waitstaff is, I don't think they'd appreciate the kid pretending to call my parents on the candlestick telephone.
PLUS: It's a cozy, warm space.
Together with the wood-paneled walls, and the old stuff, and the kind servers delivering slices for the table, it does feel like you've stopped at your uncle's place for dinner. They're all happy to see you there, without coming off as fake and frothy. We got the sense that if the kid accidentally knocked our RC colas onto the table and started splashing her hands in it, it would be no big deal.
MINUS: The tables are really close together.
Like, really close together. If the place was filled to capacity, a rambunctious, curious child would be able to weave in and out of them, but a harried parent would find it difficult to corral them. And who wants to have that kid, who's annoying all the other diners who just want a nice night out?
CONCLUSION:
Though our daughter is not walking yet, the Bean is at that wiggly stage where sitting in a high chair is just not enough. And, like her father before her, she loves pizza and scarfed down the teensy bites I cut for her. But in a few years, will she end up ricocheting off the close-set tables and cause a pizza avalanche? Only time will tell. All I know is that Burt's actual pizza was great, the caramelized crust perfectly salty and crunchy. (I hate to say that, with its thicker, more unwieldy crust, Pequod's now rates second-best for me.) I hope my kid grows up to appreciate it, at whatever age.
Illustration by Dav Yendler, Groupon | Explore more Chicago pizza places and Italian restaurants.