Cabrini-Green Youth Grow at Chicago Lights Urban Farm
BY: Collin Brennan |
Aug 27, 2013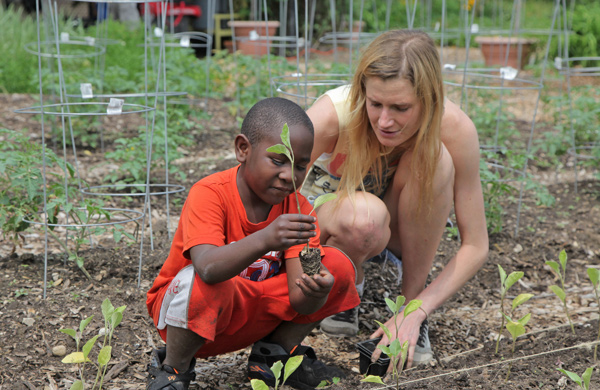 On the stretch of Chicago Avenue that borders what remains of the Cabrini-Green housing project, something is growing. It started 10 years ago, when a community garden sprang forth in the vacant lot between Hudson and Cleveland Streets. But the story of
Chicago Lights Urban Farm
goes back even further than that, and maybe it's better to start with a different beginning: once, there was a basketball court. On that court stood a 14-year-old boy. The year was 1985, and the boy was William Gates. The young costar of
Hoop Dreams
would spend a lot of time dunking and pump-faking over the next four years, trailed by a documentary crew as he followed his dream of playing in the NBA. Gates never quite made it to the pros, and his struggles underscore what was once a fact of life in Cabrini-Green. With so few options available to them, too many of the area's young residents were left with big dreams and little to fall back on.
Planting the Seeds for Change 
But life for the kids at the Frances Cabrini Homes is starting to change, thanks in part to the ongoing efforts of
Chicago Lights
. The outreach organization has served the Cabrini-Green community for nearly half a century, beginning with a one-on-one tutoring program established in 1964. But Chicago Lights' newest program is one of its most promising yet. Where the
Hoop Dreams
court once stood, there's now a lush urban farm that gives kids a lot more than a game of five-on-five. It gives them a safe sanctuary where they can grow organic produce and develop the skills necessary for a career in urban agriculture. Such a sanctuary is a promising development in a neighborhood that was once a paradigm of inner-city poverty. When the Chicago Housing Authority announced a controversial plan to transform the area in 1999, Chicago Lights seized the opportunity to make a positive change. According to urban-farm program director Natasha Holbert, Chicago Lights was uniquely suited to step in and help, thanks to its longstanding relationship with the residents of Cabrini-Green. "We wanted to stake a claim in this neighborhood," she explains. "We wanted to be a voice for some of the people who were being forced out of their homes." The neighborhood has changed rapidly in recent years, and residents of the row houses have indeed struggled to make their voices heard. Chicago Lights has done what it can to combat this, including making garden plots available only to people living or working within a five-block radius. "This is one of our ways of trying to build a bridge community in the area," Holbert says. "There are so many people who are moving in and people who have been here their whole lives. … This is a way to build a relationship around something we all have in common."
From Community Garden to Urban Farm 
Giving longtime residents a place to grow produce wasn't enough, however. To truly make a difference, Chicago Lights had to find a way to level the economic playing field. That's where the Urban Farm comes in. Founded in 2010 as a partnership with nonprofit
Growing Power
, the Farm instantly became a hot topic of conversation among the local youth. "They came here on the first day," Holbert remembers. "Some of them were like, 'What's going on? This used to be an empty lot!'" The kids were curious enough to stick around, and the Urban Farm eventually developed programming that catered to their interests. "That's the beautiful thing about it," Holbert says. "Some of these kids have actually grown up on this site." One of those kids is an oft-touted 19-year-old named Malcolm, who began making daily visits to the garden as a young child. Malcolm was instrumental in transforming the community garden into a fully functional urban farm, showing his peers the ins and outs of composting and harvesting. Today, he's a full-time staffer with Growing Power.
Twenty Years of Youth Programming
Malcolm's story is exceptional, but it's hardly an isolated case. Holbert talks excitedly about the Urban Farm's Youth Corps program, which is designed to guide 14- to 18-year-olds toward careers in urban agriculture. And in case you were wondering, "urban agriculture" isn't something that's limited to the city's seasonal farmers' markets. "There are a lot of restaurants that are starting to grow produce on top of their roofs," Holbert says. Those restaurants are going to need people who know their way around a tomato vine, which is why the Urban Farm recently began experimenting with a culinary internship for Youth Corps graduates. Throw in an introductory program geared toward the 5–13 set, and you have the makings of a farm that defies categorization. "I think we're pretty unique," Holbert reflects. "We're like a community-development project that uses urban agriculture as a vehicle." Others seem to have noticed. "Last year, we had over 600 volunteers come through our doors," she says; it seems inevitable that more will follow. One can't help but think back to that opening sequence in
Hoop Dreams
, in which young William Gates drives to the rim against a background of asphalt. Basketball has given way to baskets of fresh produce, and the clanging of chain-link nets has been replaced by the soft hum of sprinklers. It's a development that lacks the angst and heartbreak of a compelling drama, but maybe that's not such a bad thing.
Chicago Lights Urban Farm is located at 444 W. Chicago Ave. To learn more about the farm and how to get involved, visit the website.
Photo: © Micah Marty
BY: Collin Brennan
Guide Staff Writer
Collin is a senior editor and a staff writer for Consequence of Sound. He self-publishes zines and moderates writing workshops for The Chicago Publishers Resource Center (CHI PRC).