Cafe Con Leche: One of Chicago's Most Chicago Restaurants
BY: Nathalie Lagerfeld |
Mar 13, 2014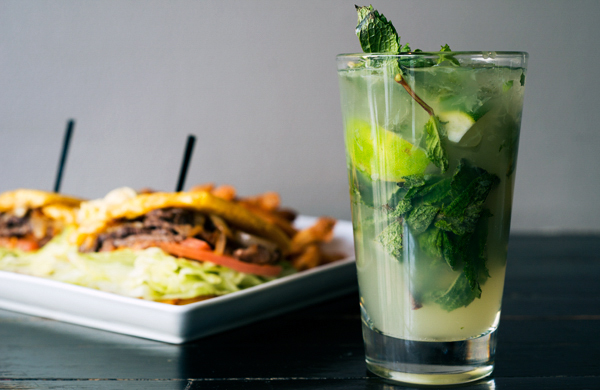 How do you find Chicago's most Chicago restaurant? You begin by taking the world's best decision-making device: the bracket. Then you combine it with Chicago's best device to represent its messy, opinionated landscape: the ward map. Some have called this pursuit "patently absurd." We humbly disagree. By taking our logic above (bracket + ward map) and extrapolating it into a larger, totally airtight algorithm, our computers have found a winner for the title of Chicago's most Chicago restaurant. See the finalists and read more about the search here. Below is one of the finalists.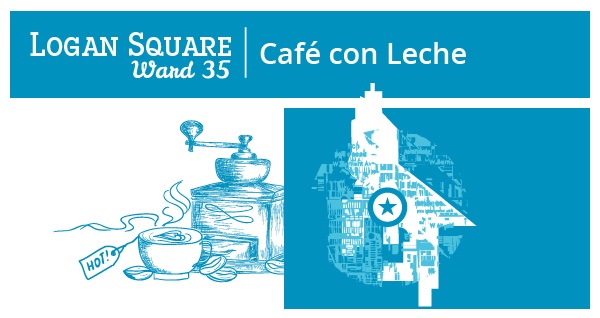 Logan Square has transformed in the last 10 years from a sleepy residential neighborhood to a nightlife destination that's regularly written up in the New York Times. You'd think a lifelong resident would find this change dislocating, but not for Esam Hani, owner of Cafe Con Leche (2714 N. Milwaukee Ave.).
In 2001, when his café began serving its breakfast tortas and signature sweet, milky coffee, the café was one of the only occupied storefronts on the block. (One of the others was Red Star Liquors [2718 N. Milwaukee Ave.] across the street, which Hani also owns.)
"I would go out and I would look this way, and I would look that way. No one," Hani said. "I'm one of the first guys on the street to take a chance and grow something."
Today, that same stretch of street hosts the likes of an Intelligentsia Coffeebar (2642 N. Milwaukee Ave.) and trendy burger joint Parts and Labor (2700 N. Milwaukee Ave.). Another restaurateur might see new neighbors as competition, but Hani said he is grateful for the company. He credits the increased foot traffic with making this February one of the most profitable months in the café's 13-year history, despite record low temperatures that hampered crowds at other businesses.
"The more people that come to the neighborhood, the more people talk about it," he said. "It's positive for everybody."
A New, Sleek Space
The restaurant space itself is testament to Hani's willingness to embrace change. When Hani took over the original café in 2001, it was a tiny Cuban-food cafeteria. He and his then-business partner added Mexican breakfast classics to the menu and an original mural by artist Scott Jackson to the exposed-brick walls.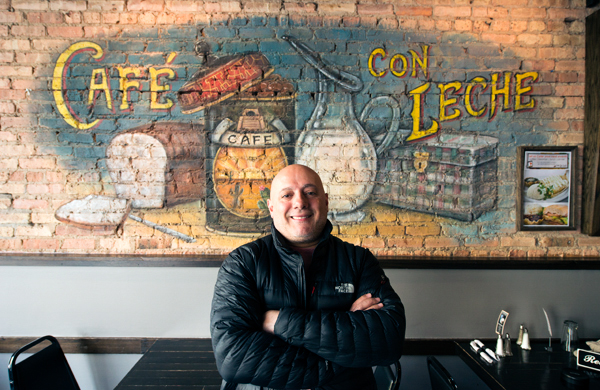 Still, Hani thought that the small size of the space—with room for only four or five tables and a counter—kept the business from really prospering.
When the café was about five years old, Hani bought out his partner and expanded next door into a long-vacant jewelry store. Besides more than doubling the café's seating, the acquisition allowed Hani to extend the offerings at his breakfast and lunch spot into the evening hours. He installed a cast-concrete bar and announced the opening of D'Noche (2710 N. Milwaukee Ave.), a Latin American restaurant and bar that would take over the Cafe Con Leche space each day after 5 p.m.
If Cafe Con Leche is quaint, then the new space designed for D'Noche is sleek—in keeping with Logan Square's new upscale vibe.
Waves of warmth wash out from three sides of a modern peninsula fireplace, and bunches of white branches decorate the walls. In its first summer, guests on the back patio were serenaded by live music from Latin guitarist José Cornier, whose yearlong residency ended earlier this year.
The menu is more ambitious, too. Alongside standard Mexican fare, Chefs prepare complex moles and pan-Latin dishes such as chimichurri.
But none of that means that Cafe Con Leche has lost what makes it unique. Hani said he still gets many of the same customers who came in the early days. "We get people who come here 2–3 times a week," he said. "We have people who come here every day."
One of those people is 35th Ward Alderman Rey Colón, whose office is across the street. Over email, he told me that he has tried "just about every entree" over the years.
"I survived this winter with their small chicken soup (actually large)," he wrote. He added that his dinner favorite was the shrimp tacos, served in flour tortillas with goat cheese, alongside towers of green rice whose shape "makes me think of ancient pyramids."
A Northern Future
Now, Hani is looking to a future north on Milwaukee Avenue instead of south. His new venture, the Harding Tavern (2732 N. Milwaukee Ave.), will open a couple of doors up the street later this year. He plans to preserve the history of the building, which formerly housed the Harding Theater, by dedicating a wall of the gastropub-style restaurant to display old photos purchased from a historical society.
"[The name is] just part of the history of the place. When I decide to open a tavern there, what am I going to name it? Esam's Place?" He shook his head. "I don't think so."
Photos by Andrew Nawrocki, Groupon; Illustration by Grey Blake, Groupon
BY: Nathalie Lagerfeld
Guide Staff Writer
Nathalie is a writer and editor on the Guide's food team. Originally from Virginia, she now lives in Chicago, where she regularly indulges her love of tortas, bibimbap, and Cheez-Its. Follow her on Twitter @maviswillsaveus.