Celebrate Day of the Dead, Chicago-Style
BY: Emily Wachowiak |
Oct 31, 2013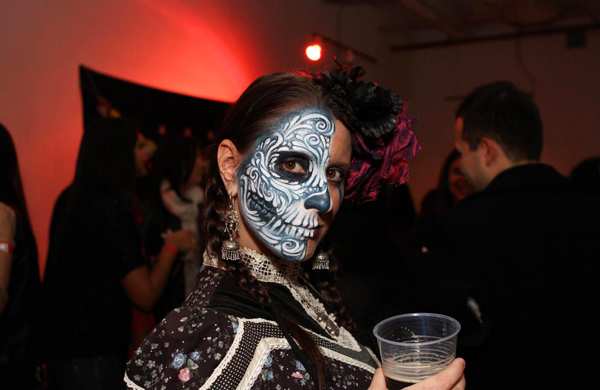 When the clock strikes midnight on October 31, Dia de los Muertos begins. Aside from making it slightly more acceptable to wake up in your skeleton costume, this two-day Latin American holiday celebrates the spirits of the living and the dead. Chicagoans from Pilsen to Wicker Park will find no shortage of ways to engage in the festivities—here are seven hand-picked activities that cater to children, adults, or their supernatural kin.
The Family-Friendly Events
NMMA's Day of the Dead Community Night | Friday, November 1
Spirited Latin American music will fill the halls of Pilsen's
National Museum of Mexican Art
(1852 W. 19th St.) during this free event. As kids participate in hands-on crafting activities, their parents can take in displays of cultural art, which include colorful skulls and traditional altars. The Museum's
2013 Day of the Dead exhibit
honors the centennial anniversary of the death of José Guadalupe Posada, a Mexican cartoonist whose skeleton drawings have become synonymous with Dia de los Muertos.
Day of the Dead Community Night runs from 6 p.m. to 8 p.m. The 2013 Day of the Dead exhibit is open through December 15.
UNO Carrera de los Muertos/Race of the Dead 5K | Saturday, November 2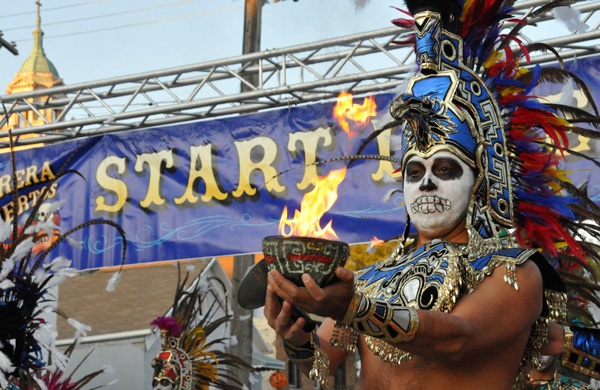 Although registration for the seventh annual 5K has closed, spectators are welcome to line up along the route, which veers from Pilsen to University Village and back again. Mariachi bands, folk dancers, and DJs will keep runners motivated along the way, and finishers will be rewarded with a post-race feast of Latin American cuisine. The runners are encouraged to dress in creative costumes, so spectators won't look too out of place if they slip on their Halloween garb for one more go-around.
The race departs from Bartolome de las Casas Charter School (1641 W. 16th St.) at 8 a.m.
Redmoon Skelebration | Saturday, November 2, and Sunday, November 3
Redmoon Theater
has never shied away from spectacle. From a gigantic shadow-puppet show to a troupe of acrobats flying through the air, the company continues to find new ways to thrill its all-ages audiences. At the annual Skelebration, attendees can build their own skeleton masks and march in a parade behind Redmoon's mobile DJ booth. But they might be too busy putting a dent in the provided stash of 400 donuts from
Glazed and Infused
.
The event will be held at Redmoon (2120 S. Jefferson St.) at 11 a.m. and 2 p.m. on Saturday and Sunday. Tickets are $20 for adults, $12 for children, and free for children 3 and younger.
Chicago Sinfonietta Dia de los Muertos Performance | Saturday, November 9, and Monday, November 11
Known for multicultural arrangements,
Chicago Sinfonietta
has compiled a program of four diverse pieces for its
Dia de los Muertos
performance. Ranging from Mozart's solemn
Requiem
to Manuel de Falla's jaunty ballet score,
The Three-Cornered Hat
, these pieces will be accompanied by visual spectacles courtesy of
Redmoon Theater
(see above). Adults can sample a flight of three wines handpicked to complement the music.
The November 9 performance will be held at Naperville's Wentz Concert Hall (171 E. Chicago Ave.) at 8 p.m.; the November 11 performance will be held at Symphony Center (220 S. Michigan Ave.) at 7:30 p.m. Tickets range from $10 to $54.
The Adults-Only Events
Gozamos' Dia de los Muertos Party | Friday, November 1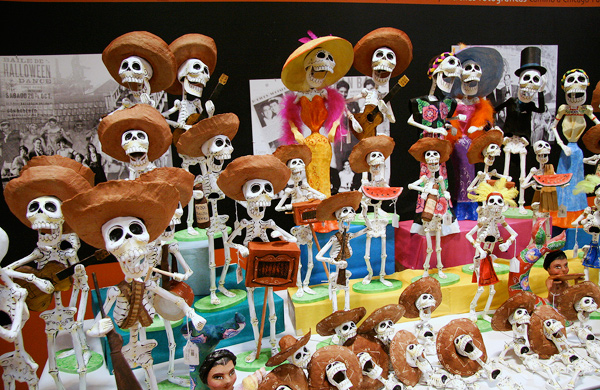 Gozamos, an online magazine geared toward young Latinos, is planning an all-you-can-drink blowout at Pilsen's
Chicago Urban Art Society
(600 W. Cermak Rd., Unit 1B). Between sips of Indio, Lagunitas, and Goose Island beer, partygoers will dance to beats courtesy of Chicago DJ collectives
Sonorama
,
Soulphonetics
, and
Sound Culture
. Show up early to beat the line for an avant-garde skeleton face painting.
The party runs from 9:30 p.m. to 2:30 a.m. Tickets are $15 in advance and $25 at the door.
Bring Me the Head of James Franco, That I May Prepare a Savory Goulash in the Narrow and Misshapen Pot of His Skull | Friday, November 1, and Saturday, November 2
WRITE CLUB
founder Ian Belknap's one-man show promises to lampoon James Franco's insufferable body of work, which runs the gamut from stoner comedies to MFA-grade short stories. Even Francophiles will find something to laugh about in Belknap's routine, which heaps equal scorn on the media that perpetuates the actor's "cultural crime spree." Although this
Reader-recommended show
may lack the decorum of a traditional Day of the Dead celebration, its skull-as-crockpot motif is a fresh take on the holiday's skeleton-heavy symbolism.
Performances hosted by The Den Theatre (1333 N. Milwaukee Ave., 2nd Floor) will begin at 7:30 p.m. Tickets are $15.
Dia de los Muertos Ball | Saturday, November 2
The National Museum of Mexican Art
(1852 W. 19th St.) continues its celebration with a masquerade ball that immerses costumed guests in the traditions of Dia de los Muertos, from decorating altars to composing poems for the dead. The melodies of Grammy-nominated Chicago folk group
Sones de México Ensemble
will set the scene for an evening of dancing and revelry.
The Ball will be held from 7 p.m. to 10 p.m. Tickets are $50.
Photos in order of appearance: © Ray Flores; © UNO Carrera de los Muertos; © Miriam Castaneda
BY: Emily Wachowiak
Guide Staff Writer
Emily Wachowiak is a Chicago-based writer and editor.