Chicago Afrobeat Project Bridges the Gap Between Diverse Genres
BY: Reuben Westmaas |
Apr 4, 2014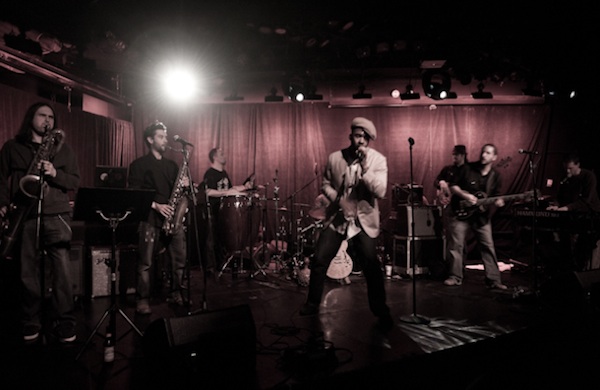 Chicago-based act carries on Afrobeat legend Fela Kuti's legacy with driving, funk-infused genre mash-ups of Radiohead and System of a Down.
Afrobeat has always been about blending styles. After all, pioneer Fela Kuti (whose name you might recognize from the musical
Fela!
) drew his inspiration as much from traditional Yoruba music as he did from James Brown.
Chicago Afrobeat Project
looks to carry on their hero's tradition of gleefully, haphazardly mashing genres together until they stick. Nowhere is this more apparent than on their latest album,
Nyash Up!
, which is unlike anything else currently being produced in the States. The opening track, "I Just Might Be Wrong Like That," seamlessly blends Radiohead's "I Might Be Wrong" with Fela's "Just Like That." By the time that song winds down, the group is just getting started. In "Slippery People," for example, the Talking Heads are treated with purred vocals and a punishing funk groove.
Chicago Afrobeat Project plays Reggies' Rock Club on Thursday, April 17, at 8 p.m. Tickets are $12–$15 and can be purchased here.
Watch Chicago Afrobeat Project perform "Just Like That" at The Shrine:
Photo courtesy of the artist
BY: Reuben Westmaas
Reuben writes about whiskey at work and drinks it at home. He also writes and edits the arts magazine Sixty Inches From Center.