Reggies: Two Stages, One Diverse Party
BY: Reuben Westmaas |
Mar 10, 2014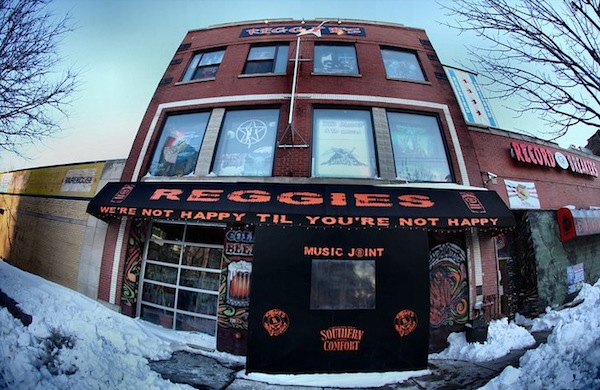 On the easternmost edge of Chinatown, Reggies attracts music fans of every stripe with punk, heavy metal, and hip-hop concerts.
---
Check Out Our Featured Article for Reggies:
Unlike John Zorn's Bladerunner, These Musical Experiments Didn't Make It Off the Ground
John Zorn is taking his mad musical experiment, Bladerunner, to the US. May he succeed where Da Vinci, Tesla, and Sir Isaac Newton failed.

John Zorn's Bladerunner plays the Rock Club on Saturday, May 3.
---
Reggies is cramped. It's dark. It's loud. In other words, it's paradise. With a distinctly unspecialized schedule and a passion for all things rowdy, the club is a musical DMZ where fans of everything from blues to hip-hop and local punk can sit down for a beer together. The diversity comes easy thanks to the venue's two stages. If you're looking for a blues ballad and a stiff drink to catch your tears, your best bet is
Reggies' Music Joint
. Done up like an old-fashioned roadhouse—complete with cafeteria seating and a stage so close you could pass out on it—the Music Joint tends to attract more laid-back patrons and musicians. You'll see a lot of one-man, one-guitar acts, some chilled-out funk bands, and more than a few dreadlocked bass players on sporadically scheduled Reggae Mondays. Next door,
Reggies' Rock Club
is an entirely different animal. Industrial metal, blistering punk, and beer-soaked bar rock rule the matte-black stage, which sits on a gently angled slope so that even moshers in the back get a clear view. The Rock Club also plays home to up-and-coming Chicago rappers, as well as alternative hip-hop stars like Del the Funky Homosapien. But if all you know about Reggies are the stages, you're missing out. The bar keeps more than
70 craft beers
in stock, while the kitchen whips up hearty
pub food
such as fried pickles, burgers, and macaroni and cheese. And upstairs, an onsite
record store
awaits eager crate-diggers, brimming with vintage 45s and claiming to have the largest CD collection in the city.
Find deals on things to do in Chicago throughout all of Groupon.
Photo of Reggies: Al Zayed
BY: Reuben Westmaas
Reuben writes about whiskey at work and drinks it at home. He also writes and edits the arts magazine Sixty Inches From Center.