Chicago Agenda: Monday, December 2
BY: Tyler Clark |
Dec 1, 2013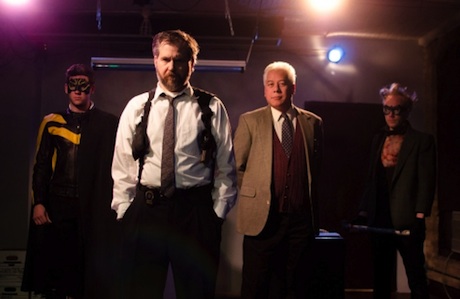 Detective Partner Hero Villain
Where:
Strawdog Theatre Company, Hugen Hall | 3829 N. Broadway, 2nd Floor
When:
8 p.m.; the show runs through December 15
How Much:
$15 for adults; $8 for industry members; $5 for kids;
buy tickets here
Since stories such as
Watchmen
and
The Dark Knight Returns
first imposed gritty realism on the whiz-bang world of comics, we've been fascinated with superheroes for whom invincibility and angst go hand in hand. Such is the case with The Fantastic Phenomenon, the crime fighter at the center of Brett Neveu's
Detective Partner Hero Villain
. Making its world premiere under the direction of
The Inconvenience
vet and
Jackalope Theatre Company
cofounder Gus Menary, the show explores the intersections of faith and mortality in a world where even villainy isn't always black and white. Performances unfold in the intimate confines of Hugen Hall, the company's 50-seat cabaret space that doubles as a working bar.
Movieoke Fifth Anniversary
Where:
The Whistler | 2421 N. Milwaukee Ave.
When:
9
p.m.
How Much:
Free Don Corleone's unrefuseable offer. Bender's meltdown at the first meeting of the Breakfast Club. Tyler Durden's rules for Fight Club. Movie scenes come and go, but some live on, forever quoted by cinephiles and freshman-year roommates alike. For the past five years, the folks at Movieoke have presided over a public celebration of this phenomenon, encouraging audience member to grab the mic, queue up one of more than 350 iconic scene, and belt out their best rendition. Tonight, celebrate their fifth birthday by dialing up a scene of your own or perhaps offering a toast with one of
The Whistler
's meticulously crafted
cocktails
. Its featured drink is currently the
Lightning Swords of Death
, a muscular blend of Malört and Smith & Cross Jamaica Rum accented with apricot liqueur, almond-y Orgeat syrup, and a splash of lime.
Chicago Chamber Musicians' First Monday
Where:
Chicago Cultural Center | 78 E. Washington St.
When:
12:15 p.m.
How Much:
Free Eating at your desk is for squares. It's time to restore the lunch break to its bygone glory. Why not start with an midday jaunt to the Chicago Cultural Center, where the
Chicago Chamber Musicians
are tuning up for their monthly First Monday concert? Beneath the stained-glass dome of Preston Bradley Hall, the ensemble will embrace the winter winds with a moody slate of pieces (Benjamin Britten's
Nocturnal After John Dowland
, Roberto Sierra's
Primera Cronica del Descubrimiento
, and David Leisner's
Extremes
) that play up the guitar and flute talents of the visiting
Cavatina Duo
. If you can't make it to the Cultural Center, don't fret—every First Monday concert is broadcast live on
WFMT
(98.7 FM).
Photo courtesy of Strawdog Theatre Company.
BY: Tyler Clark
Tyler is a writer, storyteller, and musician from Chicago. His stories have appeared on stage at shows including Mortified, Story Club, and Lethal Poetry.