Chicago Agenda: Monday, February 3
BY: Tyler Clark |
Feb 3, 2014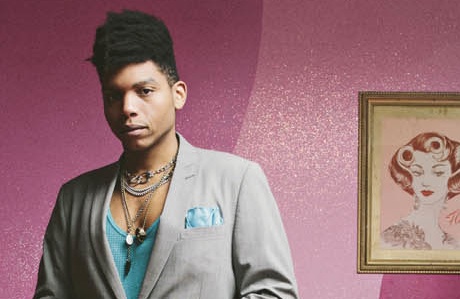 On today's agenda: JC Brooks honors lady songwriters, LitMash punches up the spoken word, and "The Barber of Seville" calls forth classic chuckles. 
JC Brooks Covers His Favorite Female Songwriters
Chicago soul mainstay shows his appreciation for female songwriters with an all-lady cover set at City Winery 
Chicago soul firestarter JC Brooks knows his way around a cover (
just listen to how he transformed Wilco's "I Am Trying to Break Your Heart"
). He's also a great student of pop-music history. Tonight, during a stripped-down performance at
City Winery (1200 W. Randolph St.)
, he'll bring those two talents in honor of music's foremost female songwriters. With the help of accompanist Jeremy Tromburg, Brooks will add his electric voice to classic songs by ladies ranging from Carole King to Janelle Monáe. City Winery will also take the opportunity to show off some of its titular wares: for $25, you can pair the music with wine pours from the venue's extensive cellars.
(8 p.m., doors open at 6 p.m.; $10 for music only, $25 for wine pairing; buy tickets here)
LitMash
Competitors from comedy, storytelling, slam poetry, and more compete for cash and honors in this cross-genre lit battle
Poetry slams. Story slams. Two cousins of competition that have, until now, remained confined to their respective corners. That all changes with LitMash, the cross-genre literary throwdown overseen by Chicago Slam Works (the organization of poetry-slam inventor Marc Kelly Smith). During their monthly donnybrook at
Haymarket Pub & Brewery (737 W. Randolph St.)
, six competitors drawn from the ranks of storytelling, spoken word, comedy, essay writing, and more compete for audience hearts and minds (and generous cash prizes). This month's slate of competitors includes poet
Dan Sully
, performer
Melissa DuPrey
, and comedian
Adrienne Gunn
.
(8 p.m., doors open at 7:30; $8)
"The Barber of Seville"
Figaro! Figaro! Rossini's comic masterpiece gets an energetic new production from the Lyric Opera
Like
Jerry Seinfeld
, we learned everything we know about opera from
Bugs Bunny
. Thankfully, this is the one time that information is actually pertinent. Kidding aside, there's a reason that Chuck Jones chose to parody
The Barber of Seville
in his 1950 classic "Rabbit of Seville": it's one of the most iconic comic pieces in opera history. Rossini's rollicking love story has all the makings of a laugh riot—mistaken identity, crisscrossed correspondence, and one particularly clever barber pulling all the strings. It's another exquisite escape from the
Lyric Opera
, thanks in no small part to the Broadway-proven sensibilities of Tony-winning director Rob Ashford. If you don't leave the
Civic Opera House (20 N. Upper Wacker Dr.)
shouting "Figaro!" into the night, we just can't help you anymore.
(7:30 p.m.; $20–$139; buy tickets here)
Photo courtesy of Bloodshot Records
BY: Tyler Clark
Tyler is a writer, storyteller, and musician from Chicago. His stories have appeared on stage at shows including Mortified, Story Club, and Lethal Poetry.