Chicago Agenda: Thursday, February 13
BY: Tyler Clark |
Feb 13, 2014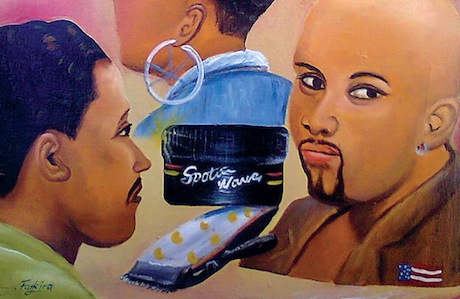 On today's agenda: the art of Ghanaian barbershops, the kickoff of Holly Hughes's Off the Wall Cabaret, and chilly tunes with Weeknight.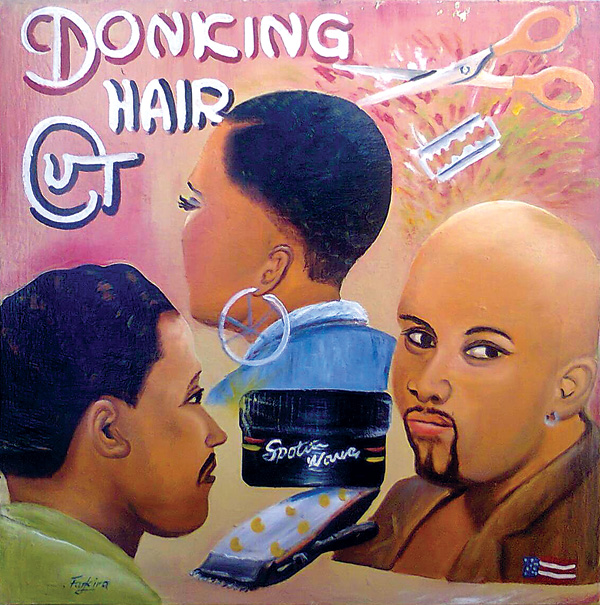 "Sportin' Waves"
Odd Obsession owner Brian Chankin exhibits his collection of hand-painted Ghanaian barbershop signs
Brian Chankin, the owner of cult video-rental store
Odd Obsession
, is best known for his bizarro collection of off-the-wall movies, but he's no one-trick archivist. His latest show, Sportin' Waves, displays another of his unexpected passions: hand-painted Ghanaian barbershop signs from the 1990s. In addition to their artistic and cultural implications, the colorful signs might also serve as last-minute style inspirations: the show opens this evening with a reception at avant-garde East Village salon
Strange Beauty Show (1118 N. Ashland Ave.)
. In the spirit of the art, DJs Rad Brian and Impala Sound will also fill the shop with the sounds from their collection of Ghanaian and Nigerian vinyl.
(The show runs through Sunday, April 13. Opening reception tonight, 7 p.m.–10 p.m. Admission is free)
Off the Wall Cabaret
Michigan artists past and present show off their talents at this cabaret curated by performance artist Holly Hughes
The write-up for Off the Wall Cabaret describes the show as a "polar vortex of performance," but that doesn't mean you'll wind up frozen to your seat, eating canned goods until help arrives. (At least, we're pretty sure.) Curated by famed performance artist
Holly Hughes
, the four-night event at
Links Hall (3111 N. Western Ave.)
instead brings together artists who began their careers in Michigan to show off what they've learned since entering the wide world. The lineup changes every night but always includes a blend of music, storytelling, and performances by headliners
Erin Markey
and
Joseph Keckler
. Tonight, they'll be joined by Chicago storyteller
Shannon Cason
and choreographer
Amy Chavasse
, among others.
(7 p.m. $5–$20; buy tickets here)
Weeknight, Population, Lake Radio
Mystery Brooklyn duo brings brooding synths and chilly vibes to an Empty Bottle set sponsored by CHIRP Radio
If you like a little mystery with your music, Weeknight might be a band to watch. Made up of a guy-girl duo known only by the names Holly and Andy, the group currently sports the only
Bandcamp page
I've ever seen with no available audio samples. A trip to YouTube brings up "Dark Light," a single whose menacing guitars and disaffected harmonies match up perfectly with the video's day-glo skeletons. This is music to skulk by, and it's coming to the darkest corners of the
Empty Bottle (1035 N. Western Ave.)
tonight. Also on the bill: local Bauhaus devotees
Population
and the witch-house dreamweaver of
Lake Radio
. As with most great shows in Chicago, this one's sponsored by
CHIRP Radio
.
(8:30 p.m. $8; buy tickets here)
Photo courtesy of Strange Beauty Show
BY: Tyler Clark
Tyler is a writer, storyteller, and musician from Chicago. His stories have appeared on stage at shows including Mortified, Story Club, and Lethal Poetry.