Chicago Agenda: Thursday, February 27
BY: Tyler Clark |
Feb 26, 2014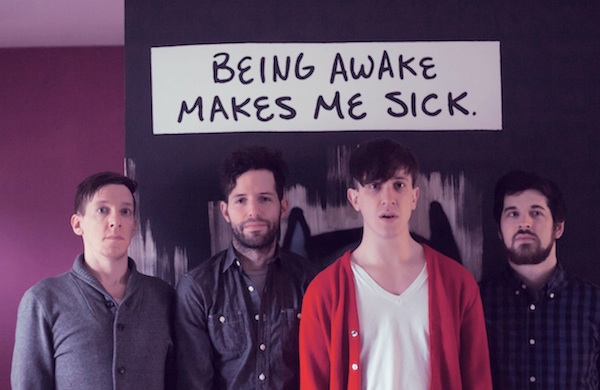 On today's agenda: The Kickback takes over the Empty Bottle, Akvavit Theatre stages an Icelandic drama, and Ron Funches makes everyone laugh forever.
The Kickback
The Yost brothers headline a packed bill at the Empty Bottle also featuring The Noise FM, Ghastly Menace, and Aaron & the Sea 
It's no secret that we're big fans of
The Kickback
here at the the Agenda (we're particularly smitten with
their cover of Randy Newman's "Baltimore"
). As such, we've been impatiently awaiting their debut full-length,
Sorry All Over the Place
, since it was announced last year. The record isn't quite ready, but that doesn't mean the band has sequestered itself in the studio. Tonight, Billy Yost and company will pin their hearts securely to their sleeves and take the stage at the
Empty Bottle (1035 N. Western Ave.)
for a set of sensitive power pop. They're joined by frequent showmates
The Noise FM
, as well as local pop scientists
Ghastly Menace
and brooding Twin Cities act
Aaron & the Sea
.
(8:30 p.m. $5; buy tickets here)
"Mishap!"
Akvavit Theatre wrings psychological drama out of brain-dead television tropes in the company's production of this Icelandic play
Devoted to "[finding] the universal through the voices of the Nordic world," the members of
Akvavit Theatre
have spent the past few seasons introducing Chicago theatergoers to some of Scandinavia's most striking contemporary plays. That trend continues tonight with
Mishap!
, an Icelandic tale that scrutinizes the dissolution of a relationship using the tactics and tropes of modern fluff television. Described as "a psychological thriller, as if produced by the Today show," the show has earned serious plaudits here and abroad: the premiere run was nominated for the Nordic Drama Award in 2008, and the current Chicago production has already earned four stars and a Critics' Pick from
Time Out Chicago
. Catch it tonight at
The Side Project (1439 W. Jarvis Ave.)
in Rogers Park.
(8 p.m. $15–$20; buy tickets here)
Ron Funches
Hilarious standup and known teddy bear slings some soft-spoken punchlines during a three-night stand at Zanies
In the middle of his
recent set on Conan
, comedian Ron Funches admitted "I'm not a tough person." If you'd been watching his act up to that point, you probably already knew that. After all, this is the same guy whose official bio boasts that "his easygoing, inventive style sounds the way fresh chocolate chip cookies taste." It also calls forth big laughs from some serious subjects—whether he's is confronting racism or sharing stories of raising a son diagnosed with autism, Funches's soft-spoken jollyness always manages to feel genuine. He begins a three-night stand at
Zanies (1548 N. Wells St.)
in Old Town this evening.
(8:30 p.m. Doors open at 7:30 p.m. $25; two drink/food item minimum; buy tickets here)
Photo provided by The Kickback
BY: Tyler Clark
Tyler is a writer, storyteller, and musician from Chicago. His stories have appeared on stage at shows including Mortified, Story Club, and Lethal Poetry.