Chicago Agenda: Thursday, January 23
BY: Tyler Clark |
Jan 23, 2014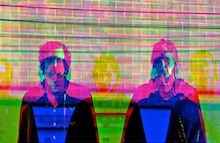 On today's agenda: a journey into Chicago's psychedelic side, Chicago Restaurant Week's opening-night party, and the story behind Britain's most iconic wartime fashions.

Chicago Psych Fest V
Fifth annual psych-rock festival takes audiences on a journey into their musical subconscious
For the fifth year in a row, Chicago Psych Fest wants to take your ears on a vision quest. From the unassuming back room of
The Hideout (1354 W. Wabansia Ave.)
, this three-day inward journey leads to a land of fuzzy guitars, man-sized reverb pedals, and synthesizers attuned to your very soul. There might even be a theremin. Your guides for the first night of this musical trek are a motley crew of Chicago psych vets, including the day-glo sludgemongers of
Verma
, the downbeat ascetics of
Mako Sica
, and the drone visionaries of
The Humminbird
(
see our interview
). Stick around, though—the festival runs through Saturday and promises even more revelatory sounds as the days wear on.
(8 p.m., doors open at 7 p.m. Single tickets $10, three-day passes $25; buy tickets here)
First Bites Bash
Kick off Chicago Restaurant Week with an opening-night tasting benefiting local charities
Sharpen your forks, loosen your pants, and practice your reservation-making drills: Restaurant Week is upon us, and Chicago's ready to eat. Kick off the annual culinary bacchanal with a stop at First Bites Bash, the opening-night party happening tonight in the Great Hall at
Chicago Union Station (225 S. Canal St.)
. Hosted by chef Paul Kahan, the culinary empresario behind hot spots including
Blackbird
,
Avec
, and
The Publican
, the party invites guests to sample the wares of chefs from more than 50 Chicago restaurants. The feast is for a good cause, benefiting the local do-gooders at
Gilda's Club Chicago
and
Pilot Light
. Oh, and you might want to leave your "Kiss the Cook" apron at home: organizers suggest business or cocktail attire.
(5:30 p.m.–8:30 p.m. $125; buy tickets here)
"Keep Calm and Carry On: Textiles on the Home Front in WWII Britain"
Learn the fascinating story of the designers behind some of England's most iconic wartime fashions
Contrary to what
Pleasantville
would have you believe, the world wasn't all in black-and-white until they invented color in 1958. In fact, according to the latest special exhibition at the
Illinois Holocaust Museum & Education Center (9603 Woods Dr., Skokie)
, the streets of Churchill's England were filled with vibrant patterns that wouldn't look out of place in an Anthropologie catalog. Closing this weekend,
Keep Calm and Carry On
tells the story of Britain's wartime designers. Tasked with turning out fashionable threads in a world filled with air raids and ration books, these garment workers became a major, if unheralded, component of the push to boost morale. Now, their stories find new life in this traveling show organized by the Museum of Fine Arts, Boston, which pairs the wartime tales with authentic clothing of the period.
(10 a.m.–8 p.m.; show runs through Sunday, January 26. $6-$12; buy tickets here)
Photo courtesy of Verma
BY: Tyler Clark
Tyler is a writer, storyteller, and musician from Chicago. His stories have appeared on stage at shows including Mortified, Story Club, and Lethal Poetry.